Today, DJ controllers can be easily connected to your smartphone or computer, allowing you to use them with a variety of applications for desktop and mobile devices.
It doesnt matter if youre a beginner or an experienced DJ, if youve been proving yourself for a while now, you should consider buying a DJ controller that will optimize your show and allow you to put everyone in the right mood.
How to choose the best DJ controller for you
All DJ controllers can be divided into two large groups: all-in-one devices and separate modular devices. The first one provides maximum convenience and practicality, while the latter allows you to customise the device according to your needs and preferences.
For beginner DJs and home parties, we can safely advise all-in-one controllers - they are easy to connect and configure, are inexpensive and can do everything you need.
Professional DJs who regularly play in clubs assemble their own sets of controllers for personal needs and tasks. It hardly makes sense for a beginner to invest in modular devices until he realizes the need for one or another of their capabilities, and for this you will first need to get some experience in club performances.

The most important thing that you should remember is that for a convenient and effective work the DJ needs to constantly see all the knobs, sliders and indicators, to be able to instantly reach the controller with his hand and set the exact value of the controller, as well as use scratches. To solve these problems, controllers for DJs were created - software control panels that make it possible to work with it exclusively using buttons, knobs, jogs and pads.
DJ Controllers Reviewed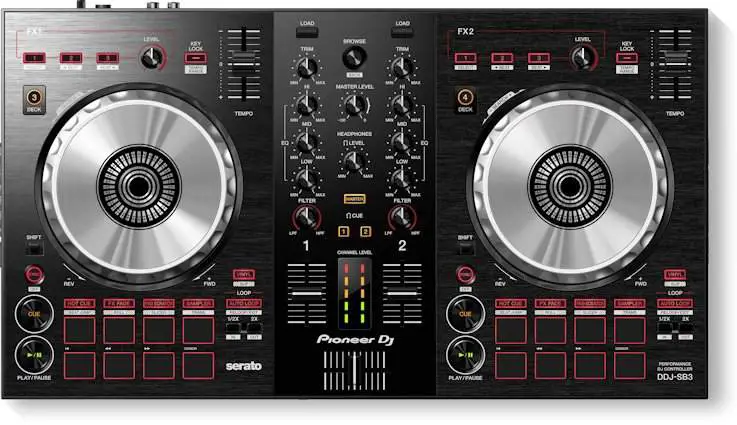 In our review of DJ controllers, Pioneer is represented by several models but let us first speak about DDJ-SB3. This is a device from the budget price category, but with decent functionality. The quality of the assembly is also at a high level: aluminium jogs alone inspire respect.
Features and Benefits
The design of this controller is simillar to Pioneers best models of the DDJ-S series. The manufacturer decided on an more ergonomical layout of buttons and faders to ease the maneuvering for DJs.
The model is adapted to work with Lite and Pro versions of Serato DJ software. That is, you can start mastering DJing with a lightweight version of the program, and then switch to a professional set.
The Pioneer DDJ-SB3 DJ controller makes it easy to make transitions between tracks thanks to the FX Fade function, which simultaneously reduces volume and adds special effects. A special highlight of this model is the ability to add 8 scratches from DJJazzyJeff to a playable track with one touch. We believe that this is the best tool to discover how a real scratch sounds.
Why you should buy the Pioneer DDJ-SB3 DJ Controller
This portable controller has impressive number of features for such a reasonable price. As we pointed out earlier, its real asset is the fact that it works with Lite and Pro versions of Serato DJ software, which allows you to mix as soon as you get it out of the box.
Why you should not buy the Pioneer DDJ-SB3 DJ Controller
This controller would be perfect for a beginner as it comes with Serato DJ Lite out of the box. Unfortunately, if youre a pro, or you simply want to upgrade to Serato DJ Pro version you will have to purchase it. Also, the materials are not quite durable which explains the price.
Pros and Cons of Pioneer DDJ-SB3 DJ Controller
Pros
Out-of-the-box functionality
Pad Scratch feature (8 scratches from DJJazzyJef)
Lightweight which makes it easy to carry around
Cons
Limited functions of Serato DJ software (Lite version)
Design way to simple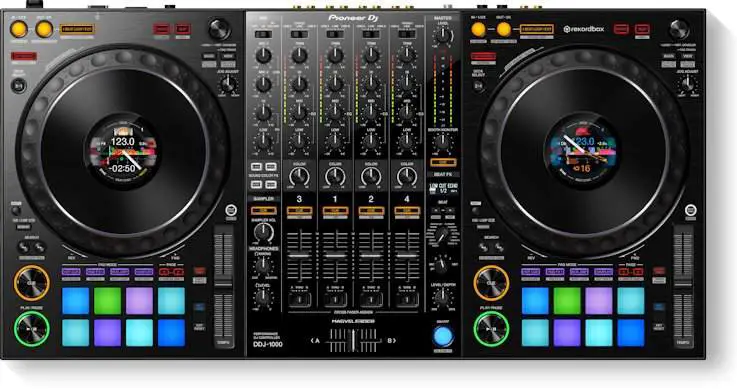 The Pioneer DJ DDJ-1000 is a high-performance DJ controller which allows you to learn the mix to reach the level of the most experienced DJs! This device offers you ever more precise Jogs which are directly inspired by the CDJ 2000 Nexus 2.
You benefit from a Led display in the center of the jog which allows you to have easy access to all the info of the Rekordbox DJ software, included with the controller!
Features and Benefits
Many will recognize a couple of features on DJ DDJ-1000 which were inspired form the CDJ- CDJ-2000NXS2 media player and DJM-900NXS2.  Pioneer DJ DDJ-1000 controller two mechanical jogwheels and loop controls.
Its distinguishing feature is the built-in displays in the center of each jog, which show the track data, position of the mark and needle position, as well as the album cover and waveform Hot Cue positions or Loops.
With the new MAGVEL FADER, which is extremely durable and can withstand more than 10 million movements, even the most complex performance seems easy.
Why you should buy the Pioneer DJ DDJ-1000
You should buy Pioneers DJ DDJ-1000 controller because it is probably one of the best advanced controllers on the market as it has all the functionality that youd need. 
Why you should not buy the Pioneer DJ DDJ-1000
As we pointed out earlier, this is a high-performance DJ controller of high-quality so the only drawback would be the fact the its more on the expensive range of prices, which means that not everyone will be able to afford it.
Pros and Cons of Pioneer DJ DDJ-1000
Pros
Improved Magvel Fader
The build in LCD screens in each jogwheel
Compatible with every MIDI map software
Cons
Is positioned on the expensive range of prices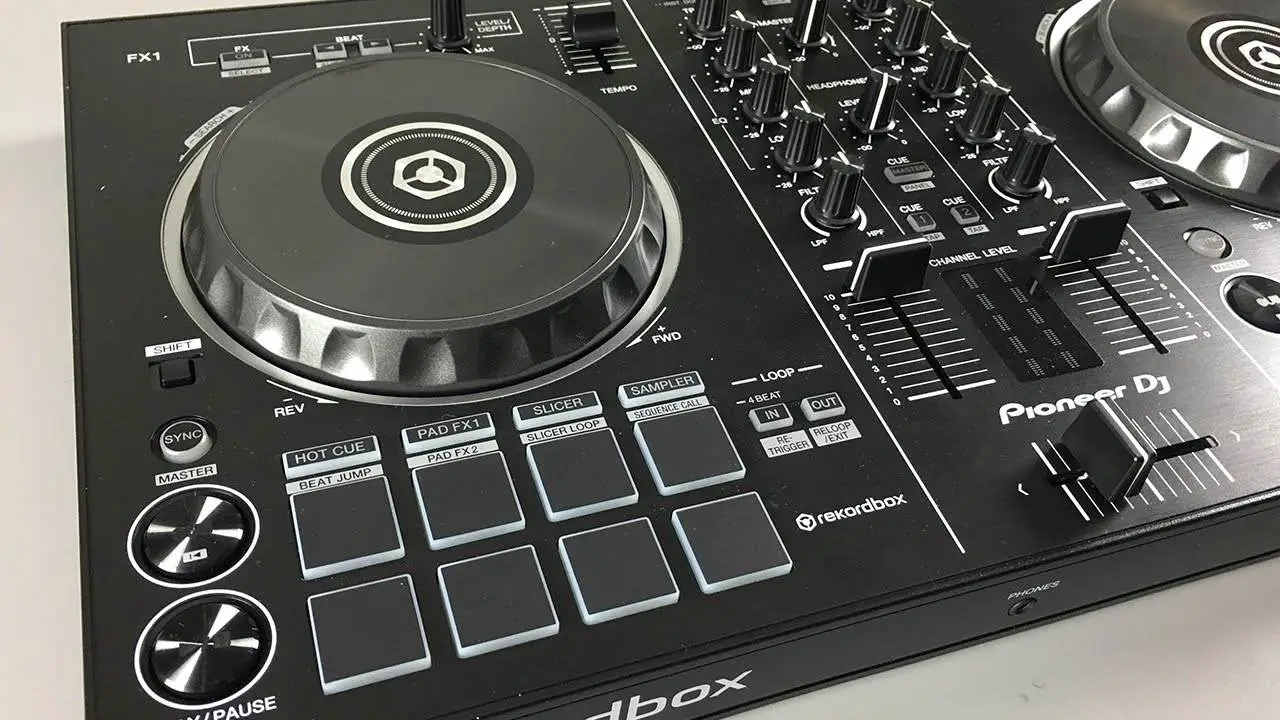 Pioneer DDJ-RB is the companys most affordable controller for Rekordbox DJ software. Constructed in a compact and lightweight package, it is powered by USB and ideal for use on the go. It features 128mm aluminum jogs, highlighted Cue and Play buttons and has eight performer pads per deck. It is also worth mentioning the presence of high-quality microphone input on the jack.
Features and Benefits
Just as many other Pioneer controllers, DJ DDJ-RB works with Rekordbox DJ software. Good thing the controller comes packed with the software. The main controllers, such as the special buttons, keys, controls, faders, loop buttons have a rather high-end design and will help you hone your skills in no time.
You can create sample sequences and then recall them without having to touch your computer, thanks to the new Sequence Call button. The eight pads allow you to launch Hot Cues, Pad Effects, Beat Jump and the Slicer.
A very useful feature is PC Master Out which allows you to use your computers speakers for the Master output, and the controller for the Headphone output. When it comes to speaker connectivity, DJ DDJ-RB already has built-in speakers, however, you can still connect your external speakers.
 Why you should buy the Pioneer DJ DDJ–RB
This is probably one of the best choices for mobile DJs because of its compact size and also its ergonomics with all the basic features youd need for an entry level gig. 
Why you should not buy the Pioneer DJ DDJ-RB
Certain parts of the controller are quite fragile so you must take good care of the controller. Unfortunately, there arent enough features for professional parties.
Pros and Cons of Pioneer DJ DDJ-RB
Pros
Compact size
Affordable price
Easy usage
Built-in sound card
Cons
No 6.3 jack for headphones
Some parts are fragile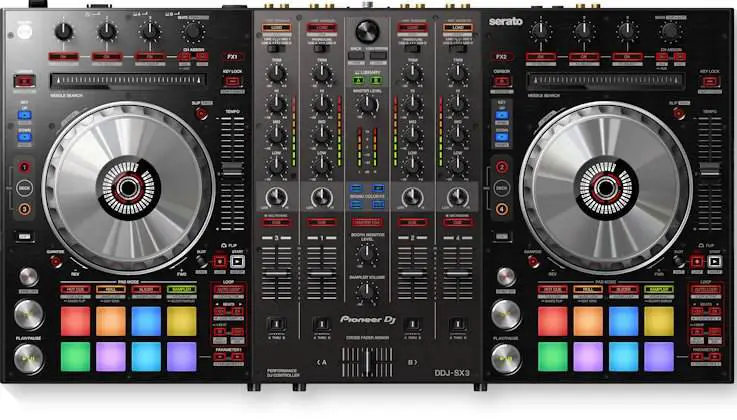 The Pioneer DJ DDJ-SX3 4-channel controller replaces the DDJ-SX 2 and comes with Serato DJ Pro software. This controller is composed of a completely autonomous mixing desk where you can connect your different players but also your different vinyl decks. You will find 3 inputs for microphones with integrated effects, a double USB port for an easy transition between DJs during performances.
Features and Benefits
The dedicated microphone jack on the front of the DDJ-SX3 eliminates the need for an extra mixer channel. With two additional microphone inputs on the back of the controller, you can transfer both microphones to the presenters without interrupting the mixes. The levels of all microphone inputs can be adjusted independently, and you can separately add different effects.
The new design of the controller has made it more familiar to DJs who use hardware decks for performances. Multicolored pads change colour depending on the mode. The jogs have reduced delay compared to the DDJ-SX2.
By connecting a DDJ-SX3 to your computer, you can unlock Serato DJ Pro software. You do not need a subscription or license key as the Serato DJ Pro is installed. Serato Flip Voucher and Pitch n Time DJ Expansion Packs come with DDJ-SX3 for free and give you access to Flip, Key Shift, Key Sync, Pitch Play and other features.
Why you should buy the Pioneer DJ DDJ-SX3
You can use Pioneer DDJ-SX3 as a 4-channel hardware DJ mixer by disconnecting it from your computer and connecting it to the inputs of a deck or turntable.
2 USB connectors allow you to connect two laptops for a quick change of DJs or their joint performance. Or you can connect a second laptop for safety, if the first one unexpectedly freezes.
Why you should not buy the Pioneer DJ DDJ-SX3
The controller comes without a protective case so you might want to invest in a case to protect it since the controller itself is quite expensive.
Pros and Cons of Pioneer DJ DDJ-SX3
Pros
Double USB port
Serato DJ Pro version included
Cons
Is positioned on the expensive range of prices
Numark Mixtrack Pro 3 DJ Controller
In this cost-effective model, developers have retained the advantages of the famous brand products, adding new technical solutions. As a result, the efficiency of work with the updated DJ controller has increased significantly.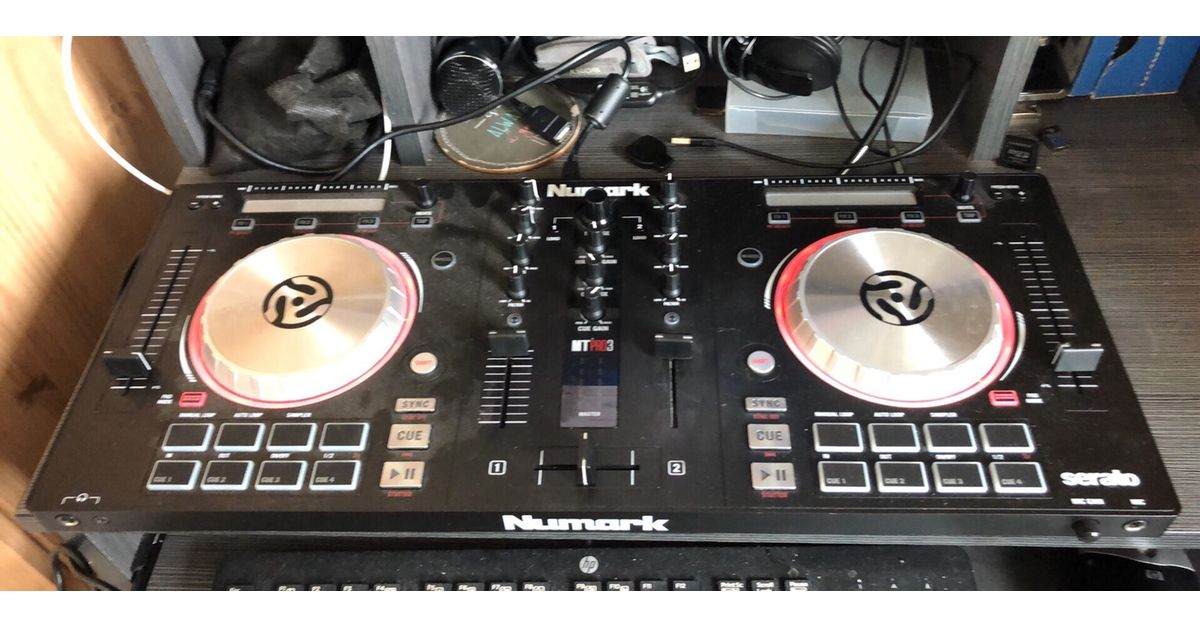 In this cost-effective model, developers have retained the advantages of the famous brand products, adding new technical solutions. As a result, the efficiency of work with the updated DJ controller has increased significantly.
Features and Benefits
The Numark Mixtrack Pro 3 controller will offer many features as well as great mixing performance. Take it anywhere with its compact size, sleek, slim design, and headphone outputs. The Mixtrack Pro 3 is simple and fun to use. Thanks to its 100mm pitch faders, it is very easy to perform BPM adjustments. The Numark Mixtrack Pro 3 DJ controller also features 16 pads, as well as a sound card, a dedicated high/low pass filter knob, and a multi-function touchpad.
Both channels have separate filter regulators and three-way equalizers. Built-in audio interface has 6.3- and 3.5-mm headphone jacks as well as microphone input.
The model comes with a ready-to-use Prime Loops Remix ToolKit set of samples and loops. To add special effects to the track, just perform a simple action. It is also worth mentioning that Serato DJ Lite application is installed in the controller and it is possible to upgrade to the full version.
Why you should buy the Numark Mixtrack Pro 3 DJ Controller
Numark MixTrackPro 3 is equipped with 100mm pitch faders. The disc jockey has the ability to control the sound height with maximum precision. This allows you to quickly and easily synchronize the two audio tracks. This option is very rare among budget devices.
Why you should not buy the Numark Mixtrack Pro 3 DJ Controller
Unfortunately, the controller is fragile as most of its components are plastic, hence the affordable price.
Pros and Cons of Numark Mixtrack Pro 3 DJ Controller
Pros
100mm pitch faders
Affordable price
dedicated high/low pass filter knob
Multifunction touchpad
Cons
Limited functions of Serato DJ software (Lite version)
Design way to simple
Fragile knobs
Another popular portable controller for both amateurs and beginners. It is distinguished by its laconic and compact design. There are 4 pads for each deck, which can work in several modes, including cue marking and starting magnifiers. It is equipped with an audio interface and works with any software, although Serato DJ is used as the official software. To use other software, just download the MIDI map. Suitable for outings and training.
Features and Benefits
The Numark DJ2GO2 controller has an integrated sound card and amplifier. Of course, there wont be enough power for a concert at the stadium, but for a discotheque in a small club its more than enough.
Two channels with a crossfader and faders make it easy to bring tracks together, while manual settings give you complete control over your music. Size wont be an obstacle for you to express your talent. The special PAD mode allows you to control performance just like on large controllers.
The installed program Serato DJ has functionality that allows you to easily create music libraries, integrate tracks from iTunes. Just drag a track to the deck to use different effects, set points and loops.
Why you should buy the Numark DJ2GO2

Ideal for beginner DJs as it has multiple functions and for mobile DJs for its portable and lightweight design.
Why you should not buy the Numark DJ2GO2
The manufacturer was working very seriously on portability, so the pads may seem too small. Unfortunately, the manufacturer decided not to feature looping, equalizers or scratch.
Pros and Cons of Numark DJ2GO2
Pros
Works with any DJ software
Portability and lightness
Built-in audio interface
Cons
Small pads
No equalizer adjustment
Limited functionality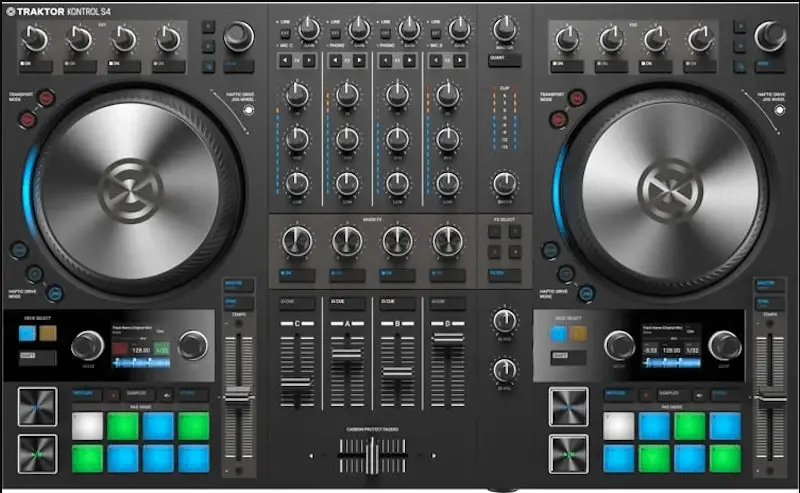 The latest version of the popular TRAKTOR KONTROL S4. A 4-channel controller that works, obviously, with TRAKTOR DJ. The jogs are touch-sensitive, with 3 available modes, and 2 monitors are displayed on the operating panel for navigation. The case has protection against shock and moisture, which will be a big advantage for DJs that work in clubs.
Features and Benefits
A completely updated version with super wide Haptic Drive Jog Wheels for more precision and optimized playing sensations. This USB controller features RGB LED rings around the jogs, color screens for clear display of BPMs, tone etc. It features a built-in 24-bit/96kHz high-end audio interface, 16 RGB Pads for full control of the various features! And of course, it comes with the high-end Traktor Pro 3 software!
The RGB LED rings surrounding each jog wheel allow you to view the rotation of the boards in Jog and Turntable modes, the tempo of the songs and the selection of decks (A and B in blue, C and D in orange)
High-resolution color screens display the song identification number, key and tempo, transport data, waveform with position in the song, phase indicator, duration and status of the loops as well as control of Remix and Stem Decks.
New Mixer FX: a potentiometer on each channel to instantly control effects and filters - 8 effects and 3 types of filters to choose from in addition to TRAKTOR deck effects
Why you should buy the Native Instruments Traktor Kontrol S4 Mk3 DJ Controller
The design of this controller looks really professional and could be an all-in-one solution for confirmed DJs. It also controller comes with the high-end Traktor Pro 3 software.
Why you should not buy the Native Instruments Traktor Kontrol S4 Mk3 DJ Controller
You shouldnt buy this controller if you consider yourself a beginner. Indeed, the Traktor Kontrol S4 Mk3 DJ controller is positioned on the expensive price range as it has numerous features indispensable for experienced DJs. On the technical side, the controller lacks a dual sound card with dual USBs which can come in handy in joint performances.
Pros and Cons of Native Instruments Traktor Kontrol S4 Mk3 DJ Controller
Pros
4 decks
Highlighted Effects Section
XLR master outputs
Cons
Not suitable for a beginner
Rather high cost
Not enough space between controls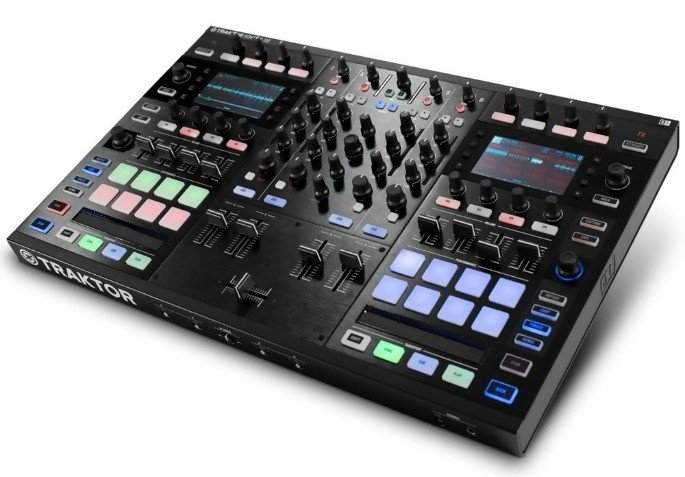 The Native Instruments Traktor Kontrol S8 Controller is a full-featured integrated controller. It has built-in screens and touch buttons, and you dont need a laptop to work with it. This controller is ideal for live remixes, and its software gives you complete control over the mixes.
Features and Benefits
Designed and engineered for a flawless DJing experience, the N.I Traktor Kontrol S8 is one of the best controllers in terms of blending hardware and software. The devices high-end layout allows you to get the best out of Traktor Kontrol software.
Also, this controller will give you the opportunity to access transport controls as well as cue points.
It also allows you to trigger loops and control remixes or Stem Decks directly through the module. Thanks to the plug-and-play control of this unit, there are no controls that need to be mapped or assigned.
Why you should buy the Native Instruments Traktor Kontrol S8
Most of the device is mainly made of plastic. But it is remarkable that the upper front panel of the controller is metal. No more glossy scratchy and branded surfaces. At the bottom of the case there are wide rubber gaskets and threaded holes for additional mounting or legs.
Why you should not buy the Native Instruments Traktor Kontrol S8
According to the manufacturer, the jogs took up a lot of space, and now it is given in favour of more modern methods of performance. However, some may not be pleased with the absence of jogwheels.
Pros and Cons of Native Instruments Traktor Kontrol S8
Pros
Many illuminated buttons
Normal indication of levels
Touch-sensitive controls
Fast change of effects without computer
New Freeze mode.
Cons
Absence of jogwheels
Absence of faders
Is positioned on the expensive range of prices
The Native Instruments Kontrol S2 MK3 controller is a next-generation DJ system designed for professional and confirmed DJs. The controller is packed with Traktor Pro 3 software. You can discover the most powerful Beat Jump, scratch, looping and many other features on the market.
Features and Benefits
This one is the simplest model in the TRAKTOR range, and it works with two decks. It is equipped with a built-in 24-bit/48 kHz audio interface. The DJ can activate a dynamic microphone. The jogs are comfortable, large and pleasant to the touch, with an accessible touch mode. You can control the cue mark-up with pads. There are eight effects for live play: Reverb, Dual Delay, Dotted Delay, Flanger, Time Gater, Noise, Crush and Barber Pole. The depth of the effect can be adjusted with a single filter control.
Deck management has been completely redesigned and brought into the most common form of DJ devices. The large CUE and PLAY buttons are located on the left side above each other. It is noteworthy that the pads have an additional SAMPLES mode, in which you can control the top four slots in the remix decks C and D.
The bottom row of pads makes the slot active, and the top row starts sample playback. For a two-channel controller, even such modest additional features look like a huge plus.
Why you should buy the Native Instruments Traktor Kontrol S2 Mk3
You will be able to enjoy more than 40 deck effects. Youll find two large 14 cm jogs, 16 RGB pads, FX mixer and many other features.
Why you should not buy the Native Instruments Traktor Kontrol S2 Mk3
At firs, its hard to get used to the new location of the buttons and some people may not like the shortened speed faders.
Pros and Cons of Native Instruments Traktor Kontrol S2 Mk3
Pros
Quality sound
Stable operation with software
Built-in effects
Cons
Unfamiliar controls
Only 2 channels
TRAKTOR KONTROL D2 is a portable visual control of the deck designed for ultra-modern operation with the TRAKTOR PRO 2. The full colour display and touch-sensitive controls provide a responsive workflow for a modern DJ. Durable, lightweight, compact, the D2 is the perfect solution for a touring DJ.
Features and Benefits
Essentially, KONTROL D2 is a deck control section from the flagship controller TRAKTOR KONTROL S8, which is housed in a separate housing. Thus, for full work in Traktor Pro you will need another D2 controller, a hardware mixer and a sound card. Hence, KONTROL D2 does not suit the role of a complete independent device and is aimed first of all at retrofitting the existing configuration.
The KONTROL D2 controller is an exact copy of the right deck of the KONTROL S8. The only difference is the additional effect assignment buttons in the upper right corner. Four small buttons with letters are used to send the corresponding deck to the effect unit. In addition, pressing the A or B buttons while holding down SHIFT will change the controller control of the A+C deck to B+D. The long FX Select button changes the type of effects used. Otherwise, KONTROL D2 is no different from the KONTROL S8 deck part.
Why you should buy the Native Instruments Traktor Kontrol D2
It is worth mentioning that KONTROL D2 has standard sizes and unlike previous Native Instruments modular controllers, it does not require any additional stands to be placed on the same level as traditional DJ devices.
Why you should not buy the Native Instruments Traktor Kontrol D2
Considering that D2 is a controller without a built-in sound card, the price for it is slightly overpriced, even though the device uses a quality screen.
Pros and Cons of Native Instruments Traktor Kontrol D2
Pros
Can be integrated in any setup
The same layout as flagship KONTROL S8
Lightweight
Cons
No audio interface
Too expensive for a modular controller
The DJ-505 is a 2-channel, 4-deck Serato DJ controller offering a wide range of possibilities, including all the elements of the Serato Tool Kit. Portable yet rugged and packed with professional features, the DJ-505 is the ideal tool for mobile applications, clubs, concerts and music production.
Features and Benefits
In terms of functionality this controller has a built-in rhythm machine with the sounds of the legendary TR-808, TR-909, TR-606 and TR-707 and 16-step sequencer. With this sequencer you can program drum patterns with TR or Serato Sampler sounds and then synchronize them with Serato DJ tracks to create unique crossfades, live remixes, enhance classic tracks or original music.
The DJ-505 contains bass drum, snare, open and closed hi-hat, tom, rim, clap and ride sounds allowing you to create massive and varied sounds throughout your sequences. The DJ-505 even allows you to modify the TR tones and samples with the Level, Attack, Decay and Tune controls and to prepare sequences with the TR-S pads that are no longer present.
The DJ-505s turntables are not only large, but also ultra-fast, allowing you to perform scratching as varied and precise as on vinyl turntable. You can see the status of each deck directly on the outer rings of the Jog wheels. In addition, the DJ-505s decks are fitted with brushed aluminium plates for a more pleasant haptic experience and robustness above all suspicion.
Why you should buy the Roland DJ-505
Whether youre a beginner of a confirmed DJ and if youre in the market for a mid-range controller, Roland DJ-505 if the best choice as it is packed with all the feature that youd need.
Why you should not buy the Roland DJ-505
The microphone input distorts easily, and the configuration of buttons and fader position is not saved with the software, this means that every time you turn on the software you have to reconfigure your controller.
Pros and Cons of Roland DJ-505
Pros
Big, inertial-free jogs optimized for scratching
License for Serato DJ and Serato Tool Kit included
Ability to be used as a standalone mixer when connecting turntables or CDJs
Dedicated microphone input with gate, Hi-Pass filter and reverb and echo effects
Cons
Plastic-made
No case included
Crossfader seems quite fragile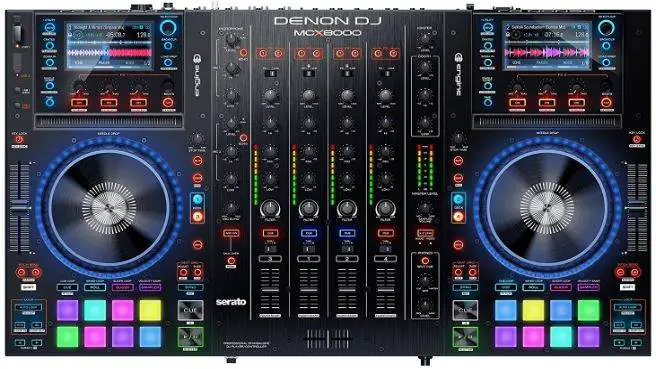 The Denon MCX8000 is a milestone in the evolution of DJ equipment, combining software and hardware in a complete, efficient and versatile way. No matter what you want to do with it, youll be amazed by this controller. In fact, this controller has a four-channel mixer and differs from its main competitors by the fact that it is a hybrid controller with two operating modes.
Features and Benefits
This controller is made in a rugged steel case, equipped with two large enough LCD displays and jogs, Needle Drop touch strips and 16 backlit pads. The MCX8000 can also function as a standalone mixer or with DVS. Among other advantages of the device we would like to note a good set of inputs and outputs.
The device is a bit bigger than were used to (except for Pioneer DDJ-SZ), but mostly it fits the proportions of DJ controllers. The MCX-8000 is thin and that makes it bigger visually. We see the next wave of Engine software development (version 1.5) and its not just a library anymore, because the software makes this iron block work completely independently.
On the one hand, it is a DJ controller running on Serato DJ software with DVS upgrade option, and on the other hand, you can leave your notebook at home and only take your flash drives and HDDs. But you can work simultaneously on your laptop and flash drives - the channels are assigned on the fly. This is very convenient and wise. And all controls on MCX-8000 are fully midi programmable. Engine can also expand Serato library and import BPM, magnifiers, mark points.
The controller itself has autonomous hardware effects and filters. The faders are compatible with the Innofader. Jog lights are also editable.
Why you should buy the Denon MCX8000
Not only the controller is extremely solid as it is metal build, but it has a variety of features and sounds.
Why you should not buy the Denon MCX8000
The standalone mode isnt as practical as you might think. Unfortunately, most of the pad functions dont work in this mode so youre limited to 3 effects.
Pros and Cons of Denon MCX8000
Pros
Versatile
Various possibilities (including the 8 pads/platforms with 8 functions)
Standalone function (without PC, directly via USB)
2 front USB ports
Easy switch from midi to USB function in case of problems with the pc or USB key
Cons
Impossible to record a mix directly on USB in standalone (you must use the pc)
Some pad functions not available in standalone (such as samples)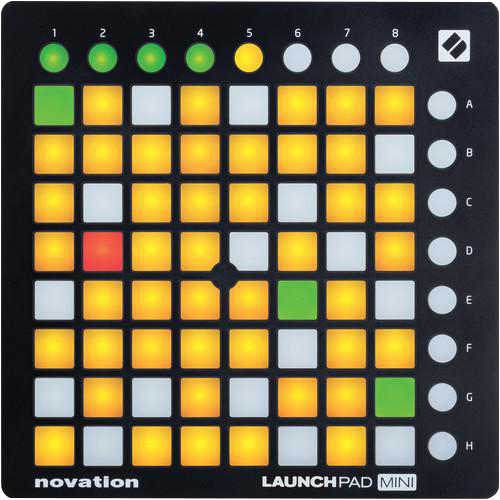 Novations LAUNCHPAD MINI MK2 DJ Controller is the most compact tool in the Launch range and offers the same features as the older Launchpad S. The device is equipped with 64 color backlit pads. These pads are used to launch clips, magnifiers and samples, as well as to control the mixer and effects in the Ableton Live program. In addition, there are 16 additional function buttons, which also have colorful backlighting.
 Features and Benefits
The Novation Launchpad Mini MK2 is a smaller DJ controller specifically designed for musicians who need a large number of pads and use Ableton Live in their work. With these pads, you can start clips, play drum snippets or control the mixer. The controller is specifically designed for Ableton Live and is configured for this DAW by default but supports others.
On the surface of Novation Launchpad Mini MK2 there are 64 pads with multicolour backlighting each, arranged in the form of a 8×8 matrix. In addition, there are 8 assigned multicolour system buttons and 8 unassigned functional buttons. The low weight allows easy packing and transfer of the controller, and the power for the controller is supplied exclusively via USB (micro-USB connector). This means that you dont need to carry a separate power adapter with you: just one connection cable. There is a Kensington Lock slot to protect against theft.
The latest versions of Abelton Live (version 9 and above) unleash the full potential of Launchpad Mini MK2. Therefore, it comes with Abelton Live Lite and a set of tools from Loopmasters, Novation V Station and Bass Station (including VST and RTAS).
Why you should buy the Novation LAUNCHPAD MINI MK2 DJ Controller
Novation has created an excellent ecosystem in which the device complements the tools of the LaunchPad line and multiplies the capabilities of the artist. Its important to note that the controller comes with headphones and a microphone.
 Why you should not buy the Novation LAUNCHPAD MINI MK2 DJ Controller
The only drawback to this controller is the fact that it doesnt allow you the same functionality as a complete setup. So, if you want to step up your game, youll have to invest in additional hardware.
Pros and Cons of Novation LAUNCHPAD MINI MK2 DJ Controller
Pros
Fits in a DJ bag and does not take up much space on the table
Works with any DAW 
Drivers are not required
The device is powered by USB and can run on a tablet
Cons
The need to buy Camera Connection Kit or Lightning to USB adapter (to connect to an iPad)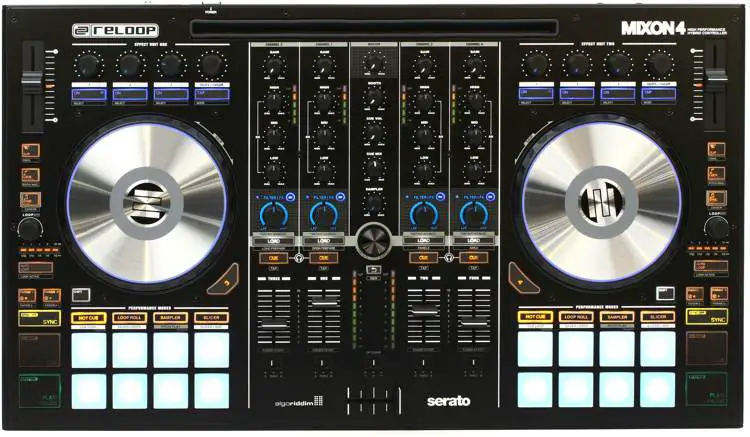 Reloops Mixon 4 DJ controller was created in close cooperation with Serato and Algoriddim, world famous DJ software developers. This DJ controller is positioned as a multiplatform all-in-one solution optimized for Serato DJ (Mac/PC) and Algoriddim DJay Pro (iOS/Mac) software. However, this controller can be used with any other MIDI-compatible DJ software such as Traktor Pro 2 and Virtual DJ.
Features and Benefits
Reloop Mixon 4 is equipped with flat 155 mm jogs with a touch surface and LED backlight for visual feedback (the current position of the virtual needle is displayed).
There are also sixteen large (30 × 30 mm) dram-pads with multi-color backlighting, sensitive to the speed of pressing. These pads can work in eight different performance modes, including a completely new Pitch Play mode.
Another innovation of Mixon 4 is Harmonic Mixing, a unique feature that allows users to synchronise the tonality of different tracks at the touch of a button.
Why you should buy the Reloop Mixon 4
At a great price, the controller is packed with features, has smooth controls and interface great for beginners of advanced DJs.
Why you should not buy the Reloop Mixon 4
Unfortunately, the controller doesnt have additional inputs that would allow to connect any media players or turntables.
Pros and Cons of Reloop Mixon 4
Pros
Support for various platforms: Mac, PC, iOS and Android.
Dedicated Loop section with LED loupe length indication
Hybrid device allowing to use DJay PRO or Serato DJ
Cons
Cross fader predisposed to break
Lack of hardware mixer
Conclusion
It is important to know that there is an extremely wide choice of controllers prices. They range from about $50 to $2,000. This will mainly depend on the end use of your controller. If you are a pro DJ then you will have to count between 800 and 1500 dollars to be sure to have the right equipment. But if you are a beginner or if you want to offer it to your children then the choice will be between 50 and 500 dollars.
In this review, we first explained a couple of basic principles to follow when choosing a controller, as well as provided you with a list of controllers of different prices which are all looking at. However, we still recommend you to thoroughly check forums or reviews channels that will allow you learn new things about the ever-growing DJ hardware and software market.

Remember, no program or controller will make a kill mix for you, all is in your hands. Therefore, the choice of hardware programs, should come from your style of execution or your creative plans.