This guide will help beginners in understanding different types of DJ equipment and their usage. It will help in choosing all kinds of DJ Equipment for beginners with budget and premium options and sources of availability.
You may have decided to follow the DJ as your hobby or to become a DJ for business purposes. You have more clarity on how to become a DJ and how to pull the crowds but are still unsure about the technicalities of DJ Equipment.
It is but natural. The sheer variety of equipment makes it a daunting task for beginners.
I am going to make your job easier by picking the best of the best equipment so that it is a smooth beginning for you and you don't end up feeling cheated.
You will be confident in taking the big step and starting the DJ business or hobby.
Before I recommend some of the products, I would explain about types of DJ equipment and their uses, so that it becomes crystal clear to you.
Before going further, we need to take a call on DJ Setup also. Just as we decided, DJ as a profession and not as a job in a night club, similarly we need to decide the type of setup from 3 possible options.
Whether it is going to be analog, or digital or a mix of both
Old School DJ Setup
It has a traditional or classic touch to it. Though it is rare to see such DJ setups, it sometimes becomes a hobby or a specific customer positioning for a businessman.
It all depends on you. If you want to look and behave like a vintage DJ in the town, it may have its own benefits.
Here we may just need a mixer with two turntables and few accessories to get started.
Digital DJ Setup
With the advent of modern technology, it is recommended to have a big portion of your DJ set as digital. It has its own advantages. With the help of DJ controller hardware, we can control everything with a computer and related software.
Hybrid Setup
This set up keeps the good point of both types of setups. It may cost a little more, but you will have capabilities of both analog and digital.
You can start with more digital and less analog and scale up later or you can have a primarily analog look and additional gear later on.
All this thinking beforehand can help you in choosing the right kind of equipment.
Different Types of DJ Equipment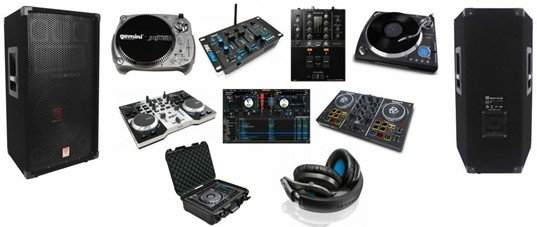 1) Turntables
If we think of contemporary DJs, we can't imagine them without records players and round vinyl disks. Record players are being used for many years.
There is a saying that a DJ is not a DJ without a record. A DJ with a laptop and modern instruments doesn't really look like a true DJ.
So, any DJ must have at least one turntable to showcase the capabilities.
They let us scratch, switch songs and albums, change pitch, change tempo, etc. Nowadays, there is a trend to manipulate record sounds to produce a new type of music.
It means such DJs produce new music by using DJ equipment as a musical instrument. Scratching is one of the most used techniques with the help of the turntables.
These people are better known as Turntablists or Battle DJs.
2) DJ Mixers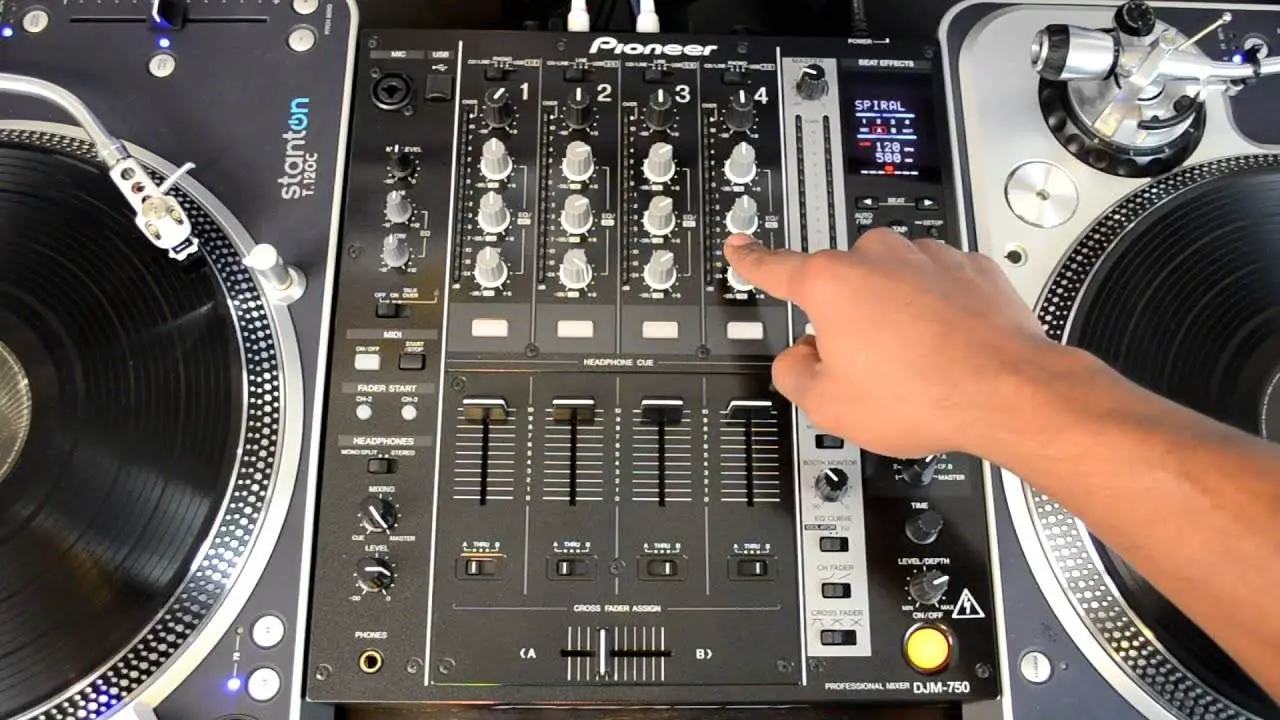 It is the most important part of an analog DJ setup. We can transition from one song to the other or seamlessly mix or mashup different tracks.
We can tweak the soundtracks by using the slider, panning, FX, and toning. You can plug in your headphones and speakers for your live performance.
You have the option to use a sound card too to process the music. Some high-end mixers come with built-in sound cards with higher sample rates.
But here things start getting expensive. Mixers are able to connect to computers and are suitable for a hybrid setup.
3) DJ Controllers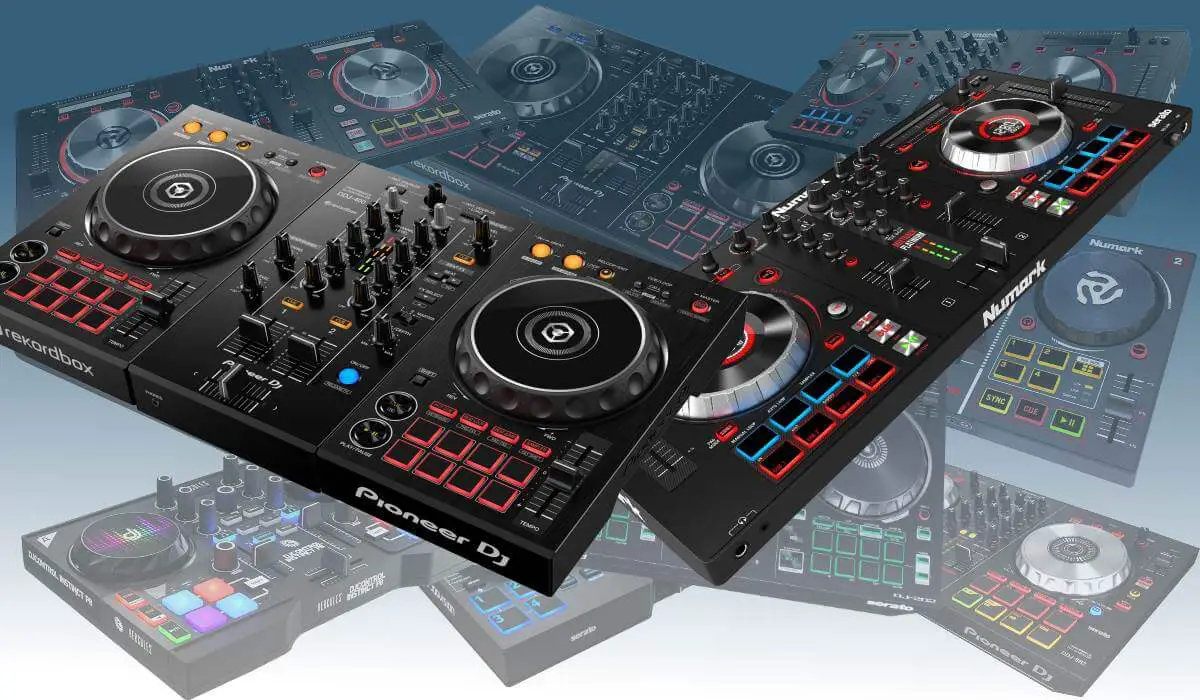 This is more using a computer and software. In many controllers, you don't use computers or expensive laptops to operate.
No worries about accidentally spilling drinks on your expensive Mac or personal Laptop. These all-in-one machines come in all shapes and sizes with loads of features.
You can tweak track settings, volume, and panning. Some can allow you to scratch on a platter other jog-wheel, which is a digital replica of an Analog Turntable.
The vinyl records are replaced with digital audio tracks. Some even come with built-in drum pads.
4) DJ Software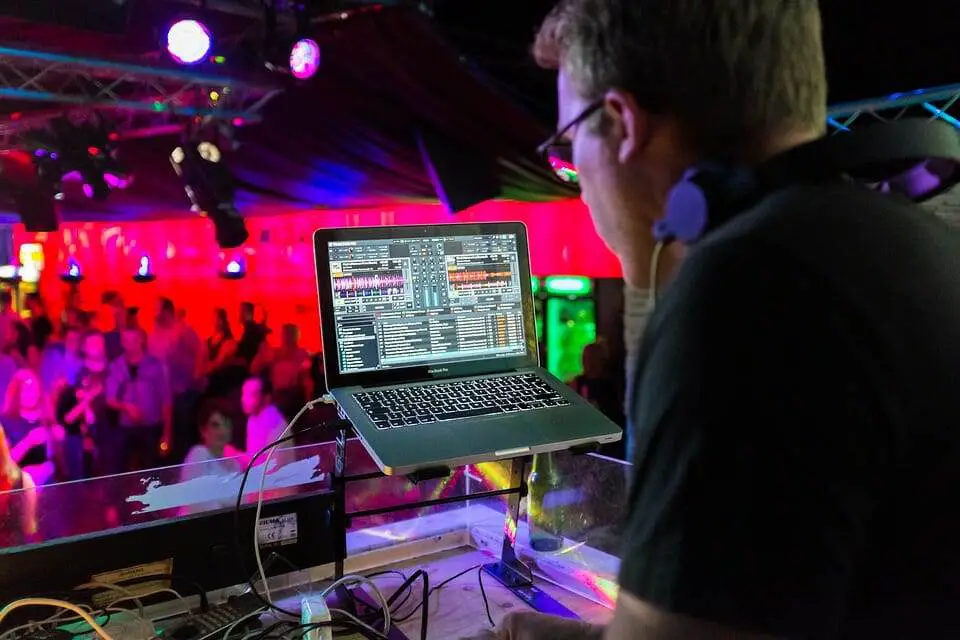 In the modern era, the software is the backbone of a hybrid set up. After connecting the controllers to your computer, you can mix, edit, copy, paste, FX, mashup, create playlists and lot more.
Without software, you may feel handicapped as it augments your capabilities. Once you familiarize yourself with its capabilities, you get hooked to it and can't do without it.
Later on, you may even use apps and smart devices, but it is not recommended for beginners.
A new concept in the modern setup. It is an all in one system and can do away with Analog completely. It has now become the centerpiece of DJ equipment.
It combines a mixer and a turntable and allows you to do much
5) DJ Speakers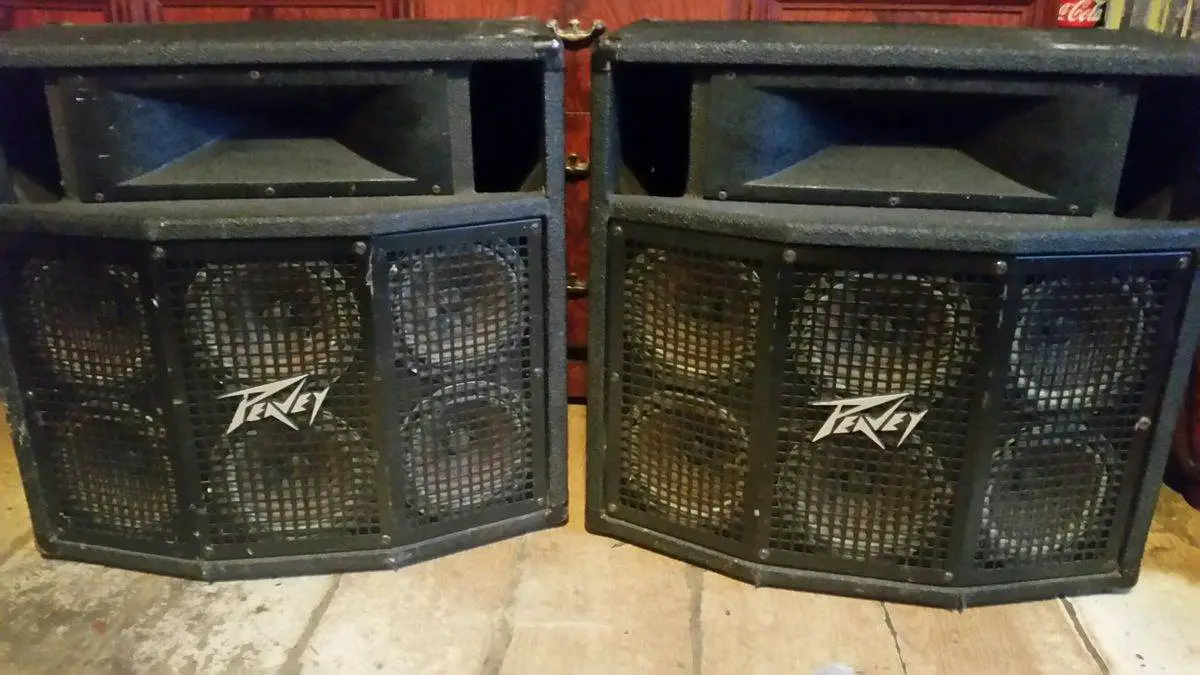 Speakers are a very important component to play live at weddings, bars, and clubs or for practicing. You may be required to travel with these to give live performances.
You need to make sure that your speakers are powerful as per the requirements of the audience.
Your existing speakers or studio monitors can work in smaller gatherings, but you may need powerful speakers for larger gatherings.
It is best to go in for a middle ground, as a beginner. Speakers may be optional if you need not give a live performance and just practicing at home or mixing songs.
6) DJ Headphones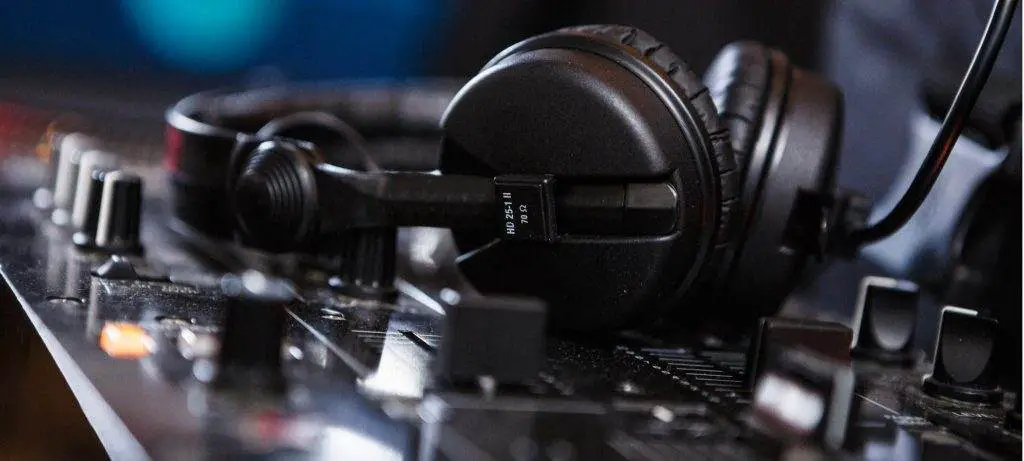 A DJ needs headphones irrespective of the fact that he is practicing at home or performing at a club.DJ Headphones help in listening to what you are going to serve next to your audience.
With mixers, you can listen to what is going to be played next and time it correctly in mashups and in track transition.
You must have seen the DJ with one ear to the side of a headphone and another one hanging by his neck. This is done for a purpose.
He is the person behind the puppet show who controls all the moves in the puppet show.
7) Cases, Bags, Racks and Mounts
We need tables or mounts to keep our gear on it safely. The tables will help you keep all the devices easily reachable. You need cases or bags to carry your precious instruments.
This is very important for people who are traveling from one place or the other. Moreover, it looks very unprofessional without the proper mounts and cases.
The size of the case also depends upon the kind of gear you are carrying with you.
8) Earplugs
Proper earplugs are a must for your safety. Regular exposure to loud music (80 plus decibels) can create many problems and can create serious discomfort to tinnitus or even permanent hearing loss.
You may think that earplugs limit your ability to hear the music or the person next to you.
In fact, earplugs are designed to filter only the dangerous frequencies and the latest smart earplugs are able to even emphasize very soft sounds, like someone asking you a question.
9) DJ Effects
In this category, many types of spotlights, disco lights, stage lights, and Foggers, etc are available.
There is a lot of variety here and you need to buy these effects to create the party ambiance and can add more of them later on, when things start moving as desired.
Now you know a lot about the setup and types of instruments and ideas of their usage. We will be recommending a few instruments in the budget and premium categories.
You can buy as per your budget and requirements of features.
Budget Options With Basic Features
| | |
| --- | --- |
| Categories | Suggested Products that are also Available on Amazon |
| Turn Tables | Gemini TT – 1100 USB @ Amazon |
| Turn Tables | Numark TT USB Turntable@ Amazon |
| Mixers | Pioneer DJM-250MK2 @ Amazon |
| DJ Controller | Numark Party Mix @ Amazon           |
| DJ Controller | Hercules DJ Control Instinct @ Amazon   |
| Software | Serato DJ @ Free Trial   |
| Speakers | Rockville RSG12 @ Amazon   |
| DJ Headphones  | Sennheiser HD 8 @ Amazon   |
| Cases and Mounts | Gator Cases EVA Series @ Amazon   |
| DJ Effects | Himack 30W LED Moving Head spotlight @ Amazon |
Description and Features of the Products
1) Turntables
 Gemini TT – 1100 USB @ Amazon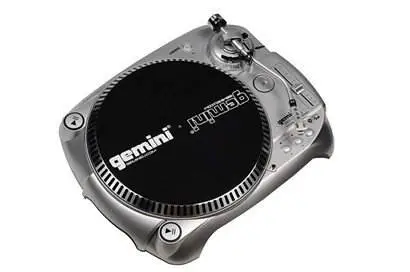 It helps in integrating the vinyl and digital recordings together at an affordable price. It has a manual belt-drive with an aluminum platter.
It can handle reverse playback useful for scratching. By connecting it to PC via USB port, you can transfer your vinyl collections to digital format. Its adjustable counterweight and anti-skating controls ensure stable stereo balance.
It features slowed braking with the help of motor on/off buttons. It is a perfect addition to any DJ setup.
Numark TT USB Turntable@ Amazon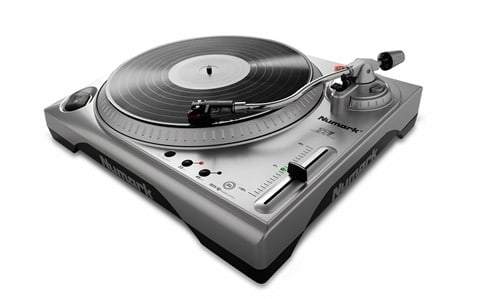 It has a simple plug-and-play capability for connecting the computer with USB. It lets you access both Analog and digital tracks.
You can transfer your Analog records into digital ones. It also features an adjustable anti-skate control for better stereo balance and pitch control. Its price is comparable to Gemini.
It has software to remove clicks, pops and other undesirable characteristics of vinyl.
2) Mixers
Pioneer DJM-250MK2 @ Amazon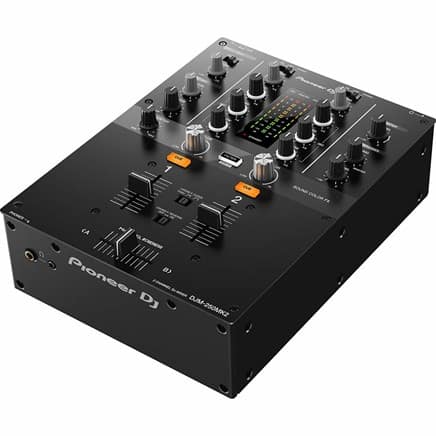 It is a basic DJ Mixer of entry-level and is very easy to learn and suited for beginners. Pioneer brand is synonymous with DJ and is supported by all music lovers. It has straightforward controls and a clear layout.
Its 'sound color FX filter' lets you add resonance to your music. It comes with a built-in sound card and lets you connect to computers and record or perform your mixes.
The software is bundled with the product which makes scratching and mixing easier.
3) DJ Controller
Numark Party Mix @ Amazon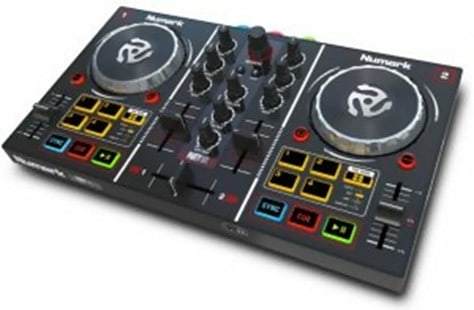 It has simplified controls, plug-n-play features and connects to most of the computers with different operating systems. It has 8 multi-function pads for looping and sampling, backlit controls.
Its buttons give quick access to cues, effects, and samples. Its audio outputs let you save or perform your mixes to computers. Its lightweight design makes it portable and mobile.
It also features a cool light show.
Hercules DJ Control Instinct @ Amazon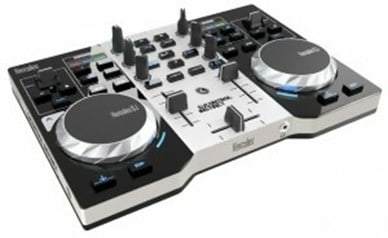 It is also having easy-to-use features. It has a 2-deck controller with jog turntables on the sides and mixer controls in the center.
You can perform scratching on jog wheels itself as they are pressure sensitive. It has built-in audio outputs and headphones jack for previewing the tracks.
It comes with software for BPMs, pitches, and breakdowns.
4) Software
Serato DJ @ Free Trial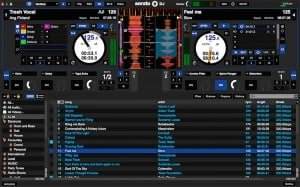 It is a challenging part to identify compatible software for the hardware. If you are on the digital path, your success depends on learning and using the software properly.
Serato is our number one pick in DJ software. You can customize your build-up, drop, and breakdown. It has easy to use features that include mixing, blending and scratching.
Its software sync feature lets you lock a track at the same bpm as the other tracks. It is easy to keep the digital music organized in this software.
It has virtual decks, colored waveforms, sampler keys, and multiple FX support. There are a lot more useful features.
You can also take a free trial of the software at the link provided above.
5) DJ Speakers
Rockville RSG12 @ Amazon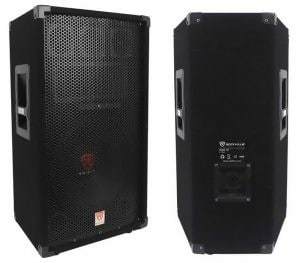 How can you show your skills to the audience? These speakers are your approach towards the audience. Rockville speakers come with great quality sound at a reasonable price. It has a 12-inch woofer, 750 Watts power and 500 watts RMS.
It is suitable for small to medium-sized gatherings. The way its cabinets are made, it is durable yet light enough to carry along to different places.
Its sturdy construction features give protection from daily wear and tear.
6) DJ Headphones
Sennheiser HD 8 @ Amazon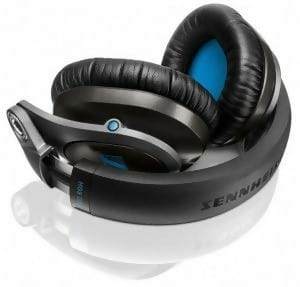 It provides high-end sounds and wonderful features. It has metal parts that are durable and highly useful for long mixing sessions.
It has a comfortable design and it restricts outside sound to a minimum level which is a very important feature in loud environments.
It has swiveling ear cups which allow one ear mounting helpful during transitioning. This is highly relevant in the DJ environment. They can be folded for easy storage.
7) Cases and Mounts
Gator Cases EVA Series @ Amazon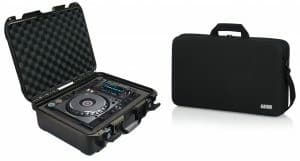 There is a good variety of equipment cases for different needs. Gator has EVA series of cases for DJ controllers.
The cases are expensive but they keep your precious instruments safe from the harsh environments. Its interior is lined with foam padding so you need not worry about them getting damaged in transit.
Some cases have power clutches installed for easy opening and closing. Some cases are waterproof as well.
The Gator series is very versatile and you need to choose your cases as per the size of the existing gears.
8) DJ Effects
Hijack 30W LED Moving Head spotlight @ Amazon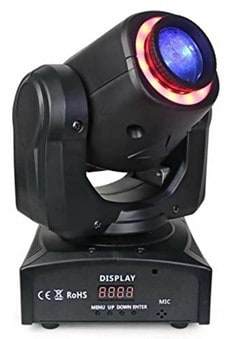 As a beginner, it is good to give a little professional touch and glimmer with the help of different kinds of light systems. These have a sturdy build, plush look and give dependable performance.
Premium Options With Better Features
Categories
Suggested Products
Special Features
Turntables
Roland TT-99 3-Speed 909 Special Edition Turntable @ Amazon
Motor: Brushless DC motor
Driving Method: Direct drive

Speeds: 33 1/3 rpm, 45 rpm, 78 rpm

Static balanced S-shaped tonearm
Tracking Error Angle: 3 degrees or less
Mixers
Pioneer DJ Mixer, Black, 4.25 x 10.51 x 16.04 (DJM-S9) @ Amazon
MAGVEL FADER PRO Pioneer's durable magnetic crossfader delivers a smooth response
Customizable FX Buttons
Filter FX

Style Levers. Quickly turn effects on and off using the 2 large Style Levers.

Trigger FX briefly, lock them on, or exit arrangements quickly.
2 Built-In USB Soundcards
DJ Controller
Numark Party Mix DJ Controller with Built-In Sound Card & Light Show, and DJ Software &Samson SR350 Headphones + Stereo Interconnect Cable @ Amazon
This Numark Bundle Includes Numark Party Mix – Starter DJ Controller with Built-In Sound Card & Light Show, and DJ Software Included for Download.

Includes Over-Ear Stereo Headphones – Dual 1/4 inch TS to Dual RCA Stereo Interconnect Cable, 6.6 feet.

Electrifying Light Show guarantees to make your party utterly unforgettable!

Mix Control – Two channels outfitted with a crossfader and jog-wheels – access to critical, must-have tools for seamless blending.

Enhance Your Performance with 4 pad modes to add some flair to your performance
Speakers
BL Professional JBL PRX815W-15" Two-Way Full-Range Main System/Floor Monitor with Wi-Fi, Black, 15″ speaker (PRX815W) @ Amazon
Complete Wireless Control with the PRX Connect App

Powerful JBL Sound, Compact Design

Tour-Proven Reliability
Industry-Leading HARMAN Technology

Flexibility for any Gig  
Headphones
Pioneer Pro DJ, Silver, (HDJ-X7-S Professional DJ Headphone) @ Amazon
Outstanding sound

Rigorously tested

Comfortable fit

Solid refined design  
Tips and Tricks to Buy Equipment as a Beginner
Research well and don't buy the wrong type of gear in a hurry to complete the gear for the DJ setup.
Learn every feature of the hardware and software. Even a small technical problem can spoil the fun. If you know your hardware and software, people will look for you for troubleshooting. It is a good way to impress Girls and be popular!
The sync feature of our software is very handy but to become a real DJ, we need to learn manual sync features also.
Discipline. It is very important. You must properly connect and disconnect your hardware. It should be opened and installed with care. Software keys are to be stored carefully. You would not like to cut a sorry figure with a disabled software with the audience waiting for the live show.
Focus on entry-level products as a beginner, but keep yourself updated on new features and products in the industry.
Keep a record of your mixes along with a backup copy. You may need them later on.
Don't be introvert. Explore the surroundings and bring your worldly experience to your DJ profession and try to make a difference.
Avoid cheap accessories. Such accessories may overshadow the real features of the best machines in the world and may even make them unusable.
If you buy online, keep a record of your bills and invoices and warranty cards. These may be handy during product failures and may even get you a free replacement from the reputed manufacturers.
Earplugs are very important for the safety of ears. In the business of DJ, Ears are the most important natural assets and you must take care of them by investing in good quality of earplugs.
Don't run after money and fame. It will come automatically and rather chase you when you are doing well.
Take care of Ambience. With the help of spotlights, foggers, deco lights, stage lights, and disco lights, you can change the overall atmosphere, especially during night performances.
Always keep a spare set of chargers, laptop batteries, mobile chargers, headphones, etc to take care of the emergencies.
Peripherals or accessories like cases, mounts, and lighting systems are a big topic in themselves. You can start with the basic stuff and buy it as per need only. When you enter the DJ world, you will find practically various new options and features. You may wait till then and save your budget.
Summary
The field of the DJ profession is so vast with a number of instruments and equipment, which again come in different sizes, colors, and variations.
No guide can be fully exhaustive and only show the way. We have touched upon the most important aspects and categories and have given the best possible recommendations.
Follow the tips and recommendations as a guideline and take decisions as per your budget and personal preferences. After all, it is you who is required to run the show and make it successful.
References