What is a DJ Controller?
A DJ Controller is an all-in-one digital instrument which emulates a traditional DJ Mixer and a turntable into a single piece of equipment and facilitates mixing the music digitally with the help of jog wheels, faders, knobs, etc. on the instrument panel as well as with the help of the software of a computer.
Some controllers are able to connect to mobile phones, tablets, and pads of android as well as Apple OS. The connectivity to apps makes them very useful and productive.
Most of the controllers come bundled with software in lite mode and a professional upgrade may be required to be purchased separately.
The controller may be designed for a particular DJ software but are usually compatible with the other DJ software also.
Nowadays, there is a trend to give most of the control on the physical decks itself, so that a DJ is not required to refer to a computer for routine jobs.
Top 10 Recommendations
The choice of a DJ Controller depends upon the type of setup, budget, portability, end-use, hobby, business, software, features, etc.
The DJ field is extremely wide-ranging from home use to outdoor concerts, hobby to profession and traditional to hybrid setup and a learner to an advanced DJ, etc.
Different segments have different types of expectations and budgets. Hence, we have segmented our recommendation on the basis of the budget.
Beginners and Low Budget: A beginner should never buy a piece of high-end equipment since the focus at that time is to learn the ropes of DJing. Even if you have got enough money to spare, you better start with a basic instrument and then buy a better one as you go along and learn better tricks.
Medium Range: Here you can customize your purchase as per the most important features and leave the expensive and overhyped features.
High-End Professionals: A person who is heavily into this profession and need to deliver as per the expectation of the audience, need to invest in the best and that comes for a price. This segment goes for the best features available in the market with no compromise on quality, durability, and features.
Here is a summary Table of Top 10 DJ controllers targeted for 3 types of Budgets.
Beginner or Budget DJ Controllers
| Model | Images |
| --- | --- |
| Numark Party Mix (Mix Track 3) @ Amazon | |
| Hercules DJ Control Compact @ Amazon | |
| Pioneer Pro DJ, Black (DDJ-WeGO4-K) @ Amazon | |
| Native Instruments Tractor Kontrol S2, MK3 @ Amazon | |
| Numark Mixdeck Express DJ Controller 20 @ Amazon | |
Mid-Budget Segment
Premium and Hi-End Segment For Professional DJs
| Model | Image |
| --- | --- |
| Pioneer DDJ-SX3 @ Amazon | |
| Pioneer DJ System (XDJ-RX2) @ Amazon | |
| Native Instruments Traktor Kontrol S8 DJ Controller @ Amazon | |
Now, we will review the features, pros, and cons of each one of them.
Pioneer DDJ-SR2 @ Amazon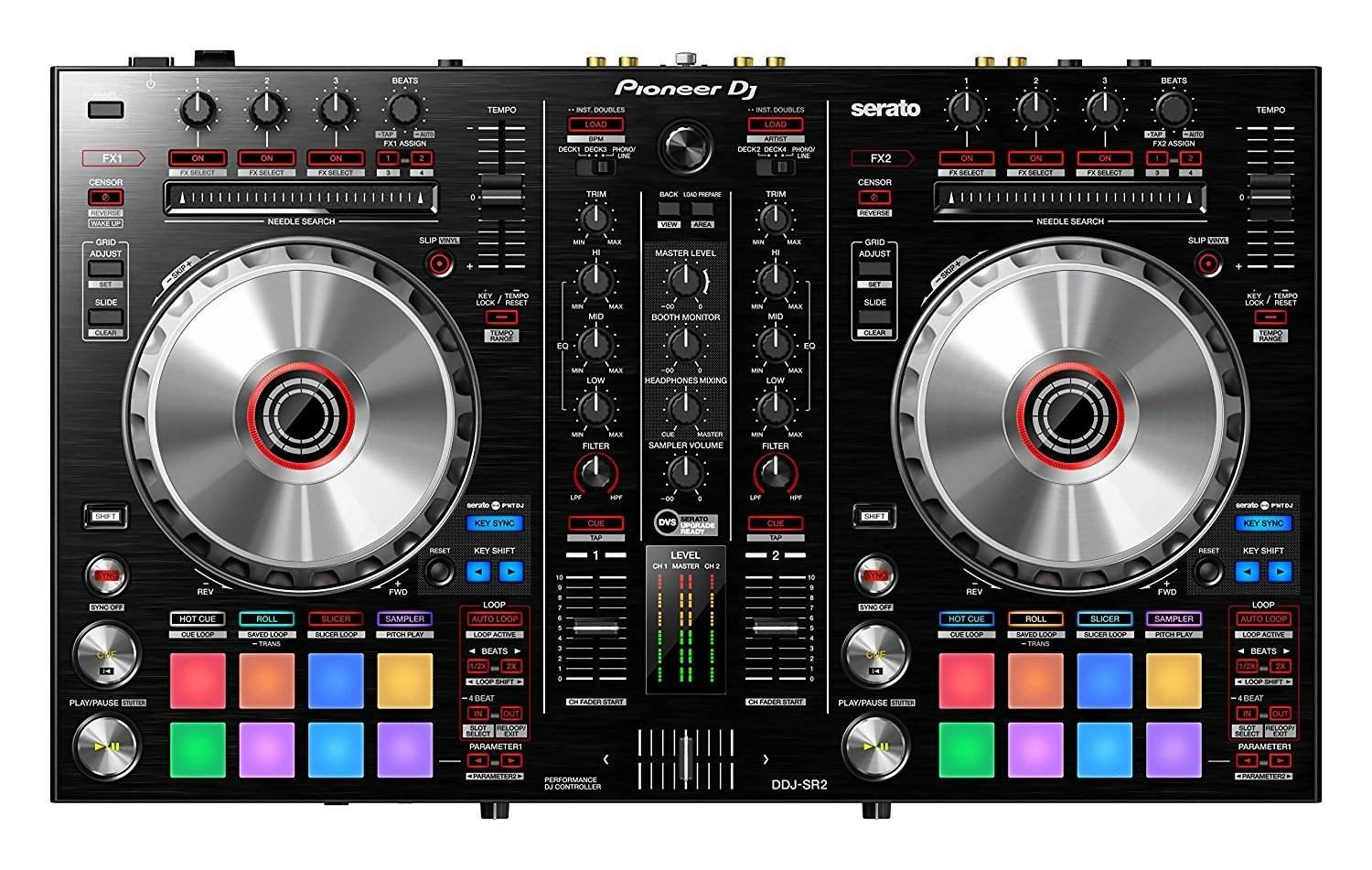 It is built for Serato DJ Pro software. You can control the software features with the buttons of the controller also. It has a spacious layout with colorful performance pads.
It is 18% lighter than its predecessor DDJ-SRand hence is easier to carry along with its grab handles. Let us go through its main features.
Software Control
The DJ controller comes with Serato software and is designed in such a way that you get easy access to software features with dedicated buttons that trigger the functions in Serato. E.g.
Key sync, key reset, key shift, etc. without changing the tempo. For the full Pro version, you need to shell out extra money.
Multi-colored Performance Pads
The hot cues can be trigger with large different-colored pads. The change in color indicates the selected pad mode and the status of playing.
Large Jog wheels
Although the DJ controller is more compact and lightweight than its predecessor, yet it has managed to keep large size jog wheels with low latency. They are very sensitive and easy to use.
Serato Pro
The bundled software is so powerful that the entire controlled has been designed as per the features of the software. It is a Plug-and-Play software with the easy set up so that you just connect SR2 to the computer or laptop and you are good to go.
It comes with advanced features and dedicated buttons for FX. You can fiddle with slip mode, hot cue, roll, and slicer.
Audio Mixer
If the controller is not connected to the computer, you can take audio input from external sources with the help of trims and fades. The audio of external turntables and/ or media players can be controlled with channel faders, EQs and trims.
DVS Upgrade Ready
If you are into scratching or turntabling, you can do so with CDJs or analog turntables. SR2 is Serato DVS ready with 'EVS expansion pack' and 'NoiseMap control' CD or vinyl.
Inbuilt 24 bit sound card for 44.1KHz. Dual-level meter to see channel level and master out. Needle search feature for fast searches and jump to another part with one touch only.
The frequency range is 20Hz to 20000Hz
Pros:
Designed especially for Serato Pro software
Large performance pads and jog wheels
DVS Ready
Portable due to lightweight
An inbuilt sound card is an added advantage
Fast searches with needle search
Lower latency of jog wheels
Multi-colored performance pads
Cons:
Pro version of Serato is missing and need to upgrade
Numark Party Mix (Mix Track 3) @ Amazon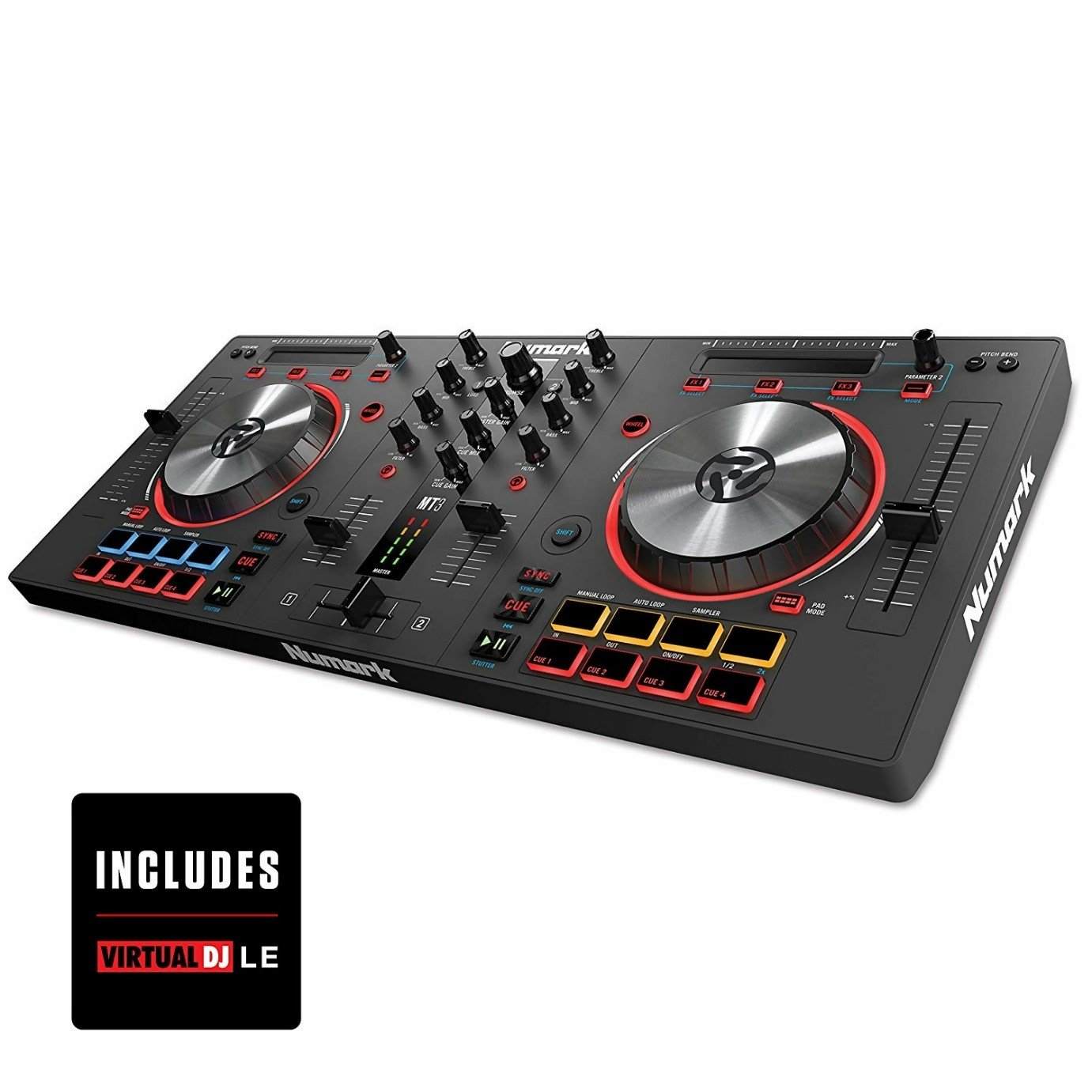 100mm pitch sliders for beatmatching, a big upgrade from its predecessor Mix Track II.
16 backlit performance pads with multiple functions and dedicated filter knobs for each channel. Touch-strip for the dynamic FX control and strip search
High-resolution touch-sensitive metal jog wheels. Metal platters let you scratch or stop a track
Download Virtual DJ software and create mixes, after registering your Mixtrack-3 controller. Upgrade to pro for better features
FX manipulation
USB controller powered by USB of the computer
Prime loops remix tool kit
Special controls for track browsing
Dedicated filter knobs
Soundcard required separately. The external audio interface required for the output to headphones and speakers
Works with any DJ software
Pros:
Backlit performance pads
100mm pitch sliders for beat matching
USB powered controller
Dedicated knobs
Works with any DJ software
Special controls for browsing
Cons:
Soundcard needs to be purchased separately
Pioneer DDJ-SX3 @ Amazon
You can connect 2 computers at the same time through USB connectivity form instant DJ changeover or as a backup computer if the other one crashes.
Three simultaneous mic inputs with 3 band EQ, low cut filter, compressor and reverb control
With 4 inputs, you can connect to CDJs, analog turntables and use as a standalone DJ Mixer.
Multicolored performance pads to start 11 Serato Pro features in seconds. The colors change to indicate selected pad mode and playing status.
From its predecessor SX2, it has further reduced the latency of jog wheels ensuring better scratching. There are illuminated cue point markers with cue countdown so that you can control without checking your laptop.
Two expansion packs of Serato are included – Pitch n Time DJ and Serato Flip extension. Pitch n Time allows you to shift and sync the keys of your track and speed up or slow down the tracks. The Flip pack allows you to edit tracks by skipping or repeating sections creatively. You can mix tracks with advanced features of Key shift, key sync, Flip, pitch play, etc. So, you can show a lot of creativity in mixing the tracks.
With popular filter, echo, Jet and Noise FX, you can add texture or unique sounds to your mixes. Unlock Serato DJ Pro software for full features.
With slip mode, you can keep the track playing muted during live editings like loop scratch or reverse and track comes at exactly the right place and time.
Needle search to jump to a particular section of the track.
Frequency range 20Hz to 20000Hz
Pros
Instant DJ changeover due to 2 computer connectivity
Multi-colored performance pads
Reduced latency of jog wheels as compared to earlier models
Fast searches with needle search to move around freely
2 expansion software packs included
4 inputs
Cons
A software upgrade to Pro is to be purchased separately
Numark NV II @ Amazon
NV II has improved upon its predecessor by providing superior performance features and designing an attractive layout
EQ and filters for dynamic control of sound
5-inch touch-activated hypersensitive metal platters with search and scratch modes
Gridlines on screen for perfect beat matching on a visual basis
Dual full-color screen displays
Five-column sorting lets you view your music by song, artist, BPM, key, etc. This enables easy cataloging of your music files even if they are not organized properly in folders.
16 sensitive pads with backlit RGB colors and 10 pad modes for hot cues, loop slicing, finger drumming and real-time visualization of Serato DJ software without referring to the laptop
Control 4 decks with one click and mix instruments with a sleek design. You can focus on the instrument instead of the computer. E.g. track status, effects, song navigation, hot cues, waveforms, etc
You can Plug and play to a computer with a USB port. The Serato Software is already included in the package and no separate upgrade purchase is required.
Ready to go controller with XLR outputs, Booth/ Master RCA outs and ¼ inch Mic input
Pro-grade crossfader, built-in USB 2.0 audio interface, aux & balanced mic inputs.
Pros
Touch activated platters
Full-color screen display
Gridlines for beatmatching
5 column sorting keys
16 backlit sensitive pads with colors
Sleek design with 4 decks – focus away from the computer
Plug and play connectivity to the computer through USB
No separate software upgrade required as full Pro software is bundled with the product
Cons
Not lightweight
Cluttered look
Pioneer DJ DJ System (XDJ-RX2) @ Amazon
Designed for professional DJs
2 channels, 2 decks with midi control and 9.1kg weight
The large 7-inch touchscreen with full colors helps visually in mixes, wave zoom
Sound color FX and Beat FX for showing off your creativity
Accurate mixing with EQs and channel faders
Load video and image files to the decks from a laptop with Rekordbox video and stream live with text and FX in real-time.
2 digital platters and 2 channel mixers give you full control
8 colorful tactile pads on each deck for access to Hot cues, slip loop and beat jump, etc
The USB connection for licensed Rekordbox DJ exports your tracks to Rekordbox with no need to export them to a USB device.
2 mic inputs and 2 line/ phono inputs to connect to analog turntables or portable players
Pros
Positioned for professional DJs with meticulous features
Rekordbox advantage for showing extra creativity
7-inch touchscreen with full colors
USB connectivity
8 colorful touch-sensitive pads
Digital platters and channel mixers
Cons
Heavyweight and not portable
An expensive option, may not be suitable for medium budget
Hercules DJ Control Compact @ Amazon
Lightweight and portable with just 1.23 pounds and fits into a laptop bag because of its compact and narrow shape. Detachable USB cable
It is so portable that you can practice literally anywhere.
It can also be used as a backup or standby DJ controller so that if the main controller fails, you can rely on it.
It has many essential features in an ultra-portable design. Dual mixing decks, Two jog wheels, 4 modes per deck (loop, FX, samples, cue), 4 pads per deck, 2 equalizers per deck, 1 volume per deck, one crossfader, 10 control buttons with shift button doubling all controls, user-friendly.
DJuiced DJ software is suitable for both beginners and experiences. Record your mixes and share them with your friends. The controller is compatible with all the popular software like Virtual DJ, Tractor and Midi-compatible software.
You can scratch with jog wheels and control the pitch and navigation in the tracks.
Pros
Lightweight and portable- can be carried in a laptop or side bag
Can be used as a backup or a standby
Ultra-portable design with multiple features
DJuiced Software support and compatibility to all other software
Scratching with jog wheels
Detachable USB cables
Cons
Only a backup to a regular controller, not a serious option
Very Low price with compromises in some features and build
Pioneer Pro DJ, Black (DDJ-WeGO4-K) @ Amazon
It is a compact model with tactile controls and jog wheels for scratching. In addition to your computer, you can plug into your smartphone or tab also and start playing it. You can also use the WebDJ app on Apple iPad or iPhone with a dedicated slot and can mix tracks straight from the iTunes library. It is also compatible with the 'weDJ' app and the functions are self-explanatory.
By activating Rekordbox software, you can connect the controller and instantly start DJing.
Professional features like Hot cues, samplers, pad FX and loops are available in the compact and portable design
With a PC master out facility, you can review your mixes through laptop speakers or wireless speakers simultaneously with your headphones.
The soundcard is in-built, so you can directly connect speakers or amplifiers to your controller
You can switch between 3-band EQ and 2-band EQ and the filter mode in Rekordbox
With bundled Virtual DJ software, you can mix and match your tracks, set loops and cues, apply effects, and play karaoke files.
The weight is only 1.8kg and can be easily carried along as a lightweight but versatile controller.
The backlit oversized jog wheels are fun to work with.
Pros
Smartphone connectivity with apple and android and both apps
PC Master Out feature lets you review music through computer speakers
An inbuilt sound card is an added advantage
Virtual DJ software in bundled
Lightweight with just 1.8lg and versatile controller
Backlit jog wheels for better visual stimulation
Rekordbox advantage for extra creativity
Cons
Oversized jog wheels relative to the total size of the controller
Native Instruments Traktor Kontrol S8 DJ Controller @ Amazon
Touch strip has tactile knobs, faders with two full-color displays show views and panels on the controller itself and need not bother about the laptop screen
You can mix sounds with 4+4 channel remix deck faders.
16 color performance pads can capture samples and loops
You have the browse view, grid view, FX view, Remix view and freeze view. They provide instant access to the music collection, beat view in grids for fine-tuning, FX chain parameters, samples, loops, and slicing a track in 8 parts
The controller is designed for Traktor Pro software. It is a choice of many professional DJs all around the world. You get 4 software decks, library management, customizable interface and much more. Two-color displays always put the software in your line of sight
Pros
Touch strip with touch-sensitive controls and knobs
Full-color display
Views and panels are designed in such a way that you focus away from the laptop
16 color performance pads for better visual control
5 unique views- browse, grid, FX, Remix, Freeze
Designed as per Traktor Pro software for professional DJing
4+4 channel deck remix
Cons
Software upgrade required with extra payment
Native Instruments Tractor Kontrol S2, MK3 @ Amazon
The mixing is real quick. Just get the next track on the playlist, find the cue point, cut the kick with some effects and controls like chop, stop and transition and you are good to go
Use bigger jog wheels to beat match. Use the touch-sensitive top plate for nudging, scratching and scrolling and you can backspin too. The platters of aircraft-grade aluminum provide a great music experience.
You can edit with loops and samples and jump to different parts of the track with cue points. Since the timing is everything, you can use these features to be in sync with the beats.
You can create exciting transitions with Mixer FX on each channel using the dedicated mixer FX as your secret weapon.
Fully backlit buttons provide the perfect ambiance for night parties.
With the full version of Traktor Pro 2 software, you get a multitude of inbuilt professional features. You can create superb party music with sound effects and sound control.
Pros
Quick mixing capability
Bigger and touch-sensitive jog wheels
Aircraft-grade metal platters
A full version of Traktor pro software is provided with the product
Backlit buttons for night visibility
Dedicated mixer FX for creative transitions
Cons
Relatively unknown brand as compared to established brands
Numark Mixdeck Express DJ Controller 20@ Amazon
You have inbuilt XLR outs, 2 mic inputs, and a headphone output
Two high-performance decks with large touch-sensitive platters
Multifunction jog wheels are there to control tight blending, mixing and beat-matching.
Enhance your performance with pitch rangers, brake, reverse, scratch effects, looping, etc
It has two physical decks with attractive LCD screen
Built-in mixer with 3-channel EQ with replaceable faders
It works well with the mobile Djay app and Vjay app for iPads and integration to iTune capabilities.
Serato DJ Intro software for beginners is bundled free which can be upgraded.
Pros
Has large Touch-sensitive platters
Pitch rangers
2 physical decks with LCD screen display
3 channel EQ Replaceable faders
Mobile connectivity to iTunes and app connectivity
Serato software for learning for beginners
Cons
The software upgrade is to be paid extra
Conclusion
We have shortlisted 5 budget controllers, 3 premium and 2 mid-range ones. It is advised to beginners to stick to any of the 5 recommendations. At most, they can go for mid-range controllers. Jumping straight to a premium budget professional controller is not advised. Since there is a learning curve, we need to practice with entry-level equipment and then go for additional features. However, professional DJs have 3 best choices.
My personal choices are as follows:
Budget – Native Instruments Tractor Kontrol S2, MK3
Middle – Pioneer DDJ-SR2
Premium – Pioneer DJ DJ System (XDJ-RX2)
However, it is a matter of personal choice. Just stick to one principle. Choose the features as per your budget and personal or professional goals.