The DJ era started with the mixing of music on the Vinyl of turntables.
The digital technology then came in the form of Compact Discs and CDJs became popular with time.
But with advancements in the music playback technology, DJ gear kept on evolving and cheaper but more powerful products came in the form of DJ controllers.
There are a number of factors differentiating the two types of products to do a similar job of entertainment of the audience with maximum features.
The battle between the traditional and the modern continues with both of them having their own sets of merits and demerits. Let us review the purpose of both types of instruments along with their pros and cons.
Purpose of a DJ Controller
A DJ controller is a piece of music instrument which copies the functions of mixer and turntable within a single standalone piece.
It works with the help of a computer or a laptop.
They help DJs in mixing music with the help of bundled software. A traditional DJ set up takes a lot of space and needs time for proper tuning to start a gig.
DJ controllers are lightweight, cheaper, easier to transport from one event to the other.
A DJ controller has a jog wheel in place of vinyl in the traditional turntables.
The features of the mixer are inbuilt and DJ can easily do the mixing same as a turntable.
There are knobs and buttons to adjust the volume, frequencies, etc. The equipment typically gets connected to a laptop by a USB port.
You need to install the DJ software before that. The computer automatically transmits the audio to the controller and lets the DJ do the mixing part.
DJ Controllers – The merits and demerits demystified
1. Low budget High features
If you own a laptop and a few hundred dollars, you are able to immediately start a mobile DJ by using a variety of music files available with you.
For a beginner DJ, the entry barrier is almost non-existent due to a few reasons in addition to the main reason of a lower financial commitment.
The setup is created with low investment in a laptop, MP3 files, and a reasonably priced controller.
2. Software-based
A beginner DJ need not master the intricate interface of a CDJ and can easily learn DJ mixing with the help of popular software from Tracktor, Serato or Rekordbox.
DJs can mix music through software by using Midi controllers.
3. New features and a new trend
The trend of the shift towards DJ controllers is catching up fast.
DJs conversant with Vinyl and CDs are now considering the DJ controller option due to its various advantages.
The latest controllers also let the DJs creatively use many new features including chopping of samples, layering, and DJ effects, etc.
Earlier, controllers were dismissed by DJs who were used to work with Vinyl and CDs only.
At that time, there may be some technical reasons or it could have been due to the adoption of new technology.
But, now the trend towards controllers is fast catching up.
However, some entry-level controllers are so cheap, that they earn a bad name due to weak build, poor response, substandard buttons, etc.
But the high-end DJ controllers are giving tough competition to the best CDJs
4. The soft advantage
The controller usually comes preloaded with popular software like Traktor, Virtual DJ, Serato or Rekordbox.
MIDI buttons may be already mapped to the software. DJs can use loop or cue point features with the help of software.
The presence of a "Sync" button is a super feature that makes beat matching a cakewalk because the software automatically synchronizes the beats.
Some features require pro version and some high-end controllers come preloaded with Pro versions also, but in general, the purchase of a pro version may be an extra financial implication.
5. Other downsides of controllers
The controller has a demerit of the necessity of a laptop.
An existing laptop may do the job temporarily but it may not support large music collections and you may also need to invest in a new laptop or a mac leading to shooting up of your budgets.
The size of the platters is also not as big as a turntable and is difficult to manage for scratching purposes.
Since the platters are not motorized, it may be a little uneasy for seasoned vinyl scratch masters to adjust to the controllers.
Sometimes, there may be a delay of audio waves from scratching point to the endpoint due to a laptop or audio interface also.
Purpose of a CDJ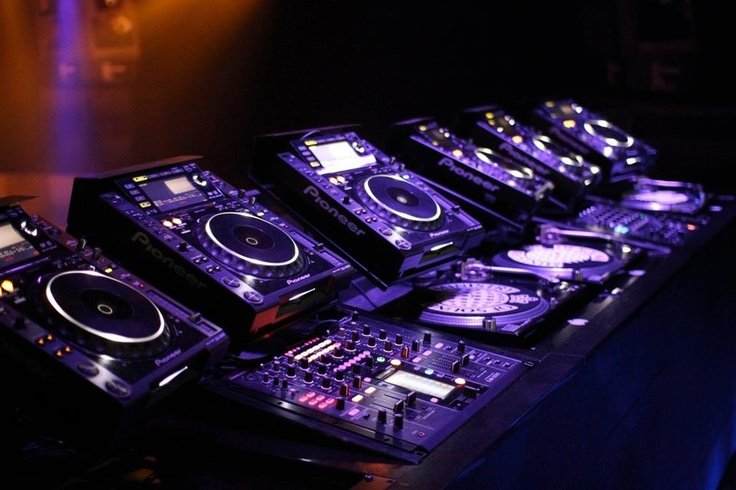 The CDJs have jog wheels and controls to mix the music with the help of a mixer.
Typically, 2 CDJs are connected to a mixer to quality for mixing. The best part of a CDJ is that they do not need a computer to work.
CDJ stands for a CD-based DJ. But, with the advancement in technology, a modern CDJ comes with many features including the option to add songs through memory sticks so that a DJ needs not to carry bulky CDs to every gig.
The CDJs were originally designed to play music from compact discs but has evolved over a period of time.
First CDJ was launched by Pioneer way back in 1994 and since then it has become a standard piece of equipment in many clubs all around the world.
CDJs coupled with a Mixer- The merits and demerits
1. See, No Laptops!!!
The main differentiating factor of CDJ from a DJ controller is that a DJ does not need to use a laptop to do any DJ work.
In a DJ booth set up, that happens to be a clear advantage. Many of the clubs have a standard set up of two turntables and CDJs.
They have an inbuilt display and can play media from CDs or USB drives without a need to use any extra devices.
With CDJs, a DJ can instantly have a direct connection with the crowd, because DJs are not glued to the laptop screen and don't appear to bore the audience.
There are some MIDI CDJs that may require a laptop and digital music, but most of the time, DJs use memory sticks or CDs or external hard drives with larger capacities.
CDJs are also capable of performing tricks like hot cue and loop. In fact, a CDJ can virtually do anything that a laptop and a controller combination can do.
Also, when compared to Vinyl, CDJs are more versatile and less expensive than maintaining a vinyl music collection.
2. Cuts a hole in your pocket
But it is going to be a very expensive affair as you may need to buy two CDJs and a mixer for the setup.
You need two CDJs for having a mixing setup. Just one piece of CDJ from pioneer may cost approx. $1000.
3. Durable but heavy, not mobile DJ friendly
CDJs are heavy-duty machines with strong durability, heavy, and can afford enough wear and tear.
But, for a mobile DJ, it could be a major hassle to carry them around along with bulky CDs, a mixer, etc.
4. Prepare beforehand every time
If you are not comfortable with the software and laptop kind of thing, then a CDJ set up is better for you.
It is a standalone type of setup with no need fora laptop and works fine with a mixer.
However, it is to be noted that a DJ will be required to be prepared in advance with files ready on the USB drive so that all the music files are available when required by the CDJ.
That calls for extra work for every gig that you plan and that too in advance. It boils down to a very big negative point.
The entire music collection is not available to your CDJ and a couple of additional external hard disks may be required to hold thousands of songs.
Comparison Summary in Nut Shell – CDJ Vs Controller
| Feature | DJ Controllers | CDJs |
| --- | --- | --- |
| Price | Relatively Cheap – a few hundred dollars plus a laptop | 2 CDJs plus mixer and CD collection. 2CDJs itself will cost approx. $2000(Negative) |
| Interface | Easy to operate through the software on Laptop and easier to learn for beginners e.g. Traktor, Serato | Intricate buttons and display, relatively fewer features and more difficult to control (Negative) |
| Build and durability | Weak build in low-end models, break easily (Negative) | Durable, heavy and long-lasting. Less prone to daily wear and tear |
| Laptop | Must to operate (Negative) | Not required. Time to connect to the audience |
| Mobile DJ | Lightweight and hence easy to transport as a mobile DJ | Very bulky and difficult to carry. Additional weight due to CDJ, Mixer, CDs, etc (Negative) |
| MIDI Controllers | Yes, the buttons can be customized. | No (Negative) |
| Mixer | Not required | Must (Negative) |
| Music collection | can use a big music collection from the laptop with MP3 files or iTunes library. No CDs or memory sticks needed. | Need to copy music to USB drive beforehand (Negative) |
| Beginner DJ | Yes suitable for beginners | Not suitable (Negative) |
| Software | Additional requirement for Traktor, Serato, Virtual DJ or Rekordbox software advanced version. Inbuilt version lack pro features (Negative) | Inbuilt display, no software required |
| Platter | Smaller. Difficult for scratching (Negative) | Larger platter. |
| Look and feel | Digital and modern | Vinyl looks with a traditional touch (Negative) |
| Preparation time | Almost ready to go | Needs additional work in advance to keep the files ready in USB stick or HDD. (Negative) |
Recommendations
Here, we are suggesting two models each for a CDJ as well as a DJ controller system.
We have clearly spelled out the pros and cons of having a CDJ or a controller, but it is up to you to take the final call
2 DJ Controllers recommended
1. Pioneer DDJ-SB3 DJ Controller @ Amazon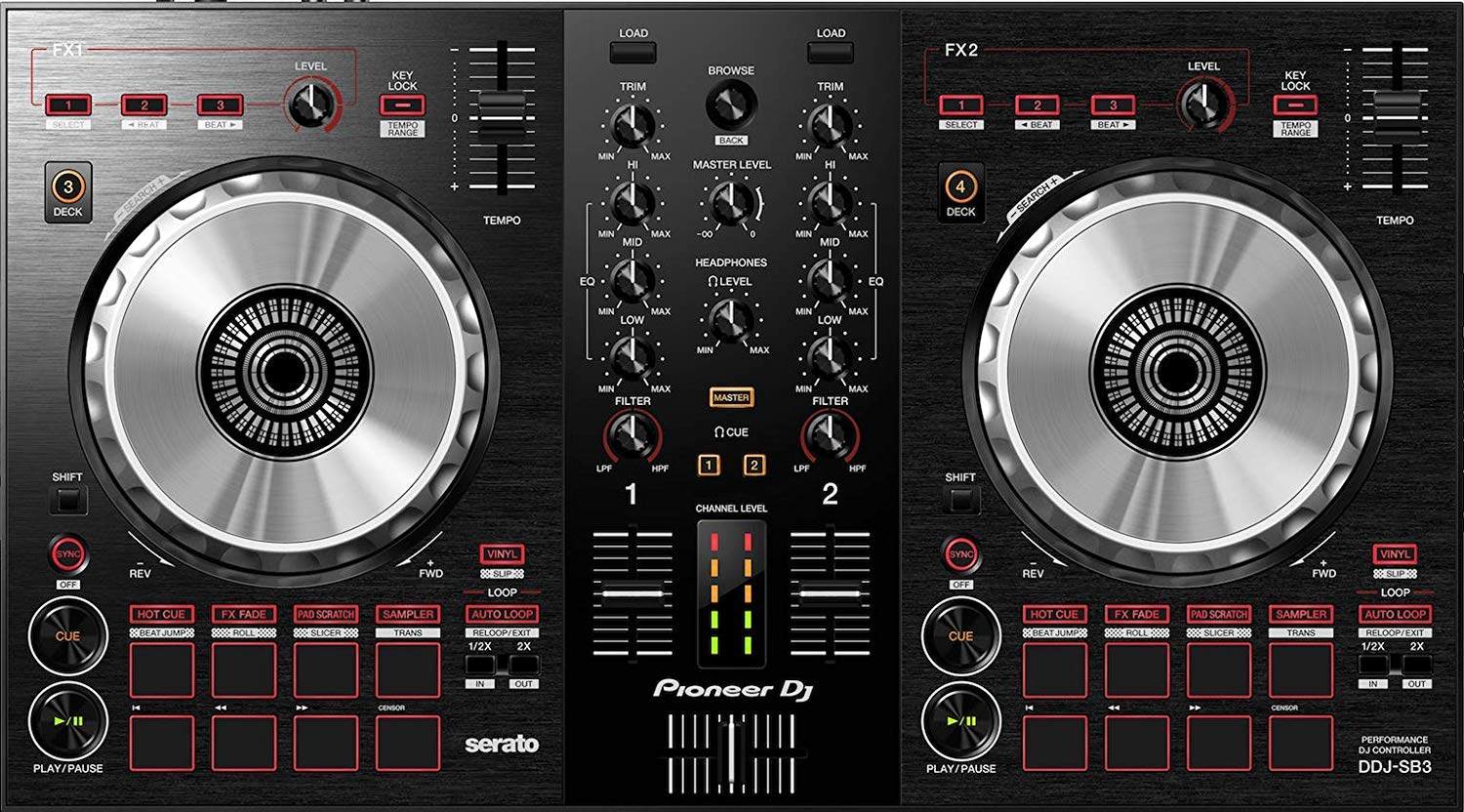 It is a reasonably priced DJ controller from the house of Pioneer, ideal for beginner DJs.
It is a lightweight, portable, easy to use, small sleekly designed instrument.
It is durable due to high-quality material. It has a cool pad and a 128mm jogging wheel suitable for scratching.
It has an inbuilt sound card with a plug-and-play feature. At this price point, it is a good value for money.
2. Numark Mixtrack Pro3 DJ Controller @ Amazon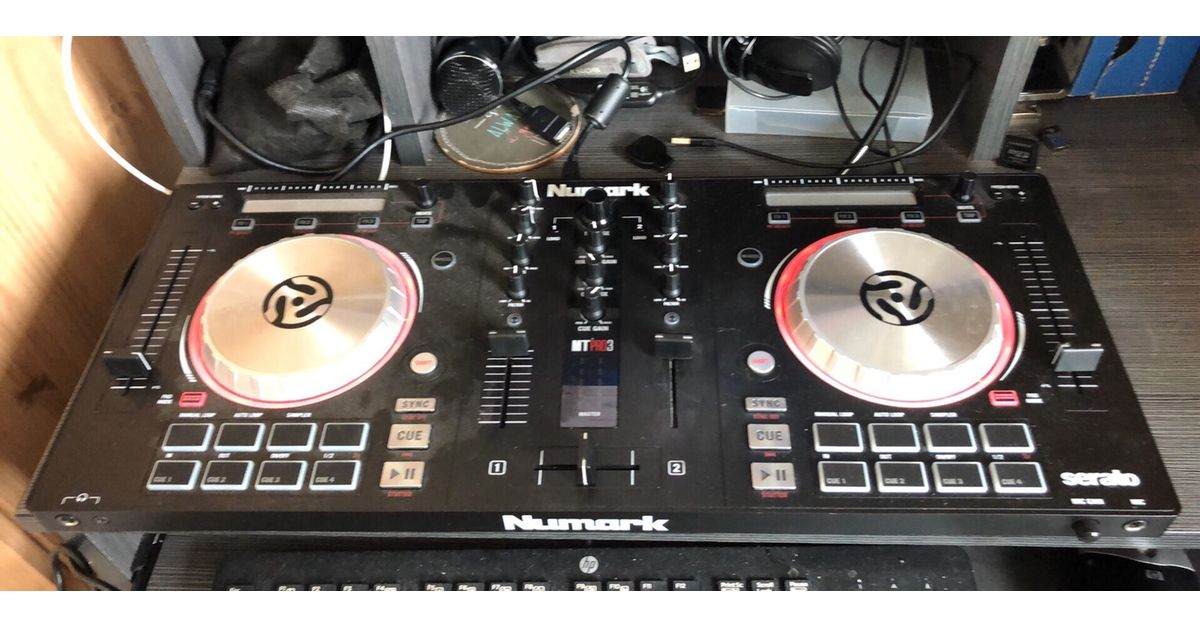 Numark is another affordable controller that is user-friendly, easy to use and ideal for beginners.
You can connect it to the USB port of the laptop. It has an inbuilt soundcard.
The software Serato DJ Lite comes free with the product. The software combo makes it all the more value-for-money proposition.
It is also lightweight and portable which is ideal for mobile DJs.
It has got 100mm pitch faders for smooth control and also features jog wheels that are super sensitive.
2 CDJs recommended
1. Pioneer DJ XDJ-1000 MK2 CDJ @ Amazon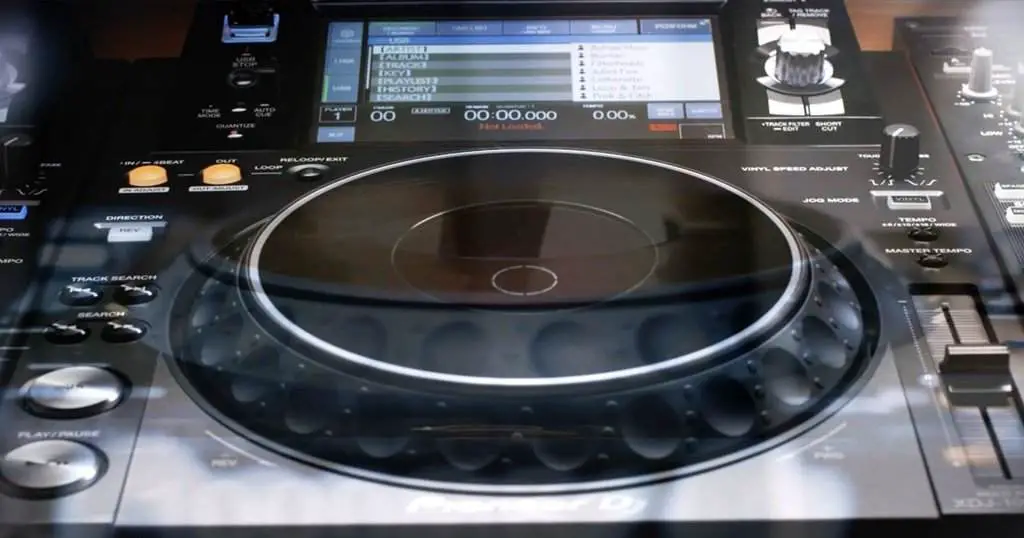 The old version has been discontinued and this MK2 version comes with advanced features at a 20% higher price.
This CDJ has a 7-inch touch screen and large jog wheels. It comes with the Rekordbox advantage of the Pioneer.
2. Denon DJ SC-5000 Prime @ Amazon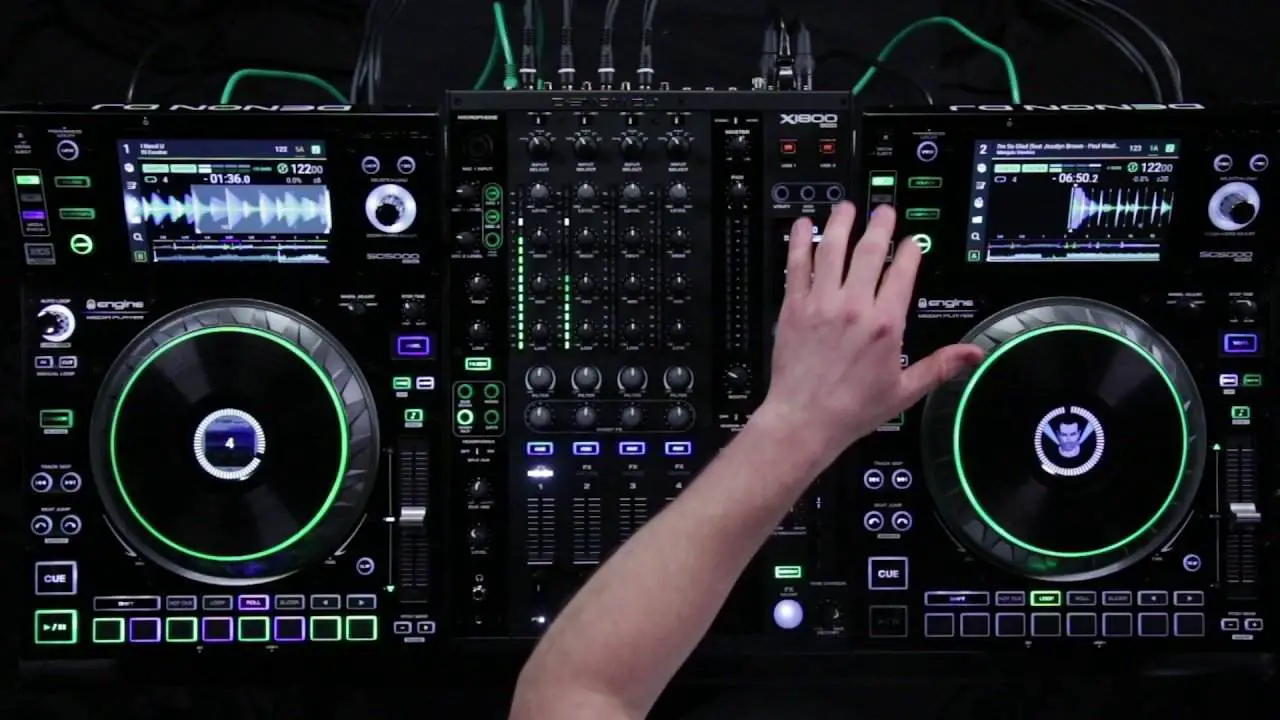 This product has a 7-inch HD Display, 8 multi-functions for slicing, loops, cues, etc. 
The 8-inch jog wheel provides enough room for music creativity. It has 3 USB connections for easy music playback options.
The Lan port option allows linking of up to 4 players.
Conclusion
It is not possible to have a clear-cut answer for such a comparison. Both systems have their own merits and demerits.
Although the negative points of a CDJ system are far more in number and are of a more serious nature, it really depends upon the situation, which one is to be preferred.
It depends upon the venue of DJ, mobility requirements, skill levels, and DJ positioning and style, etc.
As per our assessment, a controller has a clear advantage over a CDJ, there are some situations where CDJ could do equally good e.g. a MIDI CDJ.
Nevertheless, a DJ controller is all the more important part of a DJ set up and is a better choice.