Starting a new business demands a lot of hard work and commitment from any new entrepreneur. It is full of risks, both in terms of personal and financial engagements.
But things get more-comfortable if there is someone to guide you with their experience, with DOs and DON'Ts and the tips & tricks. This self-help guide is going to explain the basic building blocks of starting a new business in the competitive DJ industry.
It takes many years to establish a profit-making enterprise. There are many ups and downs in the market, and one needs to take resolve of not getting afraid of these challenges.
Once we familiarise you with the basics, you will feel more confident in taking this bold step. The very first step is to make up your mind by accepting the facts and circumstances.
Make up your Mind for Mobile DJ
Before starting the business, you need to understand what you are getting into. In addition to financial implications, you are investing the right amount of your time.
All the holidays and weekends will be usually booked in advance because people typically get time to celebrate from their busy schedules during these days.
So, eventually, you may need to work 24×7 for planning, organizing, executing, and monitoring your activities. If you have a family with kids, you need to think twice if you can manage this.
Secondly, in a loud environment, constant exposure to high decibel sounds can damage your ears permanently. You may have to face issues like a loss in hearing and tinnitus due to outside noise as well as due to the high volume in your headphones.
Although there are preventive technologies available, it is still a significant occupational hazard that you have to face. Before you take the final plunge, make sure you have given a second thought to these sorts of problems.
If you love music, I am sure you will be able to surmount all these challenges and earn the right name and money in the mobile DJ business.
Thirdly, in this business, you need the right kind of skills and experience, which take some time to learn and practice. You can volunteer to work for a friend's party or accept the job of an assistant with an experienced DJ.
This will provide you with first-hand experience of the much-needed expertise to start your mobile DJ venture.
The mobile DJ is essentially a part-time job, but it can be made a full-time business with interest and persistence. Spending some time on your promotion activities will bring you more customers.
This guide will help you in understanding broad areas of setting up a mobile DJ business which include the type of setup required for DJ equipment and related gears, a business plan, legal formalities, marketing, advertising, and promotion activities and setting up Gigs.
Mobile DJ Tips and Tricks
1. Set up of Equipment and Gears
You need to carry all the required equipment at the venue, including, tables, cases, and speaker stands. Since you are going to run the entire show, you need to plan in detail so that you have the right stuff for all types of situations.
As a mobile DJ, it is crucial to keep your equipment handy, lightweight, and easy to set up. Let us see all the equipment and gear required in a mobile DJ setup.
1.1 All in one Controller
This is the most important consideration for a mobile DJ. An all-in-one controller avoids the hassle of carrying mixers or turntables separately.
Some DJ controllers come with inbuilt sound cards, and you can connect the controller to your laptop through USB and access your entire digital music collection. It is easier to operate a single all-in-one unit instead of multiple units.
1.2 Speakers & Monitors (with stands)
You should invest in active speakers, which means that an additional amplifier is not required. For a Mobile DJ, it is essential, and it would mean carrying one less piece every time.
The speakers should have handles so that you can quickly unload them from your vehicle, take it to the venue and install them easily. Avoid wasting time and money in a cheaper variety of speakers flooded in the market.
They do not have actual wattage, which they claim to have. The cases are made of substandard material, which breaks in a short period of use. It is better not to regret after six months.
To buy peace of mind, you should opt for established brands. You also need a sturdy pair of speaker stands for inadvertent damage to them.
The monitors are required in prominent places where the speakers are kept at a distance and facing away from the DJ. This will cause a slight delay in hearing the sound.
The monitors are needed to help DJs get instant feedback sound and hence no scope for mistakes. If you know it very well that in the first few months, you may not be performing in huge gatherings, you can postpone the purchase.
However, it is still an essential piece of equipment which is part of your start-up costs.
1.3 Laptops
A decent laptop is a must for any professional DJ. You should buy a laptop with a fast processor, higher RAM, and loads of storage space to put your valuable music and for its regular backup.
A laptop is required with almost all the controllers. Incidentally, It is also possible to run a DJ with just your laptop. That way, it becomes an important backup for your setup.
1.4 Headphones & Mic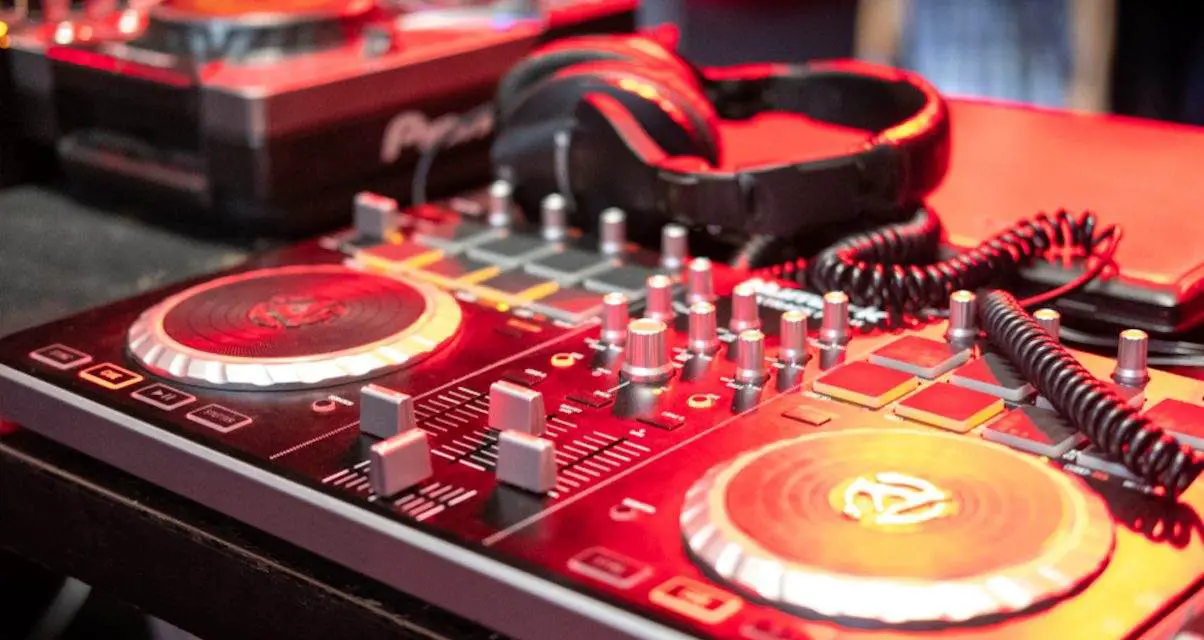 A good pair of Cans is essential for every professional DJ. Make sure they have the swivel features along with a noise cancellation mode. They should be comfortable for your years for long hours of working.
Don't buy a headphone with an inbuilt microphone. You need a separate set of microphones for adding your personal touch during the performance or for those urgent announcements during the party.
1.5 Lights, LEDs, Foggers, Lasers, Alcohol solution, DMX, Rigs
The lights should be durable to install and uninstall every weekend. It is better to have lights with options of changing effects and should be easy to switch on and off.
The light projectors light up the ceilings and surroundings thereby creating a delightful ambiance. These lights are also known as scans or moving head projectors. You may need 4 to 5 pieces to fill the room with colorful lights.
Lasers are also visually appealing as you can cover a wide area by pinpointing. They complement the foggers or mist machines or smoke machines. The mist machines use jet sprays to spew boiled alcohol solution in the form of harmless smoke.
This kind of stuff adds a Wow factor to DJ music.  Buy the alcohol solution in bulk and keep the mist machine full of this solution. Make sure you don't flash laser in people's eyes directly as it can damage the eyes.
These lasers should be targeted above the heads and constantly moving. You can add LED lighting and light boards also to illuminate the area. It is good to invest in DMX control so that you get more power and control by chaining the light systems.
You will also need lighting rigs where you can hang these lights.
1.6 Miscellaneous Stuff
There are many small things you need to carry and are equally important
a) Earbuds
The earbuds are super important for saving your ears from damage. They go deep inside your ear and protect the eardrums. The buds also come with noise cancellation features and need to be a part of your regular setup.
b) Tables
You will need one or two folding tables to put your laptop and controller. The tables should be strong enough to take the weight of the equipment.
c) Music & Cables
It is advised to keep a variety of music genres. Different people have different tastes for music. Apple iTunes could be an excellent option to start.
You need to carry all the cables supplied with the equipment. Also, you may keep spare cables and extra length cables as per the layout and size of the venue.
d) Transportation
If you are targeting a recommended radius of 500km; you need to arrange for reliable transportation. Although you may charge your client for long distances of more than 50 km, the arrangement is still to be done by your team.
In the initial days, you can rent a vehicle, but it is prudent to invest in a new or a second-hand vehicle for reliable and time-bound transportation of all your equipment, team workers, gears, luggage, etc.
e) Storage
You may need a place to store all your valuable instruments safely when not in use. As a beginner, you may keep them in the garage or storehouse, but if such space is not readily available, then on a rental basis.
The basic idea is to keep them safe and readily available for every event.
Here is a summary of our recommendations for Budget and Premium categories of equipment with prices and buying links:
1.7 Budget Recommendations
| Category | Product Link |
| --- | --- |
| All-in-one controller | Pioneer Pro DJ, Black (DDJ-WeGO4-K) @ Amazon |
| Speakers | Pioneer DJ DM-40 Pair Desktop Monitors @ Amazon |
| Monitors* | Pioneer Pro DJ Studio Monitor, RCA, Mini-Jack, Black (DM40) @ Amazon |
| 2 Tripod Stands for speakers | ASC (2) Pro Audio Mobile DJ PA Speaker Stands 6 Foot Adjustable Height Tripod with (2) Speakon 15Ft Cables & Nylon Travel Bag @ Amazon |
| Laptop* | Acer Aspire 1 A114-32-C1YA, 14" Full HD, Intel Celeron N4000, 4GB DDR4, 64GB eMMC, Office 365 Personal, Windows 10 Home in S mode @ Amazon |
| Headphone | BEHRINGER HPX-2000 HD DJ @Amazon |
| Mic | TONOR Dynamic Karaoke Microphone for Singing with 5.0m XLR Cable, Metal Handheld Mic Compatible with Karaoke Machine/Speaker/Amp/Mixer for Karaoke Singing, Speech, Wedding, Stage and Outdoor Activity @ Amazon |
| LED | DJ Lights, SOLMORE Party Lights DMX512 Sound Actived Stage Disco Lights Light Beams with Remote Control for Dance Parties Bar Karaoke Xmas Wedding Show Club 18W @ Amazon |
| Fogger | Tomshine 400W Fog Machine Portable Smoke Machine for Halloween Party Wedding Stage Effect - Aluminum Casing- Wired Remote Control @ Amazon |
| Laser | Disco Lights Party Lights GOOLIGHT Dj Strobe Light LED Projector Metal Case Sound Activated Stage Lighting with Remote Control for Birthday Parties Bar KTV Karaoke Equipment Dancing Christmas Wedding @ Amazon |
| Ear buds | Alpine Hearing Protection MusicSafe Classic Earplugs for Musicians @ Amazon |
| Music | MixVibes DVS Pro @ Amazon |
| Music | Soundcloud |
| Software | Mixxx @ Mixxx.org |
1.8 Premium Recommendations
| Category | Product Link |
| --- | --- |
| All-in-one controller | Pioneer DJ DJ System (XDJ-RX2) @ Amazon |
| Speakers | Rockville Pair Dual 15" 2000w Powered DJ Speaker System w/Bluetooth+Mic, RPG225K) @ Amazon |
| Monitors | Pioneer DJ Bulit6 Active Reference 6-Inch Monitors - Black - Pair w/ 20ft XLR Cables – Bundle @ Amazon |
| 2 Tripod Stands for speakers | 2 Rockville DJ PA Tripod Speaker Stands+Bags, Hydraulic Air Auto Lift RVSS4AB @ Amazon |
| Laptop | New Apple MacBook Air (13-inch, 8GB RAM, 256GB Storage) – Gold @ Amazon |
| Headphone | Pioneer DJ DJ Headphone, Black (HDJ-2000MK2-K) @ Amazon |
| Mic | TONOR UHF Wireless Microphone, TW-820 Dual Professional Dynamic Mic Handheld Metal Microphone Set for Karaoke, Party, Church, DJ, Wedding, Meeting, Class Use, 200ft @ Amazon |
| LED | LUNSY 36LED Stage Lights, RGB DJ Par Can Party Lighting, Uplighting Indoor for Wedding, Remote and DMX Control, Sound Activated- 4 Pack @ Amazon |
| Fogger | Commercial 10L 3500w Dry Ice Low Lying Fog/Smoke Machine Fog Effect+3m Diversion tube Bar DMX Stage Party Fogger Ground Smoke Maker @ Amazon |
| Laser | SUNY Laser Lights Music Show DJ 128 Combinations Christmas Laser Projector Indoor 5 Lens 3 Color RGB Decoration Light Blue LED Remote Control Stage Lighting Sound Activated Party House Xmas Gifts @ Amazon |
| Ear buds | Decibullz - Custom Molded Earplugs, 31dB Highest NRR, Comfortable Hearing Protection for Shooting, Travel, Swimming, Work and Concerts (Black) @ Amazon |
| Music | iTunes Subscription (Monthly) @ Apple |
2. Business Plan – Target Market and Profitability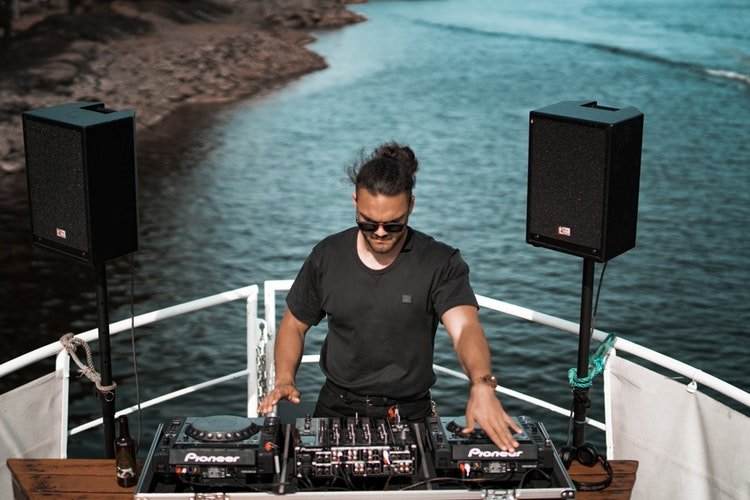 You should have a detailed business plan ready. It may include the plan for marketing your services, source of funds, manpower, target market, gears, and the overall strategy.
2.1 Target Market
Every business has an idea behind it. The mobile DJ business is based on the idea of providing DJ style entertainment to people in small to medium-size gatherings like wedding parties, celebrations at clubs or societies, school competitions, annual fests, birthday parties, etc.
The mobile DJ business should cover an area of up to 500 KM with a personalized touch and a DJ experience, which is just a phone call away.
You should study and find out whether there is enough market for your business idea in your area. Also, try to understand the competitive scenario.
How many DJs are there, and what is their style, and how much do they charge? Can you do better than them, and can you position yourself differently?
It is recommended that the DJ should take a fixed charge for 3 to 4 hours, followed by hourly payments. The customers may also bear the traveling expenses beyond 50km. Whatever system you adopt, keep the pricing competitive.
Initially, you may target small gatherings of 100 to 500 people. Once you become a little famous, you may need to invest more money in the equipment of higher configurations.
You may be required to invest in speakers with higher wattage, software upgrades, new laptop, etc.
You need to understand the existing pain points in the market. What kind of niche or market segments are still untapped? How lucrative are they? Do clients have any genuine concerns which you can efficiently address?
2.2 Start-up costs
These are necessarily the costs of equipment, marketing, and promotion expenses, licensing fees, laptops, vehicles, etc.
2.3 Ongoing costs
Some costs will be recurring, and you need to cover them up with a number of events. These include insurance, salaries, maintenance expenses, fuel, rent, and insurance, traveling, etc. Besides, you also need to buy new music titles to keep your music library up to date.
2.4 Is it Profitable?
You have only one source of income, and that is the frequency of your performance. The profitability will depend upon the rate charged by you. If you have a premium positioning, the number of events will mean a much higher profit.
But, if the prices are competitive, you need to control your costs and increase your events to justify the additional costs. After the breakeven, you can improve your profitability by popularising and increasing the price per performance.
3. Legal Formalities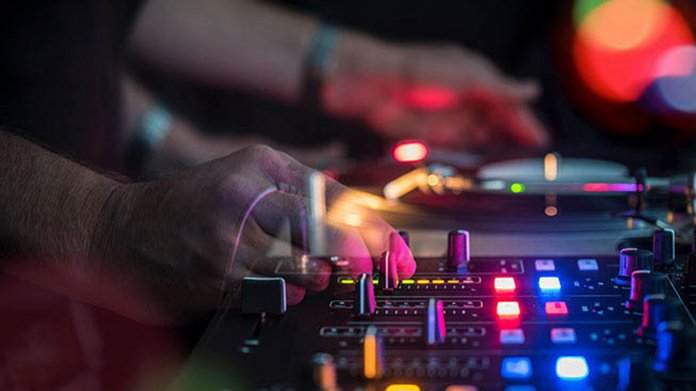 3.1 Legal entity
What is in a name? In business, the name is all that matters. So, brainstorm and decide on a catchy interesting name for your DJ business. You also need to decide whether it will be a sole proprietorship, partnership, or a limited company.
3.2 Tax registration
In many countries, tax registration is compulsory for any economic business activity. You need to register your company separately as a business entity and comply with the taxation laws. You may have to register for state and federal taxes separately.
3.3 Banking & accounting
Open a separate business current account so that your personal and business finances do not get mixed up. This is also important for taxation and audit purposes.
You may need loan and credit card accounts as per the source of funds. To understand the specific business performance, you also need to maintain accounting books. This also helps in preparing accurate tax returns at the end of the year.
3.4 Licensing & Insurance
You must get your equipment insured for any eventuality like breakdowns, fire, theft, etc. Your future bookings may also get affected, and you may incur heavy losses on missing any scheduled performance.
Apart from the insurance of your hardware, you need to insure against liabilities. Clients may sue you for any mishap or accident, or non-performance during the event. Liability insurance may protect you from such substantial losses.
You may also need to obtain licenses for using copyright music. E.g. In the UK, you may need to get a license from PRSPPL and ProDub. In the US, you need an ASCAP license to play background music.
Ignorance of the law is not an excuse, and you must study the law of the land to apply for such licenses. Some venues or clients may ask you to provide PAT (Portable appliance testing) or risk assessment reports. You can check with the venue if they have valid music licenses.
In some cases, the client may ask you to provide a license. Some clients simply refuse if the DJ is not licensed.
Generally, the license is required only for places where an entry fee is charged or where it is an open area. It is not required for performances in the private parties.
3.5 Contracts
A DJ should prepare a service contract to protect his interest. You can find the templates online, or you can draft your contract. These contracts save you hassles in case of disputes.
A service contract spells out the details of expected services and compensation thereof.
4. Gigs – How to start doing gigs in your locality.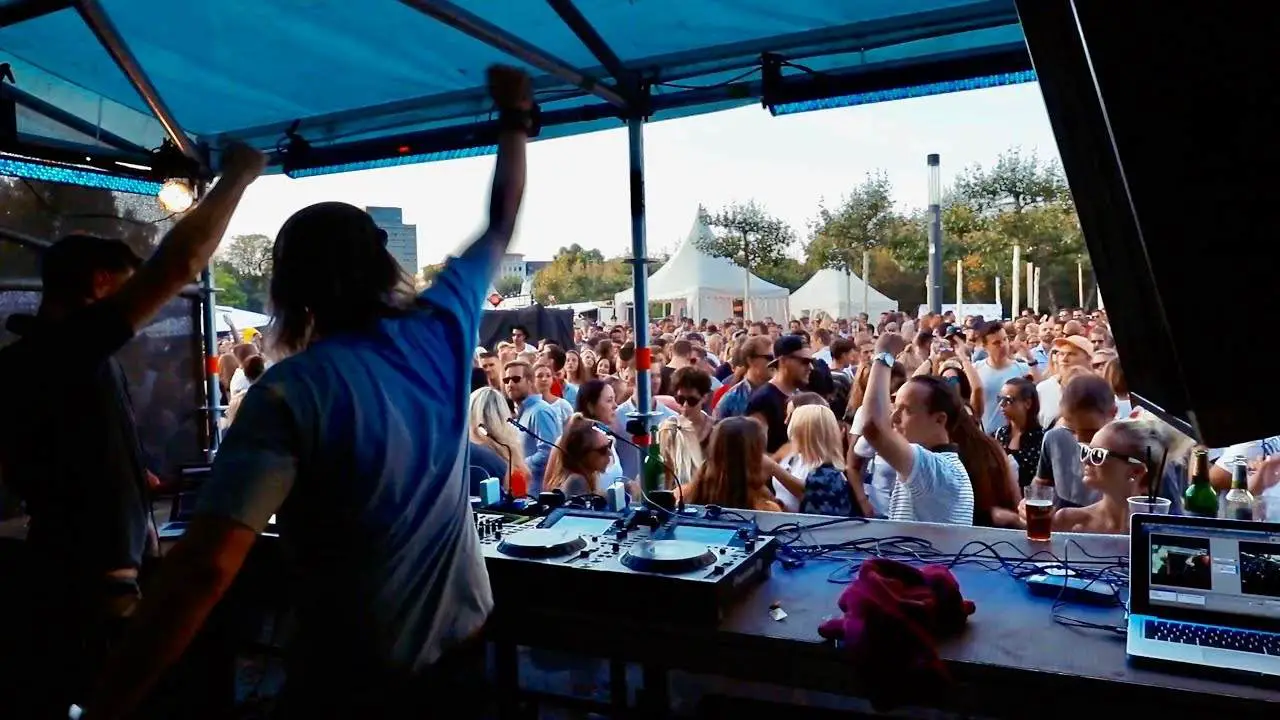 The final moment has come to give your performance in the event.
By now, you must have practiced with your friends or with an experienced DJ or learned from a dedicated professional course. Once you are confident of running the show, make sure to practice a little on the freshly purchased equipment as well.
Try to learn every function of the hardware and the software. Go through the manuals and troubleshooting sections.
Reach at least one hour before the scheduled time to set up your equipment. Meet the coordinator and exchange your schedules, and notes related to the event. Be in touch with the videographer and the photographer.
Try to understand from the host about their expectations. It is a better idea to schedule a prior visit to the venue of the party to get an idea of the space and its layout.
Your dress and overall presentation in the also event is very important. It should seem as if you are enjoying it. You should be well dressed and should try to match the dress of the hosts if it is a wedding gig. This will make you look professional.
You can add a personal touch with your voice on the microphone during the live performance. If you have a team, try to have a uniform for everyone to look authentic and professional.
5. Marketing Activities
A mobile DJ business is all about self-marketing. You should brand yourself and promote the brand as much as possible. Your growing network will convert into potential job orders soon.
You need to be in touch with one and all. In the process, you will also learn how to talk to people and how to sell your services.
The primary goal of any marketing promotion activity is to make the potential customer aware of the service brand. You can get your cards or leaflets printed and distributed on college campuses, clubs, event planners, etc.
Similarly, aggressive promotion needs to be done online in blogs, social media, and paid advertising.
You may think of developing your website with promotional videos, music samples, activities, images, and search engine optimization. Here are a few guidelines.
Branding – You need to create a new brand to distinguish you from other DJs. Once you finalize a name and get it registered, popularise the brand name by self-marketing.
Promotion offline – You can promote your brand through business directories, display of services at local businesses, visiting cards, flyers, cold calls, reminders, word of mouth, etc.
Online promotions – In addition to the website, and social media, you can use email marketing, joining associations online, blogging tools, advertising, etc. Your website is also a very important tool to attract new customers and retain old clients.
6. Tips & Tricks
With experience, you will come to know what work and what does not. These tips may help you in sharpening your skills.
Practice music of all genres. You may discover yourself.
Practice DJing for small crowds and mini-performances to improve your learning curve.
Try to have exposure to as much variety of music as you can. You may need to address the music needs of a wide variety of audiences.
You should be mentally prepared for likely unfavorable situations like power failure, equipment breakdown, or even drunkards. Always have a plan B to ward off any such eventuality.
Be ready to face special requests of your clients in terms of a particular song, making announcements, breaks for cake cutting, or any other special unearthly offers.
If you have stage fright or are unable to speak in front of people, you must practice beforehand. You may be asked to make an announcement or do a little talk in between the songs.
If you use a Fogger or smoke machine, please notify the manager in advance, so that the smoke doesn't trigger the fire alarms.
Keep a note of birthdays and important events of your clients and remind your customers well in advance through messaging and emails. Some of those reminders may turn into direct job orders for you.
Keep your laptop updated with the latest software upgrades and patches to avoid last-minute delays.
Start a wedding blog, as the wedding DJ event is the most profitable segment.
Last but not least, a business is a personal commitment. Do your best, and nothing can stop you from achieving your dreams.
All the best in your new venture!!!