Control your Professional DJ life with this entry-level controller inspired by other professional level controllers available in the market.
With the Rekordbox DJ Performance software of Pioneer, you can start DJing right away. The lightweight and compact controller comes with some advanced features and is an ideal controller for mobile DJs.
The Review Guide
This review guide will tell you everything about the Pioneer DJ-DDJ-RB controller. We will explain the salient features of this controller and find out the pros and cons as well.
All the technical specs shall be given in a tabular form with a final verdict on the product.
What is a DJ Controller?
A DJ controller is hardware for music DJs for controlling music through hardware knobs and controls and needs software to play. Since they are not standalone players, one cannot just put CDs directly in them.
It can work with several popular software, in addition to the software provided by the manufacturer.
Introduction
It is a two-channel entry-level controller optimize for Rekordbox. The looks of this controller are quite similar to its predecessor Pioneer DJ-SB2, which was very popular.
SB2 was designed for Serato DJ software, but RB is designed explicitly for the Rekordbox DJ software of Pioneer. It has introduced bigger high-quality jog wheels in a black glossy finish for the first time with 8 performance pads.
Main Features
1. 'Value For Money' – VFM Pricing
Price: Only $ 599(The controller was earlier available at $299, but recently, due to low availability, the retailers have been able to hack up the price to $600.
The Pioneer India site informs that the product may not be available in the market as its production may have been discontinued)
The DJ controller comes with so many features at still an attractive price of approx. $600. This makes it a perfect 'Value for Money' controller, which is suitable for beginners, budget-conscious, and mobile DJs.
The icing on the cake is that you get 'Rekordbox' software license for free.
2. Rekordbox Software License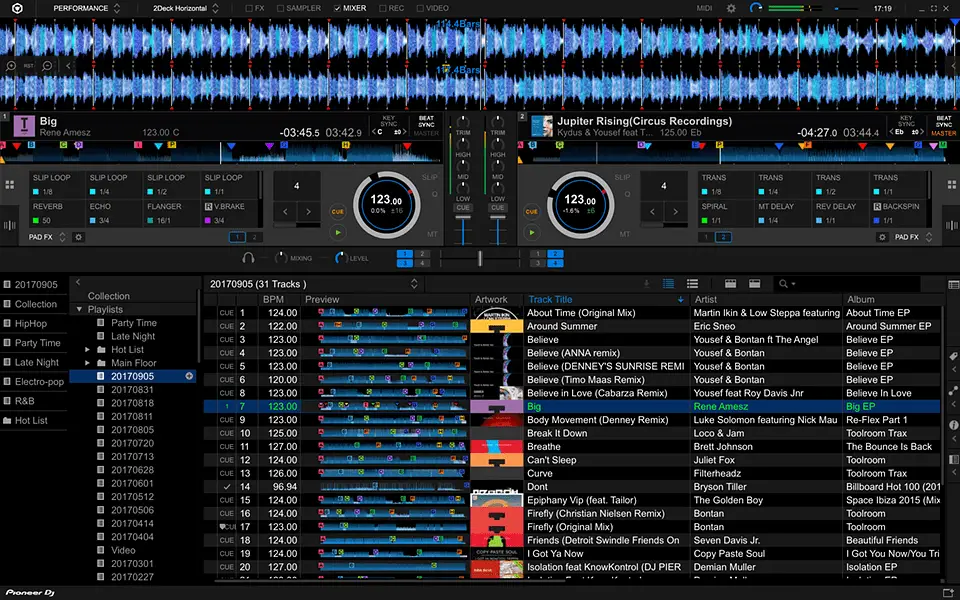 Pioneer has its own digital DJ Software product called 'Rekordbox.' It comes free of cost with select Pioneer products.
With the help of this targeted software, you can play the tracks directly from the software, and control the music features of tracks through the hardware controller.
The software helps you with special music features like loops, effects, and samples. You can prepare your tracks with this software and all those precious collections will also be available for use on higher-end equipment from Pioneer in your career.
The bundling of the free software license with your controller is a bonus and your best bargain because your valid price is only $450.
You just activate your license key provided in the box, connect the controller, and you are good to go.
3. Lightweight
The DJ controller weighs only a little over 2KG. That makes it the most attractive equipment for mobile DJs. It provides easy to grab handles for portability.
It can be used as a backup controller also due to its lightweight. Besides, the size of the unit is even smaller than usual, and it makes it easy to transport to and from the venue.  It is also suitable for beginners and bedroom DJs who have limited space.
4. Build
The controller comes in a plastic body with dimensions of 482x272x58mm. Despite its full-plastic body (including EQ and filter knobs), the overall build quality is powerful as per the traditions of Pioneer.
The plastic finish is so smooth and natural that it doesn't look cheap. The layout of the controller unit is intuitive and reflects and resembles the Rekordbox DJ software.
5. Performance Pads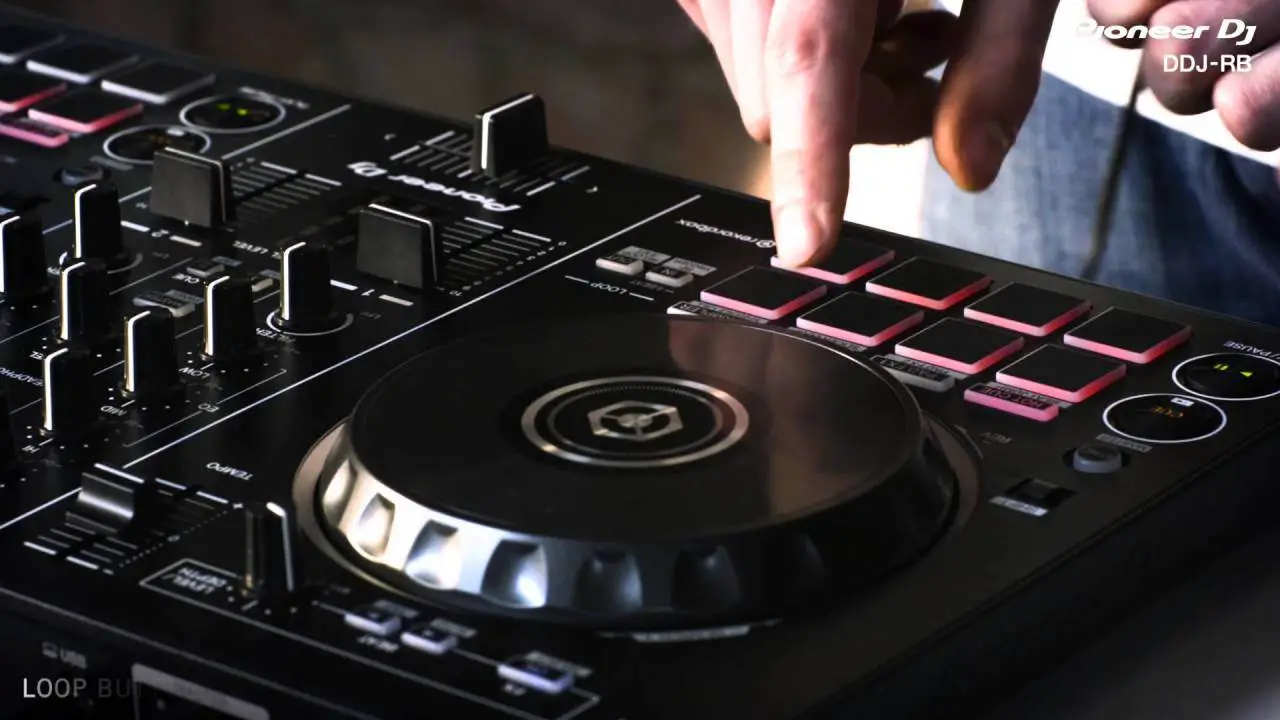 It has two rows of 8 full-featured performance pads below the jog wheels – SB2 had only 4 pads. You can play, pause, shift, sync, and cue. You can add a maximum of 8 hot cue points.
Pads are also there for FX, sequence calls, samples, loops, slicer, hot cues, beat jump, etc. Then we have loop enter/exit functions. There is a sync button for digital beatmatching.
You have pitch control sliders to increase or decrease the speed of the tracks. You can create sample sequences and build them directly on the hardware using the sequence call button.
6. Terminals
It has an inbuilt sound card with a 24-bit system. You need not spend extra money on a sound card or an audio interface.  It has a USB port for a simple plug n play feature.
You can plug it into a computer and ready to play with free software. With USB, you can connect internal speakers of laptop or external desktop speakers. They come in handy if you do not have monitors.
You can also record the mixing through Recordbox DJ software with the same USB cable.
You have 2 RCA master out and one ¼" microphone jack with a level control knob. There is a 1/8" jack input for your headphones on the front side. You may use adaptors if you have a different plug on your headphones.
The controller is powered through the USB port, so there is no power connector. You can control the volume of tracks with trim plot and level meters.
7. Jog Wheels
Here you get 128mm jog wheels with a Rekordbox logo. The bigger size is a bonus for scratching.
The jog wheels are sensitive enough and without any lag and integrate well with the Rekordbox software.  Usually, manufacturers reduce the size of jog wheels for making a compact controller, but this one has big jog wheels in a compact design.
At the time of nudging or spinning, you get just the right kind of resistance, particularly helpful for scratching.
The jog wheels with a black look gel with the overall appearance of the controller. The LEDs have not been integrated into the jog wheels, which are anyway not very functional from a beginner's point of view.
8. The Effects
You can control only one effect compared to 3 effects in DDJ-SB2. You can control the beats, level, and depth of effects. Many DJ uses one effect simultaneously, and you have detailed control for one effect. Some DJs use the same effect all the time.
9. The pitch fader
The pitch fader is very small and may not be very helpful in the essential skill of beat matching. Many competitors are giving 100mm pitch faders by default, and pioneer may have to match them sooner or later.
10. Mixer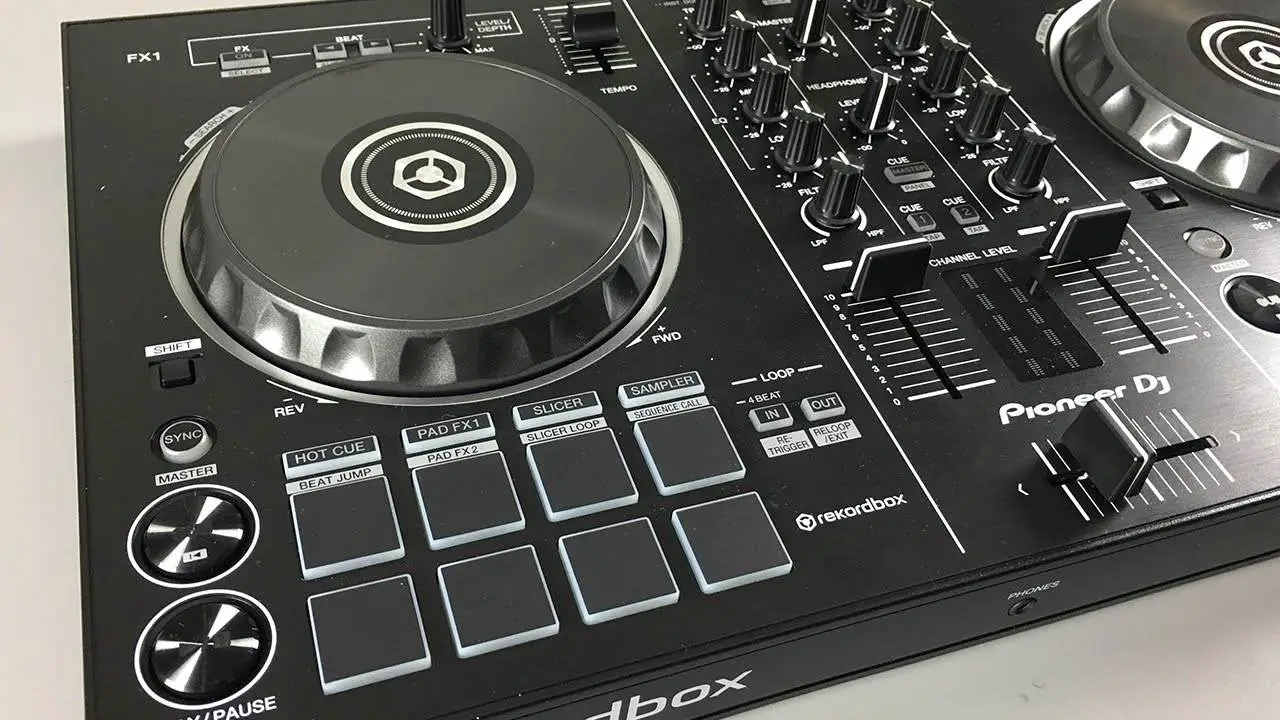 The channel mixer is easy to use due to less clutter of buttons. You can control 2 decks with the interface of Record-box software.
You have cross-faders, up-faders, low/high pass filters, 3 band EQ with trims, library search, master volume, headphone volume, cue adjust, channel VU meters, etc.
It has 5 segment LED volume meters and has multiple smaller LEDs for each segment for a higher resolution. The FX has a simple layout with the FxOn button, a knob, and parameter selection buttons.
11. The transport section
Earlier, the cue and play buttons were given onto pads in DDJ-SB2, but in DDJ-RB, they are back at the usual place. This frees the performance pads to perform Rekordbox jobs.
This makes beginners get accustomed to the Pioneer way of layout. It is worthwhile to note that more than 90 percent of clubs in the world have Pioneer DJ gear. The performance pads trigger functions in the Rekordbox DJ e.g., hot cues, beat jump, sequence calls, etc.
But, we don't have deck switch buttons now, and it becomes a rigid two-channel controller, so it becomes more challenging to mix more than two tracks on a two-channels.
In the loop section, you can loop manually or launch a 4 beat loop. Autoloop and size setting options are, however, missing.
Technical Specification chart of Pioneer DJ-DDJ-RB DJ controller
#
Detailed Technical Specification
1
Main Features
USB Bus Powered
Plug and Play: Yes
Included Software: Rekordbox DJ
2
General Information
Width: 482.6 mm
Depth: 272.4 mm
Soundcard: 24 bit/44.1 kHz
Signal-to-Noise Ratio: 103 dB
Height: 58.5 mm
Weight: 2.1 kg
Frequency Range: 20 – 20,000 Hz
Distortion: < 0.005 % (USB)
3
Software System Requirements
OS (Windows): Windows 10/ 8.1/ 7 (latest service pack) CPU: Intel® processor Core™ i7/i5/i3, Intel® processor Core™ 2 Duo 2.0GHz or higher
Display Resolution: 1280 x 768 or higher
OS (MAC): Mac OS X 10.11, 10.10, 10.9 (Updated to the latest version)
Memory: 4 GB or more of RAM
4
Performance Control
Channels: 2
Deck Control: 2
Jog Wheel: 128 mm durable aluminum jog wheel Pad FX: Yes
Filter: High & Low Pass filter
Sampler: 16slot x 4bank
Hot Cues: 8
Manual Loop: Yes
Beat Jump: Yes
5
Terminals
Inputs: 1 MIC (1/4 inch Jack)
Outputs: 1 MASTER (RCA), 1 HEADPHONE
MONITOR (1/8 inch Jack, mini-jack)
USB: 1 USB B port
Critical Feature Review (What is right and what is not?)
Now, on an overall basis, let us try to understand the unique selling proposition (USP) of this controller. But nothing is perfect in this world. Even though it comes at a bargain price, there are some shortcomings in this product.
So, for your information, we are highlighting the negative points as well. We have analyzed the negative aspects, and depending upon the situation on price, some of the cons may be simply ignored.
Pros (The plus points)
16-RGB backlit pads with excellent performance features
Compact and lightweight for portability
Intuitive layout suitable for both beginners and expert DJs
Affordable piece with excellent value for money due to its unique features
Free Record-box DJ software license worth $150 with DVS enabled inputs on the controller for external deck software control
Powerful sequencer for sample arrangements and recording
Build quality as per Pioneer standards
USB powered plug and play
The performance section is on par with other expensive Pioneer DJ controllers.
Fits into SB2 case as well
PC master out option lets you use internal laptop speakers or external desktop speakers or wireless speakers. You can also use headphones at the same time for cueing
Cons (And the negative ones)
There are no LED indicators for its Jog wheel. (This feature is not required for beginners because it may not be functional as a novice and serve only the aesthetic purpose for entry-level controllers)
The controller is specially designed for Pioneer software. So, you need to learn the Rekordbox DJ software to get maximum mileage. (It may not be a big problem as you are getting to learn something new)
Full plastic body with plastic crossfaders (Although the body is fully plastic, they are far better than run of the mill controllers in the cheap variety. Pioneer finishing is spectacular, and build-quality is very brilliant. At a value for money pricing, it doesn't look cheap at all)
No Aux input option is available. In case of computer failure, one can connect a sound source. (Again, it is an emergency feature only and not affects the overall functionality)
Only two decks, inability to control four decks (A little compromise as a beginner DJ)
Only 1/8″Jackfor headphones in place of ¼" Jack (Connectors are readily available in the market to connect your headphone with ¼" cable)
Pitch faders or tempo sliders are very small which look clumsy (This is the only serious negative feature according to me, but can be ignored once you get used to it)
Serato DJ software fans may opt for SB2 due to software and 4-deck control (Software is just a matter of habit. Usually, you can always find your way around and do the same things, sometimes in a better way)
Conclusion
The features of the controller are comparable to the professional DJ set-ups at a very fair price. The simple and uncluttered layout is easy to learn and master in all types of DJ situations.
Overall, Pioneer DJ-DDJ-RB DJ Controller is a beginner level controller that works like a Pro.