Pioneer's 2-channel DDJ-400 controller for Rekordbox DJ software is destined to ease any beginners path to professionalism. This controller will help you hone your skills comfortably, the layout of the controller's buttons and knobs is similar to that used on Pioneer's flagship installation NXS2, and with the same elements as special cue buttons, Beat FX, CDJ loop controls, etc.
Created for use with Rekordbox DJ software, this product, according to the manufacturer, will be an ideal solution for those who want to learn the basics of DJing.
Its controls will allow you to quickly and easily master the basic techniques, the "Tutorial" function, which appeared in the 5.3 version of Rekordbox, will also play an important role in training.
Pioneer DDJ-400 Review Summary
The Pioneer's DDJ-400 controller in considered the best budget DJ controller in the market. It has all the basic features you need to mix professionally.
The DDJ-400 is the ideal device for those barely starting to mix. Its controls make it easy for you to grasp the basics, and it offers a range of features that will encourage you to develop your skills. Through this controller you can easily access Rekordbox DJ software's Tutorial function, which explains one step at a time how to properly use the software and the device. You can easily learn how to mix, even if it's your first time mixing behind decks.
DDJ-400's mixer section is equipped with a 3-band equalizer, filter control knobs, faders, as well as a crossfader and navigation and download buttons. Each deck has a 5" jog wheel, 8 rubber pads with beat loop, keyboard, hot cue, beat jump, key shift, pad fx1, pad fx2, and sampler modes. As in CDJ and XDJ players, the interface has a pitch fader and an active looping function. There is an effect control section on the right side of the mixer.
In the DDJ-400, the manufacturer decided to bring the effects to the mixer, on the right hand, as it is done on standalone consoles.
Visually and in terms of interface, the DDJ-400 looks like a standard set of two decks and a mixer. But in this case, you will have to assign effects manually to each deck.
Due to its small size and weight, the DDJ-400 can be taken with you for joint practice with friends or used at smaller events/parties. The company claims that with this controller even professional DJs can feel confident in the club's booth, because the layout of the DDJ-400 controls is similar to that used in the components of the flagship NXS2 series.
The price for DDJ-400 controller goes up to 250$ depending on the seller. Unfortunately, the package of the controller doesn't come with any kind of protective case, so you might consider purchasing one. However, the controller comes with a Rekordbox DJ license key which comes in handy for beginners who don't have this software. For those who already have access to the Rekordbox DJ software we advise to update using the key provided by the manufacturer.
Pioneer DDJ-400 Pros and Cons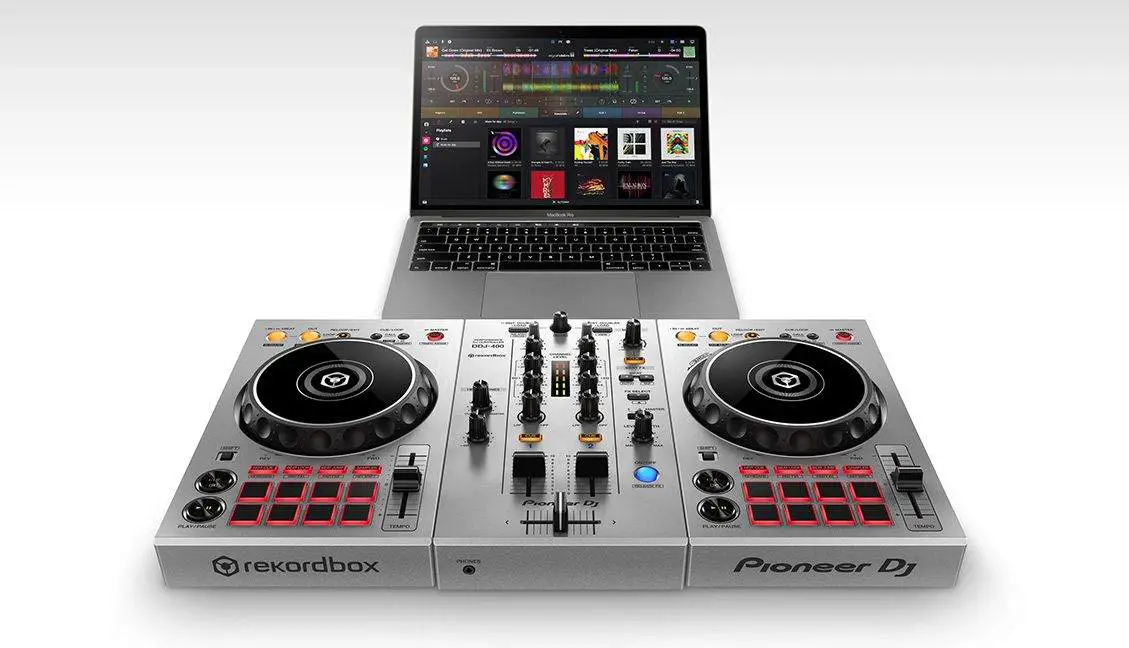 Pros
Built-in USB audio interface Software Rekordbox DJ included in the price of the controller which allows you to experience Rekordbox.
Built-in training materials: as we pointed out earlier, this controller is best suited for beginners, so it is only natural that the manufacturer provides training materials to facilitate training.
Professional looping section with dedicated cue and loop control buttons: this section is quite like professional controllers although it might be a little bit confusing for beginners. However, this will allow you to evolve from beginner equipment to professional equipment much easier.
Convenient pitch fader: for this controller, the manufacturer decided to make a decently sized pitch fader and locate it on the bottom right of the decks which makes is more comfortable to maneuver.
Cons
Small sync button
Active looping is hard to learn for beginners
Only two channels
DDJ-400's mixer and its layout are probably the biggest disadvantage of this controller. Even though this controller is a small sibling of some of the flagships of the manufacturer which means that it should resemble classic DJ controllers used in professional DJ booths, there's still room for improvement. Unfortunately, the space between such key features as faders and equalizer knobs has been minimized which can easy lead to catching one of the channels by accident. The cons listed in here are mostly noticeable when you already have some experience in mixing and DJing.
Pioneer DDJ-400 Feature Highlights
All key features and advantages of the DDJ-400 are listed below:
Familiar from the CDJ-2000NXS2 and DJM-900NXS2 control layout;
Built-in 24-bit/44.1 kHz sound card with microphone input, headphone output and master outputs on RCA connectors;
Power via USB bus – no network adapter required:
3-band equalizer and filter on both channels, built-in Beat FX effects;
16 performance pads for working with cue points, magnifiers, samples;
Compact size (58.5 × 482 × 272.4 mm) and light weight (2.1 kg);
Handles at the sides for easy transport and installation.
Pioneer DDJ-400 Final Verdict
Overall, Pioneer's DDJ-400 controller is an excellent entry-level device that will help you easily master the interface of the world's most common professional DJM and CDJ equipment.
It's clear that Pioneer made this device in anticipation of introducing a newcomer to the layout of the knobs, which resonates very strongly with the Pioneer professional equipment that is found in the majority of clubs.
The DDJ-400 is a great kit to become a first-class DJ. Its controls allow you to easily learn the basics of DJing and have features that will help you develop your existing skills. Thanks to the training materials provided by the Rekordbox DJ software, you will be properly guided through the process of becoming a professional DJ.