It is an entry-level two-channel mixer for beginners DJs. You can simply mix tracks and do special effects, including cutting and scratching features.
Don't be fooled by its simplistic looks. Although it looks tiny and minimalist, it is packed with loads of features.
You can talk about durable Magvel crossfader for sophisticated scratching.
The dithering technology delivers high-quality sounds from both digital and analog signals.
An integrated soundcard and the free license key for DJ and DVS software are icing on the cake.
This mixer looks small in comparison to other mixers, but its heavy-duty build quality beats them in terms of durability and portability.
After successful positioning of the DJM250 model in 2011, this improved version mk2 provided a host of new features in 2017 at an attractive price.
However, you may think of this mixer as a toned-down version 450 MK2, and you may miss some high-end features like multiple sound color FX, send or return channel, beat FX, etc.
BUY PIONEER DJM-250 MK2 FROM AMAZON
What is a Mixer?
It is a dedicated instrument to control and manipulate audio from external inputs like CDJ, record players, sound cards, or audio interface.
It is different from all in one controller in terms of features, build, sound quality, and prices.
Salient Features of DJM-250 MK2 Mixer
Sound Card
Adding a sound card or an audio interface to a mixer can be an expensive and time-consuming option.
But this Pioneer DJ250 MK2 has an inbuilt sound card with both input and output options so that you can record your creative mixes and al audio inputs from the external devices to the hard drive of the computer.
You can connect your mixer to your laptop or computer with a USB cable.
Pioneer has positioned itself, providing a mixer with an inbuilt sound card with its Rekordbox software and DVS expansion pack. But here is an incompatibility issue.
You cannot use this soundcard for Serato or tractor software. You will have to buy a separate sound interface for using such software.
That is not a problem for a beginner, as one is getting a mixer at a bundled attractive price.
After all, the valid rate after considering the value of 2 bundled DJ and DVS software, you get value for your money.
Magvel Crossfader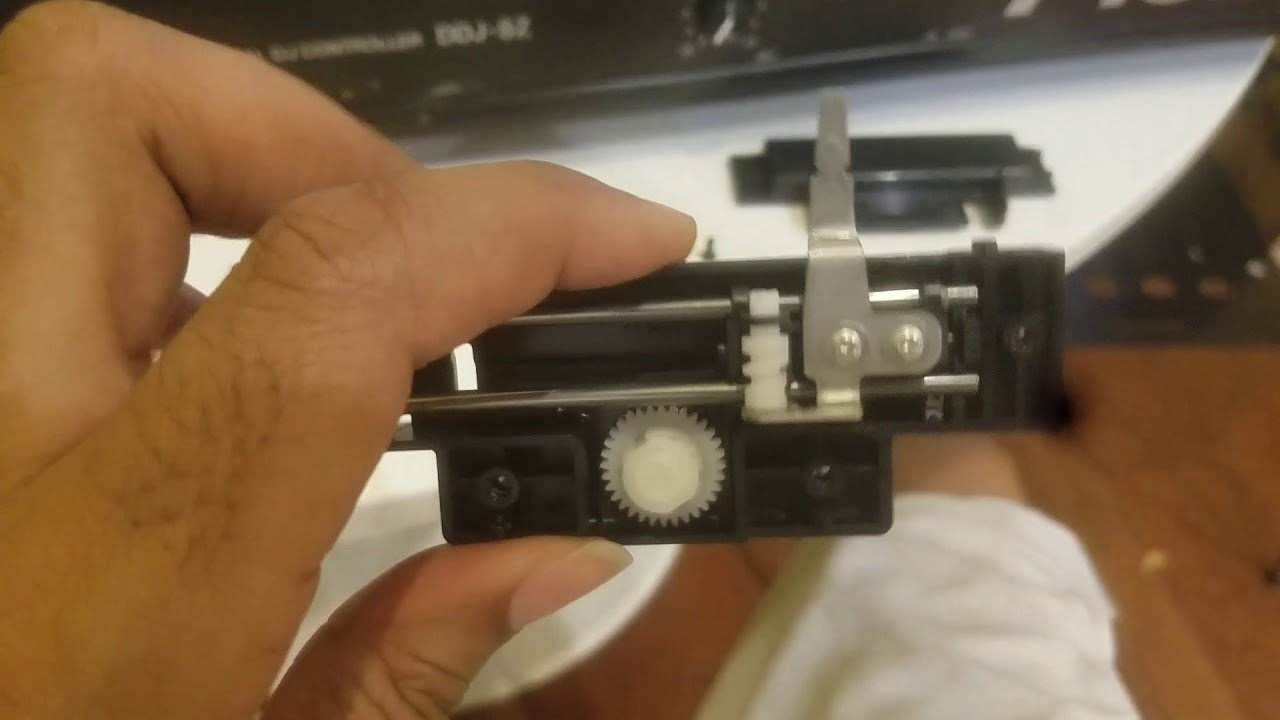 It's a favorite for your turntablism skills. The MagvelPro crossfader is particularly useful for scratching and mixing.
You can take benefit of Pioneer's promise of 10 million movements on this crossfader, which makes it quite durable.
 The fader knobs are supported by two metal shafts making it so durable. Initially, it may feel a little hard to move, but with a little frequent use, it becomes smooth to operate.
It is adopted directly from their flagship mixer DJM 900 NXS2.
You can remove any frequency range by moving the knob to the extreme left side.
The crossfader has a magnetic technology that is contact-free, ensuring a smooth feeling.
The crossfader is fitted spaciously. You also have got up-faders and crossfade reverse functions.
 To isolate channels in your headphone, there are two cue buttons.
FX Panel, EQ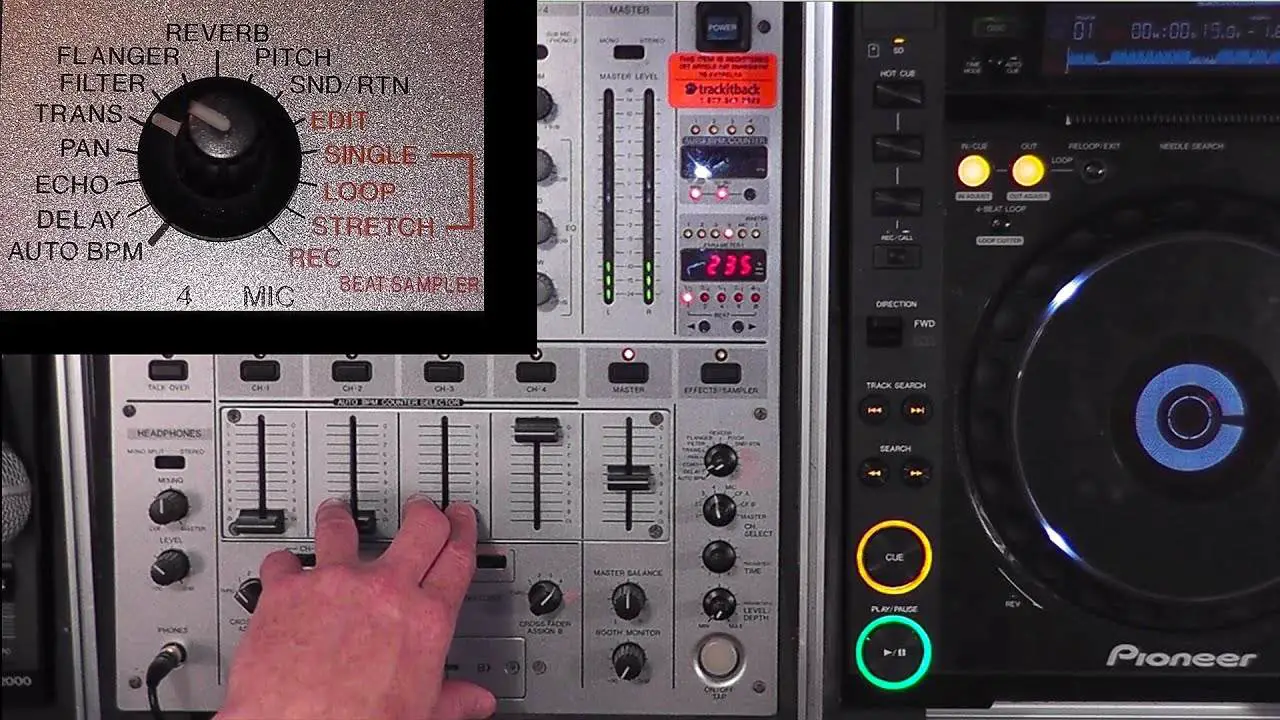 The sound color FX panel has two high or low pass filters with parameter knobs.
You can twist the silver rotary knob and add some texture with the parameter knob.
 The on-off filter button lets you return to a normal position immediately. The size of the knobs of color-control is maybe a little bigger.
The parameter knob is located on the left side of the sound color FX section, which lets you adjust the FX and make the sounds resonate. 
Moreover, we have three-band EQ with trims.
The EQ knobs allow a precise mixing and let you remove any frequency range by moving to the extreme left side.
Three-band EQ isolators give accuracy with Highs, Mids as well as Lows. For both channels, VU meters are available and also for master out signals.
The aux panel and mic control let you adjust volume and tones and main volume.
During mixing, you can remove Bass, treble, and high frequencies on any of the channels for help in a smooth transition from one audio to the other.
 In isolation mode, the three-band EQ can entirely cut high/mid/lows with the knobs.
You can choose from three inputs in each channel with its switch at the top – namely – USB, line, and phone.
The USB input enables you to connect to your computer through Rekordbox software and bring the audio magic to you.
The line input option enables you to choose to connect to a CDJ or XDJ or any other type of line-level device.
The last input option of Phono lets you connect devices like turntables.
With two sound color FX knobs and parameter knob, you can adjust the resonance of the filter curve.
 If you turn it clockwise, the curve becomes sharper. By rotating the knob anti-clockwise, the filer curve becomes smoother.
That is how we can take full advantage of the features of the mixer.
Bundled Software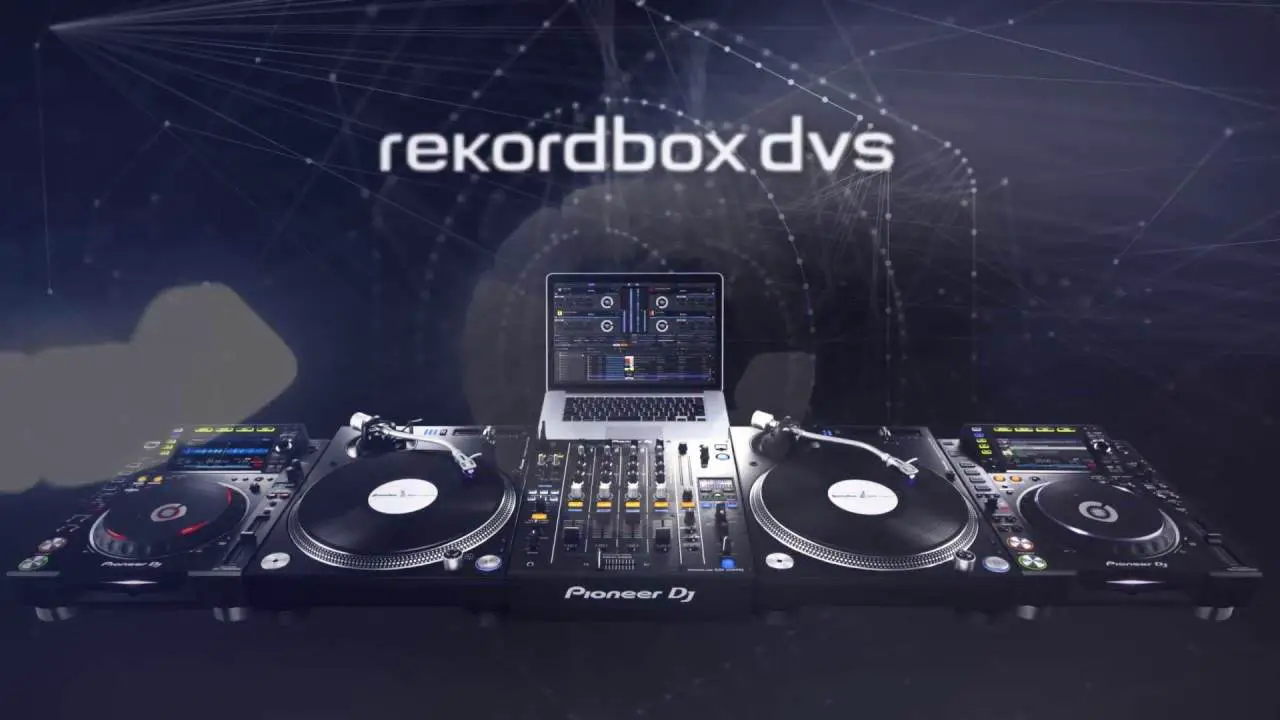 With this mixer, you get a free license of Pioneer Recordbox DJ software and Rekordbox DVS.
 The soundcard supports DVS control for vinyl with DVS pack. Once you put in the Activation keys, you are good to go with both DJ and DVS functionalities.
With both the software, you can play tracks and vinyl directly from a computer. The mixer is highly integrated with the Rekordbox software.
However, if you do not intend to play tracks digitally from your computer, you can simply plug in the CD players and turntables. 
Cueing, nudging, and scratching options are possible with the aid of the software. You will only need two encoded vinyl.
DVS helps you play tracks from your computer using control vinyl with tracks from your Rekordbox library on the computer.
You do not need to buy costly vinyl, and DVS helps in using looping and effects features.
You don't need a separate sound card to use DVS.
However, control vinyl is not supplied in the box, and you need to buy it separately if you prefer to use the mixer with analog turntables and control vinyl.
Weight
The mixer weighs just 4 kg, which makes it portable as well as reliable.
It won't budge on heavy use and can also be taken from one performance to the other without any hassles.
 The metal body gives it the inner strength and durability.
Simple Layout
At the very first look, you fall for it for its simple looks. The layout is intuitive and easy to use.
The uncluttered interface is a bonus to beginners who will not be boggled with a lack of simplicity.
They will instead enjoy the simple and intuitive layout. The layout is intuitive because the controls are placed in their traditional position.
Notably, the crossfader has enough space around it for vigorous low-latency scratching with CDJs and XDJs.
Terminals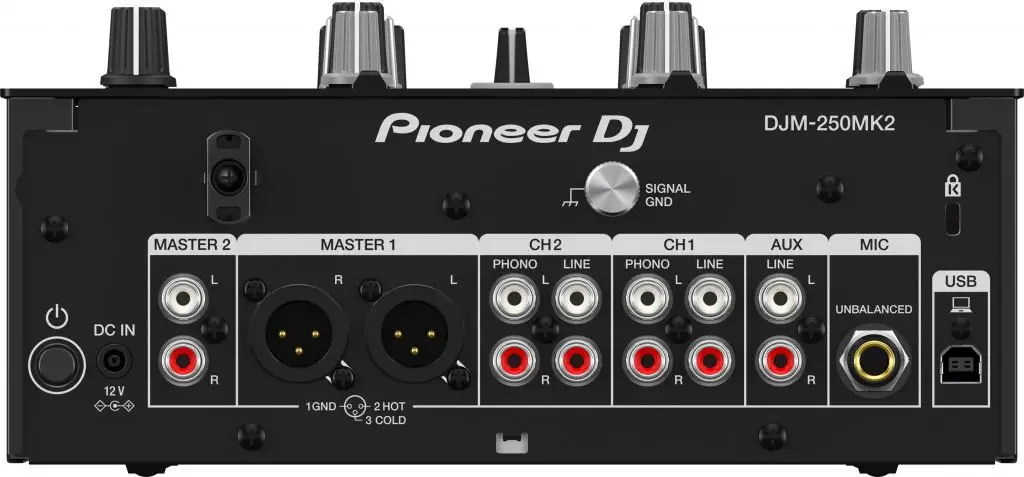 You have got master out Phono and XLR sockets, phono and line input for connecting CD decks and vinyl record players.
Then you have an aux input for drums and effects.
For connecting your mic, you get ¼" input jack. With the independent MIC section, you can use mic and Aux input simultaneously.
The USB port is available for connecting computers through the soundcard for recording and mixing via sound card.
All the music tracks of your computer can be played through this USB port.
Apart from recording your mixes, you can rip vinyl and CDs to your computer.
In the front panel, you can connect headphones in ¼" and 1/8" jacks, hence no need of connectors.
Therefore, you can pick sizes and attach two headphones when playings for long times.
The channel selector switch can be used to jump across phono, USB, and Line.
The mixer is lacking in terms of booth output. That means you cannot connect booth monitors for large gatherings.
The mixer is suitable for mobile DJs, but you cannot use it for bigger venues because the booth output option is missing.
The dimensions of the mixer are portable in size 230mm wide, 108mm high, and 320mm deep.
It takes lesser space than any other standard mixer. It is particularly suitable for young beginner DJs due to its portable and straightforward design.
Sound quality
The sound quality of the mixer is just amazing.
Pioneer mixer features dithering sound technology that makes both the analog and digital sounds to be reproduced in high quality with the help of a 64-bit digital signal processor utilizing dithering know-how.
Why Filter On/Off Button?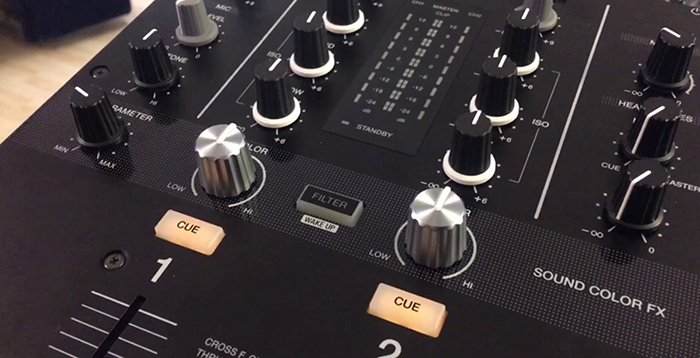 All the above features make Pioneer DJ250 MK2 as an excellent entry-level mixer.
The sound color FX filters are as good as any professional mixer.
But, you may wonder why did Pioneer put a filter on/off button in the center of the mixer.
Logically speaking, if the sound color FX knobs are overlapping at a position similar to 12 o'clock, the filter is anyway considered to be in the "off" position.
That's true, but one may not like to return the knob to its starting position just to make exact filter toggles.
Let's try to understand it this way. You are mixing a track, and you wanted to get the filter sweep done.
You may thin out by slowly turning the knob of the sound color filter.
At the point before the drop, you may use the filter button to put it off.
As a result, you could keep that filter cut as long as you wish until the moment of drop hit. Here is the catch.
It is much faster to use a toggle switch to turn the filter on or off than using the knobs to bring them back to their initial overlapping position.
That sounds more precise. This option is also particularly useful during the scratching moments where you could create great effects using the sound color knobs and toggling filter from on to off.
It's like being at the 9 o'clock positions, and filter on button puts it back on track during scratching.
The whole point is to provide you a narrow window to create that special moment where you are in full control, and the work of art sounds natural.
Technical Specifications of DJM250 MK2 Mixer at a glance
Main Features
Rekordbox DJ and Rekordbox DVS software are included
DVS Control by Rekordbox DVS
The box contains

DJM 250 MK2 mixer
With a power cord
One AC adaptor
One USB cable
Quick start guide with operating instructions
Warranty card
License key card for Rekordbox DJ and Rekordbox DVS software
Specifications
Width of 230mm
Height of 108 mm
Depth of 320mm
Frequency range from 20 to 20000 Hz
The sampling rate of 48 kHz
24 bit A/D converter
24 bit D/A converter
S/N ration line of 94 dB
Distortion levels <0.005 % (Line)
The power supply is AC adaptor DC 12 V
Terminals
Inputs have 3 lines RCA, 2 Phono RCA and 1 Mic ¼ inch TS Jack
The USB port is 1 USB B port
Outputs are 1 Master XLR and 1 Master RCA
Channels
3 band EQ/ ISO
6dB EQ/ISO Range
Performance control
2 channels
Sound color FX filter
Pros
Attractive Price and value for money because DJ and DVS are bundled free, reducing the valid rate.
Minimalist simple looks may be deceptive, but a classic layout with simplicity ensures clutter-free usage.
Magvel crossfader is there for smooth mixing and scratching
Free DJ software with DVS capability pack you to record your mixes to the hard drive of the computer.
An excellent steel body gives a durable and robust feel.
Affordable for beginner DJs
The inbuilt soundcard can play music directly from your laptop with the help of Rekordbox software.
Turn to Turntablism with control vinyl, which can be purchased separately.
Professional quality entry-level mixer
Cons
The soundcard is compatible with Rekordbox and not with other software. The Mixer is however compatible to DVS control of Native Instruments' Tractor Scratch Pro 2
The booth output option is missing
The two-channel limit may restrict mixing capabilities
Slightly hard and rigid channel faders
BUY PIONEER DJM-250 MK2 FROM AMAZON
Conclusion
It is a best-suited product for mobile and budget DJs with free licensed software in DJ and DVS category.
The free license makes the effective price very competitive.
With this entry-level mixer, the DJs can showcase their skills in scratching and cutting and record their mixes effortlessly. It is a clear winner.