Denon MC4000 DJ controller is a 2-deck premium controller. On purchase, it includes the Serato DJ Lite. But this can be upgraded by the user to the Serato DJ Pro. It has a dedicated hot cue and also comes with illuminated feedback. The long-throw 100mm pitch faders come along with dedicated FX and EQ controls for each channel. There is a balanced main and Booth output feature as well.
It has an attractive appearance and an inviting look, which provides you with features that are innovative within a reasonable pricing range. It also has a high sound quality, which gives it an edge above the other DJ controllers in the market within the same pricing range.
If you are a professional DJ, then this DJ controller is for you because it has a sturdy steel chassis that provides durability, but at the same time, it allows smooth controlling. You can expect more precise mixes because of the in-built 24-bit audio output, and it also provides you with dual microphone inputs. The sound quality output of the Denon MC4000 DJ controller is ideal for weddings, etc.
Its design is undoubtedly sturdy, but the design on the bottom side of the controller divides the wright rightly and helps to make it easy to transport. This DJ controller is a little bigger and heavier than the other entry-level DJ controllers.
Denon MC4000 is on the expensive side of the DJ controllers but is worth the shot. Here is a review of the Denon MC4000.  It has been made with a user-oriented approach and is also very down – to – the business type of a DJ controller.
Advantages
It has numerous advantages such as, when you purchase the Denon MC4000, you get a lot of options for connectivity. The quality of the controller built is also excellent, and the professional design can help you stand out by giving you that pro look. One of the best advantages of Denon MC4000 is that it has long pitch faders.
Disadvantages
Now, along with the advantages, you can expect it to have disadvantages as well. The plus side is, the number of pros is higher than the number of cons. Denon MC4000 comes only with an introductory software and also has limited performance pads.
Here is an in-depth review of Denon MC4000.
When you first take a look at this DJ controller, you'll know it is made for someone who is serious and means business. It has complex functionality and is also quite sturdy on the top. The side and bottom design of this controller and made in such a way that it reduces the weight. So, it is a combination of sturdy and less weight in one.
Features
Channel controller
Denon MC4000 provides a two-channel controller. This is very reasonable with the price it is at, and if you are going to look at the reviews, you will see people complain about it not having a four-software channel. But with the price, those complaints become vague.
It does lack some very main features like 'Slicer' and the 'Full Slip Mode,' which can be sort of disappointing.
Pads
Denon MC4000 has eight pads in a set of two. These are under the jog wheels. These pads play different roles in the controller. The four pads on the upper side are responsible for the performance or the output of the controller. The rest are responsible for syncing, transportation, and shifting controls.
The pads allow you to access the controlling features. These include a loop mode, partial slip, and loop role. Since we are talking about the loop, the next feature is looping.
Looping
Under looping, you can see two subtypes, such as auto-loop or manual looping. Denon MC4000 allows you to use the auto-looping option. This can be done through the four buttons that are present above each jog. It depends on how you read the beats. It can allow you to leave the loop for either eight or four bars. The best part of the Denon is that you can control the looping with just one click.
But many DJs tend to ignore the auto-looping feature and stick to the manual looping. This is also available in this DJ controller, using which you will be able to use the exact points over the wheels. This feature is more preferred by those who are professionals and have been doing this for quite some time.
Mixer Section
Denon MC4000's mixer section has two channels, as explained above. There are three bands, EQ and gains. You also have the Low and High Pass filter and the master level meters along with the channel level meters. There is also a sampler gain. Along with that, there are browse controls and Sampler pads.
Jog Wheels
The jog wheels of Denon MC4000 are of medium size and provide you with a high level of resistance and heft, which is required for sound output. They are touch-sensitive and have low latency. These features can allow you to track skimming as well.
Connectivity
As explained earlier, it provides a wide range of options for connectivity. You can have a balanced XLR output or an unbalanced RCA output. For inputs, you can use the TRS/XLR combo and the RCA AUX.
The range of inputs and outputs for connectivity provided by Denon MC4000 in the price range allows it to get an edge above all the DJ controllers present in the market in the same pricing range.
It also has one Booth out, and it provides a 24-bit built-in soundcard for high quality.
FX
FX is the section that is present on the top of your controller. Using the FX, you can control three different effects at the same time. This DJ controller comes with Serato. This means you will be provided with the on/off buttons, beats knob that will help you to control the duration of FX and the shift to select.
Pitch Slider
Many people have noticed the first bug in the pitch slider section of this DJ controller. The problem is that if you move the slider down by setting the pitch to +/- 8 percent, then it will work properly. But if you will do the same with +4 percent, you will be able to notice that this number won't be the exact middle of 0 percent and 8 percent. This is a tiny bug, which might not matter much if you consider all the other features this DJ controller is providing at a price.
Gains
Every channel always has a manual gain. This DJ controller has a three-band EQ. This also comes along with a knob on each channel. Channel faders of the Denon MC4000 DJ controller are sturdy. But they still provide smooth transitions. You can switch to Vinyl mode using the on-off key.
Library
Serato has an expansive library, and you can expect to get a lot with the Denon MC4000 DJ controller. The deck load buttons and rotary encodes provide you to have a premium experience.
Specifications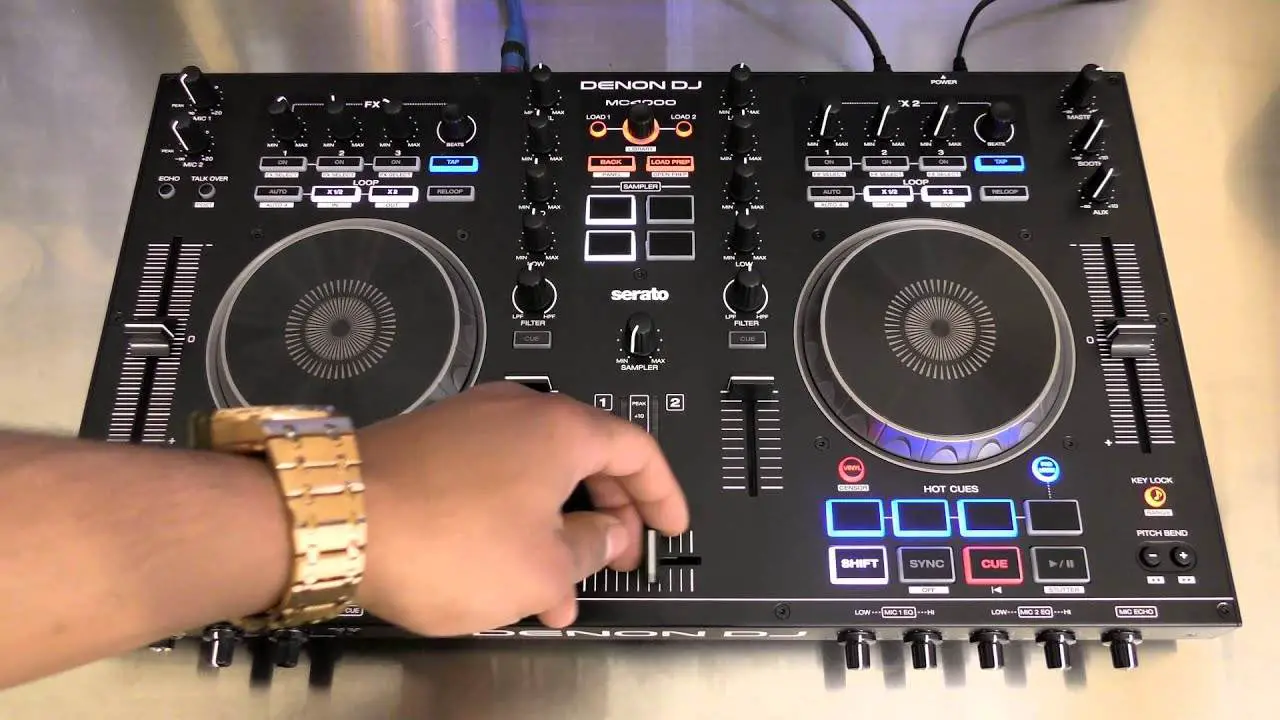 Look at the features of the Denon MC4000 DJ controller in one glance.
This DJ controller has 2 decks and 2 channels. There are 2 jog wheels that can be activated by touch and 8 pads. The cross-fader feature is standard, and the mic inputs are 1 x XLR-1/4″ combo, 1 x 1/4″. The outputs for connectivity are 2 x XLR, 2 x 1/4″, 1 x Dual RCA Stereo and the inputs are 1 x Dual RCA Stereo.
The headphone jack is 1 x 1/8″, 1 x 1/4″. The software provided is Serato DJ Lite, which is compatible with Algoriddim Djay Pro and Serato DJ Pro.
The height, width, and depth of the Denon MC4000 DJ controller are 2.7″, 19.9″ and 12.3″ respectively. It weighs around 13.2 lbs.
Pricing
This might be a heavy investment for the first time but is the most recommended DJ controller by many DJs. It costs around Rs. 38,600 or 514.30 dollars.
Conclusion
Denon MC4000 DJ controller is larger in size than most of the entry-level DJ controllers available in the market. It is also double the weight of most of the entry-level DJ controllers; that is, it weighs around 13.2 lbs or 5.9 kgs.
If your DJ turntable cannot handle a lot of weight, the Denon MC4000 DJ controller is not the best option. Before considering buying it, see whether your other equipment is in alignment with his one.
Even though it weighs two times of most the entry-level DJ controllers, it still is portable and can be used for gigs. The price and the features, along with its design, make it worth it. The top construction of this DJ controller is of steel. This provides us the professional look and sturdiness. If you are buying your first DJ controller, than this might win your heart. It also allows you to make very fine pitch adjustments using the full-sized pitch adjusters.
Also, as a beginner DJ, having a wide range of connectivity options will give you an edge over others.