Headphones are the basic necessity of any DJ. The identity of a DJ is synonymous with cool headphones dangling on his neck and besides their ears constantly switching from ongoing music to upcoming music.
DJs look cool with these pieces of equipment and headphones are now a part of their essential attire.
In a crowd, you can easily spot a DJ by just looking at their headphones and how efficiently they are handling them when the show is on.
Most of the DJs don't understand the real importance of a headphone instrument. They put most of their attention on heavy-duty gear like mixers, turntables, all-in-one controllers and blasting speakers, etc.
It is easy for them to do so, but they ignore a small but equally important part. The headphones go through a very harsh DJ environment where sounds and sweats are high.
The headphones are put on and off several times, get wet with sweat, are thrown in the bag just like that.
All this leads to accelerated wear and tear, especially for headband and earpads areas. The wires become loose, and the plastic parts crack or snap with repetitive stress.
All this means that we need to be very careful in buying the right type of headphone after considering several factors. Let us try to understand the factors that should influence our buying decision.
Factors Affecting Choice of a Suitable DJ Headphone
All the headphones are not designed for DJs. Some of them may be targeted for music lovers who mostly stay in a protected environment of the home.
Others may be targeted for sportspersons. A different set of segment demands different sorts of features ideal for its peculiar situation. Let us see what factors are relevant to professional DJs.
1) Build Quality
For a durable headphone, the build and construction quality are the most critical factors.
Most headphones become useless due to poor build, which may include the type of material used, strength of joints and hinges, type of cables, stitching quality and the content of earpads.
It is essential to invest in a headphone that uses the exceptional quality of material so that the durability is ensured. Never buy cheap headphones that may not even last one night of rigorous DJ work.
2) Comfort
Ask any DJ. It is the most crucial factor. Headphones should be comfortable on your ears with padding, adjustability, contours, snug fit, etc.
They should not be too tight, and cups should cover the ears comfortably. Soft padding and lightweight make you feel natural and comfortable.
It is imperative to visit a local store or a friend to physically try out different models and feel the difference in comfort.
3) Looks and Aesthetics
The headphones should look stylish and match your attire. The contour, the construction material, matt finish, shape of headband all contribute to the overall elegance and aesthetics.
4) Foldability and Full Swivel
There is another build feature that improves the durability of the headphone. The headphones must have a folding design so that they can be safely stored and transported, with limited space.
Also, It is common for DJs to wear headphones with one cup on the ear with the neck, which makes it easier for them to work long hours.
DJs are used to an environment where they need to swivel their headphones while keeping it on their ear.
Headphones without these features are prone to more wear and tear and may crack with the pressure of multiple usages. Swivel feature enables DJs to monitor the mixing with one cup on the ear.
5) Cables
Cables are vital for the uninterrupted flow of music. They should replaceable, removable and with both coiled and straight options. Most DJs prefer coiled cable.
This helps them move around without breaking or damaging. Removability of the cables increases the life of the cables. The fixed cables may get damaged easily.
There is also a requirement of a single cable for secure handling. Multiple cables may get entangled and may break or get damaged during handling.
6) Usage of Metal
The metal parts are much better than plastic parts due to obvious reasons. They don't break or crack easily.
The joints and hinges are also significant factors in determining the durability of the instrument because that is the area where most of the headphones fail to perform.
7) Noise Reduction
DJs work in an environment where the noise all around is too much, and they need to hear and plan their upcoming tracks. If the headphones are not able to block high noise, the DJ is forced to increase the volume, which profoundly impacts hearing and may damage the internal ear.
To work efficiently, the external noise entering the earpads should be minimum so that they can hear clearly. The noise needs to be isolated from the internal sounds of the headphone.
The stitching should be air-sealed. The right amount of isolation helps you to do mixing despite the prevalence of loud noises all around.
Some headphones with a noise cancellation feature required additional batteries to be used. This is a bit of a botheration. So, it is better to avoid such designs.
8) Closed-Back
With open-back do not filter the noise properly and are more suited for home use. The air passes to the inside of the ear cup, leading to noise getting mixed up with the internal sounds.
Open-back headphones are not any good since they cannot hold the background noise.
In closed-back headphones, the noise is sealed off and is not able to enter inside the earpads resulting in better clarity of the music.
Although these types of headphones are more expensive, they are worth it due to the kind of noisy environment in which most DJs work. 
9) Prices
Price is usually one of the most critical factors in addition to main features. If you are on a budget plan, you have to consider headphones with the best value for money, which means you try to get most of the features at a competitive price.
There is no point in researching premium headphones. The same is true for higher-end versions. A person in the mid-range needs the best piece by compromising on some unnecessary, unwanted or overhyped features.
That way, they won't burn a hole in their pockets. Warranty, replacement and free look period are also part of the price, indirectly.
10) Warranty and Replacement
The headphones usually come with one to two years warranty period during which they may be replaced free of cost if there is a manufacturing defect. Some companies offer free look period and lifetime replacement options for their premium models.
A warranty or replacement may be simply a marketing gimmick also. It is better to read between the lines not fall prey to such tactics.
11) Rigorous Testing
The headphone should be tested by the company on many aspects for checking its durability. It should be at least at par with the industry testing standards. Major tests include drop test, bend test, salt test, temperature test, humidity test, etc.
12) Sound Quality With Frequency And Drivers
A human ear can process frequencies in the range of 20Hz to 20000Hz only. In the DJ scenario, the range of frequencies is diverse and the headphones which provide a wider range are able to deliver a better sound quality experience.
A wider range may not necessarily be better. However, it is better to seek a minimum of 20 to 20000 hertz.
A professional DJ headphone needs to have a strong driver (at least 40mm) also to hold high volumes of music for an extended period of time. Such headphones are suitable for beatmatching and mixing scenarios.
Drivers with large aperture coupled with a wide frequency range ensure better sound quality. Also, look for models with 25 ohms or more for better impedance.
Sometimes, it is said that you need to use your headphones for a few hours before you can actually experience the best sound quality, a process popularly knows as burning in of headphones.
13) Hard Storage Case
To protect our phone from damage during transit, we need to store them properly. If the product comes with a secure storage option, it is an added advantage.
During transit time or rest periods, we may not be using our headphones, and we need a hardcover with clips and straps to ensure the safety of our valuable equipment.
Moreover, all the related gear like cables, shields, pins, connectors, etc. can be stored in the same case without the need to search for them unnecessarily.
14) Customizing Option
Some companies provide additional customizable features, for a price, of course. E.g. customizable color shields, engraving of logos, optional accessories like a mic for gaming or skype calls, etc
Sometimes, these features appeal to a particular set of customers and become game-changers. Some headphones allow you to replace damaged parts yourself.
Things like a headband, pads, etc. wear out and it is better to replace just the worn-out part than going in for a new headphone.
5 Best Recommendations For DJ Headphones
We have chosen 5 best headphones suiting different budgets with premium, budget as well as middle-range options.
| | |
| --- | --- |
| Model | Segment |
| V-MODA CROSSFADE LP2 @ Amazon | Middle Range |
| AUDIO TECHNICA ATH M50X @ Amazon | Middle Range |
| BEHRINGER HPX-2000 HD DJ @ Amazon | Budget Range |
| SENNHEISER HD8 DJ @ Amazon   | Premium |
| PIONEER DJ HDJ-2000 MK2 @ Amazon   | Premium |
1) V-Moda Crossfade LP2 @ Amazon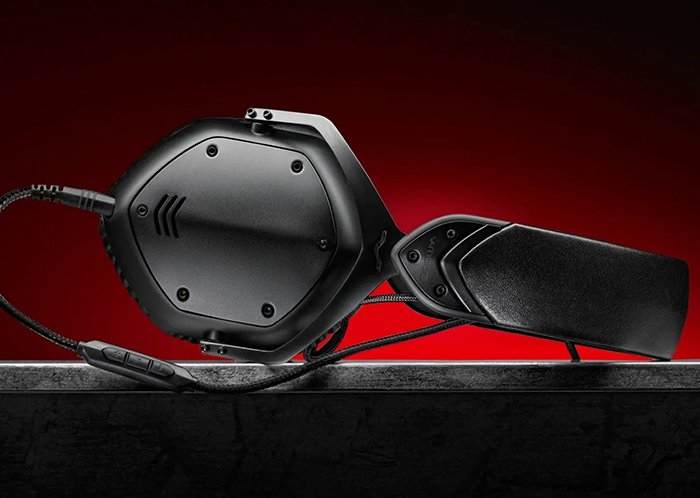 Build
These over-ear headphones have a steel frame with shields fixed on the earcups. The structure is made of Gunmetal Aircraft Grade Metal.
You have the option of customizing the color of metal shields to match your outfits and occasion.
It makes you stand out from the crowd since you can get your logo or design engraved on the shields with a laser. You can choose from 10 plus colors.
Sound quality
The drivers are 50mm dual-diaphragm with inner and outer rings delivering bass, mid, and highs without overlaps. The passive noise isolation feature cuts out the noise.
As compared to most of the brands, they have <2dB variance for a consistent sound. The headphone sound quality has been crafted by select 200 people from the music industry including Grammy-winning musicians.
All this ensures the best sound experience ever for any DJ.
Vigorous testing
In order to provide the best quality of headphones, they ensure rigorous testing of their product. The cable is bent at least one million times which is a hundred times the industry standard.
The product is dropped on concrete up to 60 times from 1.5 meters height. The headband is bent flat up to 10 times.
The product is also made to go through high and low temperatures, humidity, salt-spray, and Ultraviolet rays testing.
This entire military level testing for durability is done under standard MIL-STD 810 quality standard.
After-sales service
Its 6-star service ensures customer delight way beyond their expectations. It has an immortal Life Program with a 50% lifetime voucher on replacement, even if run over by a tank.
It provides a 2-year warranty with 60 days test drive which shows excellent confidence levels of the company.
Portable Case
The portable exoskeleton case with foam fitting stores your headphones and gear safely. It provides special clips and straps to firmly hold the entire stuff during storage and transit.
Calls n Music
Its Speakeasy Mic cables work with standard 3.5mm jacks of android, apple, and other smartphones. The voice recognition feature allows you to call in noisy places.
The frequency response of 5Hz to 30000Hz is too good to be true. Universal audio cable with ¼ inch adaptor works with all audio devices and professional equipment.
Price
The price on Amazon is 12,999 and is targeted for mid-range DJs
Pros:
Unmatched sound quality and noise isolation
Vigorous Testing above industry standards
Warranty, replacement, and Test drive better than the competition
Removable cables
Durable frame and steel build
Customizable shields with laser engraving of Logos
Drivers and frequency response are awesome
Cons:
Higher Price
Optional features like customizable shields cost extra
2) Audio Technica ATH M50X @ Amazon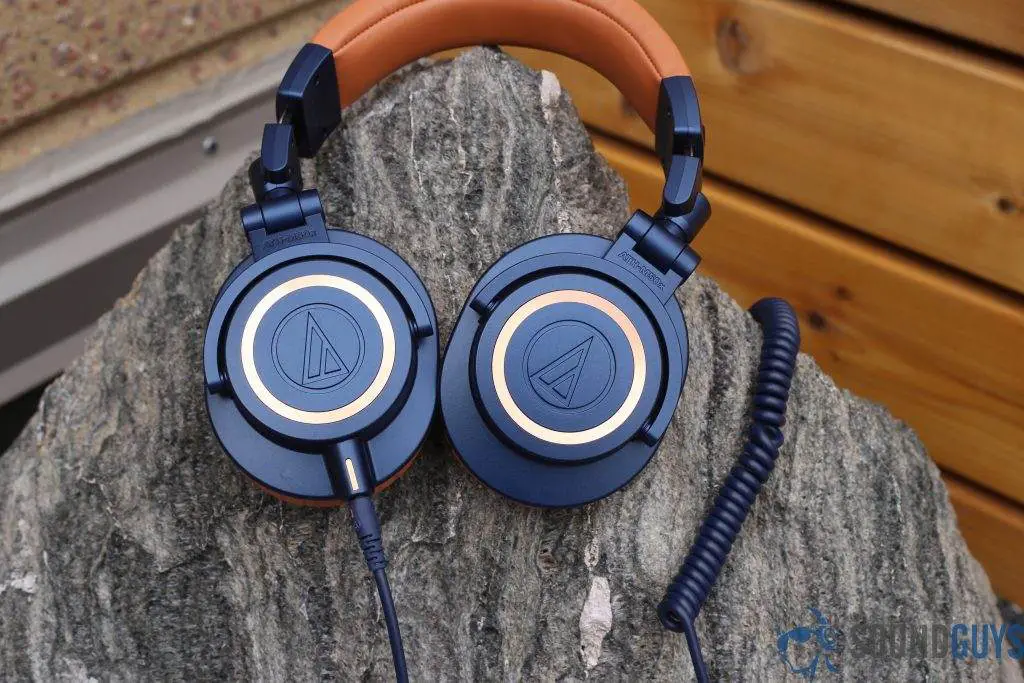 It is an improved version of the successful model M50 since 2007.
Main features
45mm large-aperture drivers with copper-clad aluminum coils provide a comfortable frequency range of 15Hz to 28000Hz. This produces excellent sound quality
Over-ear headphones with professional-grade material with a one-year warranty but no replacement option.
These foldable headphones are best for convenience in transit and multiple handling.
90 degree both way swivel ensures convenient one-year use with the shoulder mount
It comes with 3 replaceable and detachable wires. One wire with 1.2m to 3m length is coiled which does not get entangled during use. Other two wires are 1.2m for daily use and 3m for monitoring use in the studio
They provide additional cloth pouch to store headphones, cables, etc.
Lightweight
Deep balanced bass
Contour design with big ear cups ensure an easy-fit and usage for long hours without discomfort, ensuring noise isolation
Pros:
Wide frequency range with 45mm drivers
Detachable and replaceable wires
Contour design for comfort
Foldable and 90-degree swivel
Effective Noise isolation
Cons:
No replacement
A cloth pouch for storage
3) Behringer HPX-2000 HD DJ @ Amazon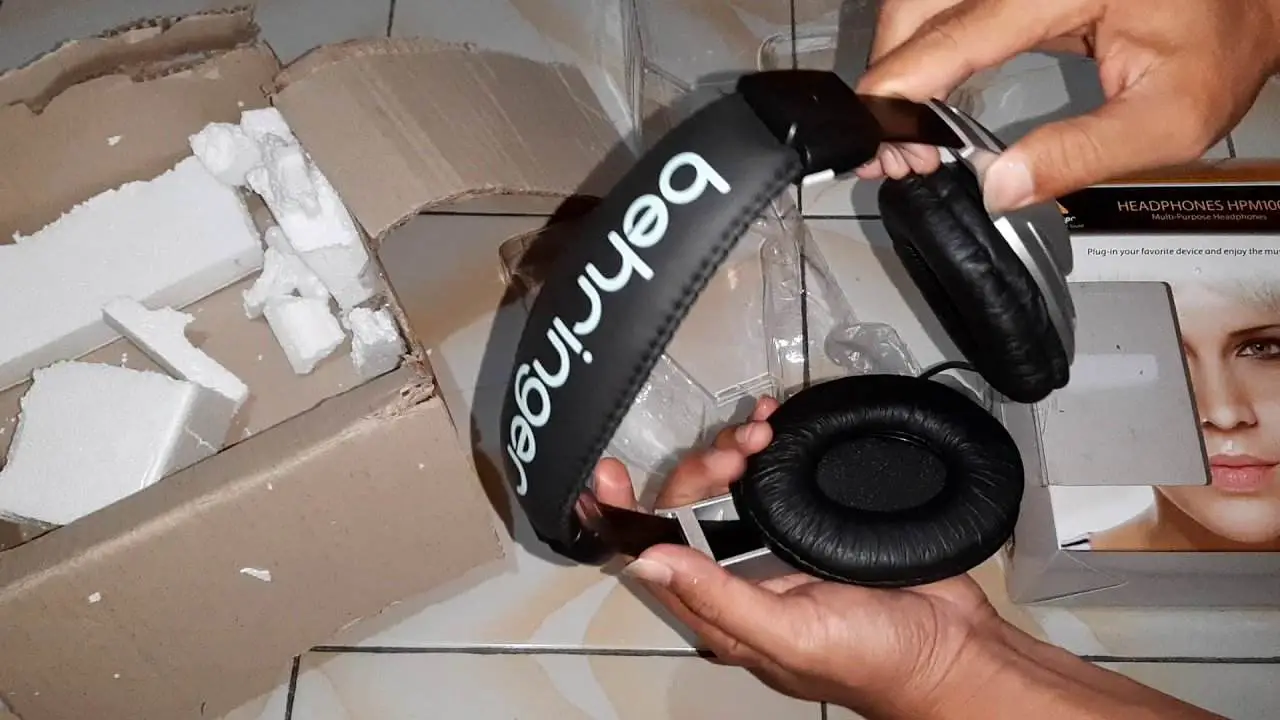 Main Features
Rotating reversible earcups with high-resolution cobalt capsules ensure a good quality sound
Wide frequency range and high definition bass
50mm neodymium drivers for high output
Single-sided removable coiled cables with oxygen-free copper wires which resist tangling and along with gold plated adaptors
Foldable and swivel ear cups with adjustable headband. Can also be worn on the neck with single-cup style
German quality with a rubberized coating to leather cushions
Carrying bag is provided for on the go DJs
Pros:
Positioned to Budget DJs
Comfortable fit with cushions
Lightweight with 308 grams
Removable cables
Foldable and swivel feature
Massive drivers at awesome and affordable Price
Cons:
Not suitable for highly professional DJs
Prone to cracking
4) Sennheiser HD8 DJ @ Amazon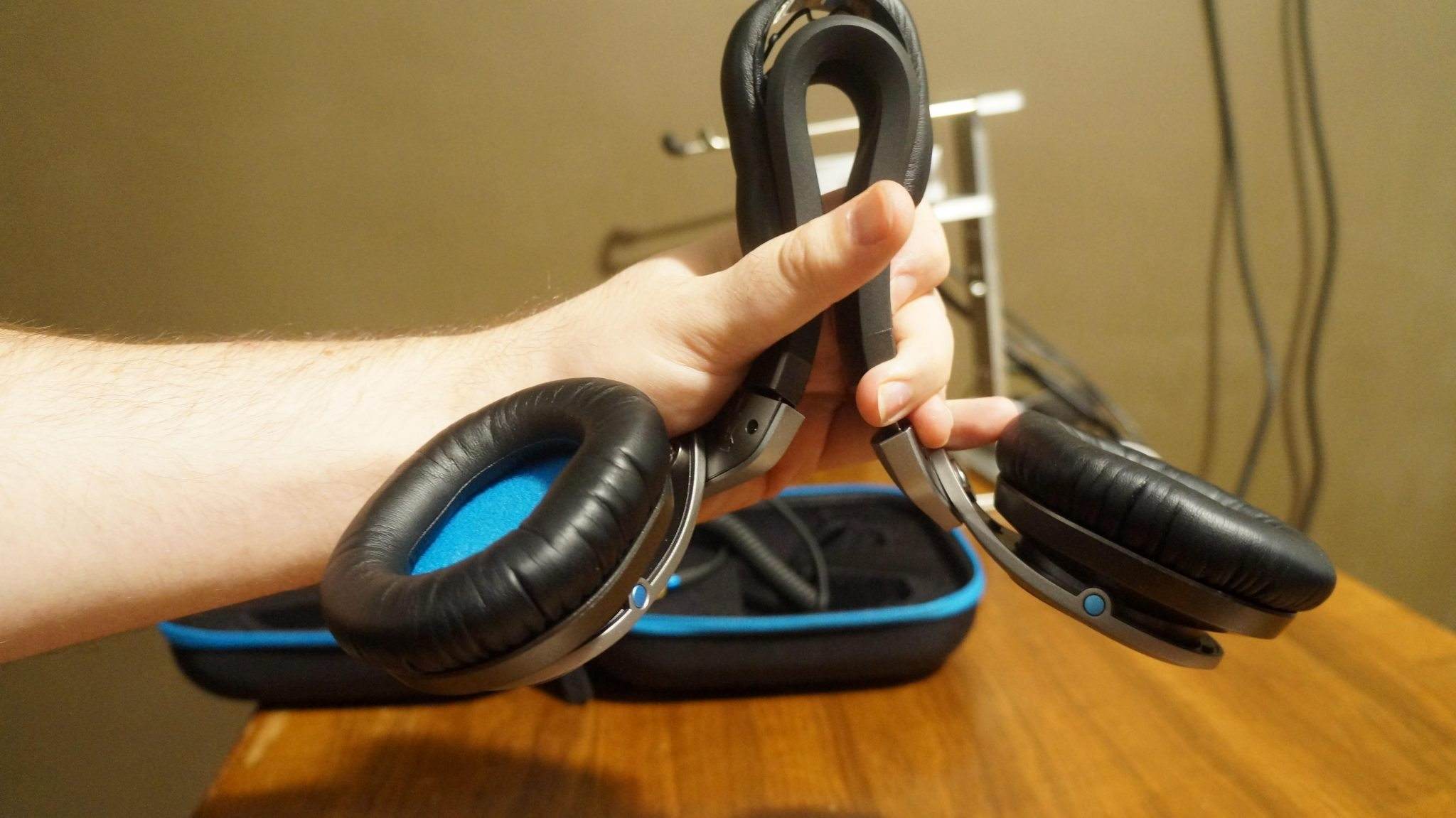 It is a performance workhorse from the Legendary Sennheiser stable. The top-line model has the following state of the art features:
Closed-back elliptical design for maximum comfort and noise isolation so that nothing comes between you and the music
210-degree swivel angle to ensure all possible control to DJ during long hours of mixing and beatmatching
50mm drivers ensuring a wide frequency range of 8Hz to 30000Hz ensuring long hours of high volume with no distortions suitable for beatmatching and mixing
Two cables (one straight, one coiled) are provided with cable twist locks so that they do not come off with regular use
These headphones come with a two years warranty which is better than the usual one year warranty by many others.
Mostly metal-based design with earcups, headband, extenders, pivot rings made of high-grade metal ensures durability because most of the headphones break due to low-quality pivot rings.
Extremely comfortable fit with replaceable padding (with a spare piece) ensures optimum noise isolation due to low volume air chambers and airtight stitching
Designed for Top modern DJs and has been positioned as a piece of professional equipment for DJs
The foldable design ensures proper handling and storage when not in use.
95-ohm impedance compatible with professional DJ equipment
Premium quality Solid carry case with a zip to store headphones and related gears.
Pros:
Extremely comfortable with effective noise isolation
210-degree swivel and foldable
Metal design earcup, headband, pivot rings
50mm drivers for beatmatching and mixing
Premium protective case
Cons:
Expensive
5) Pioneer DJ HDJ-2000 MK2 @ Amazon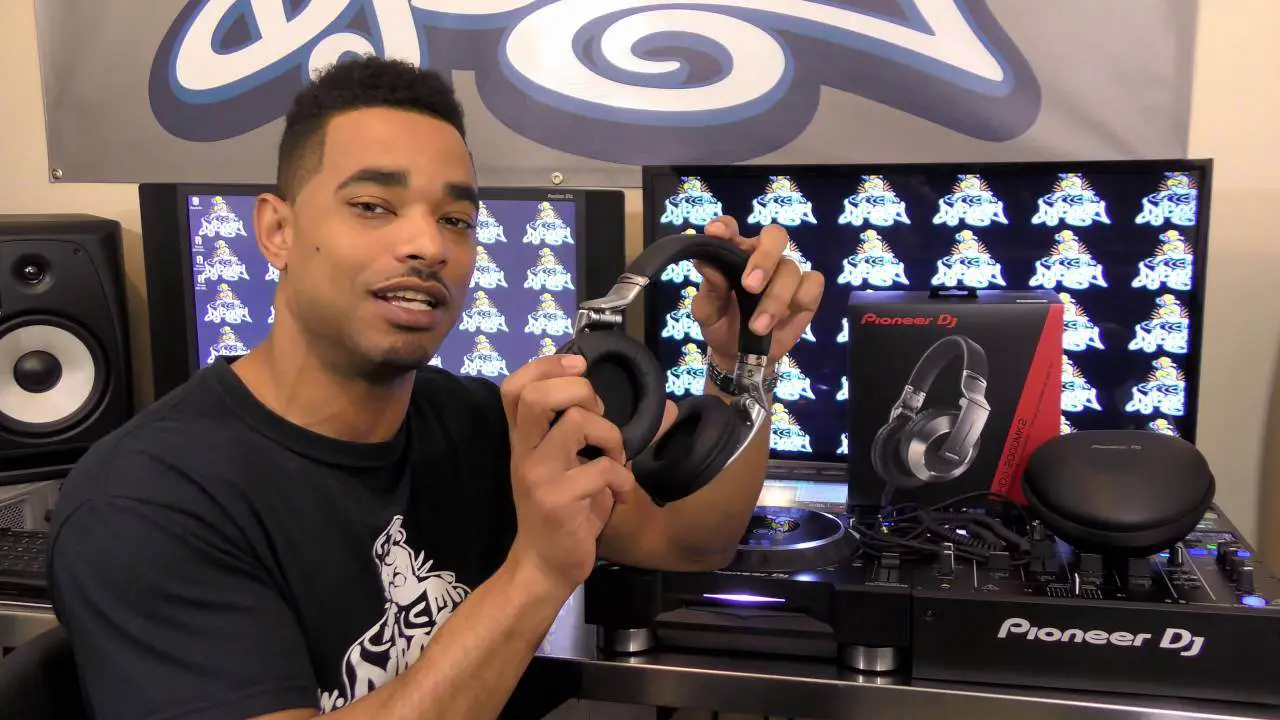 This model is also targeted to professional DJs who need state of the art features and no compromise on sound quality
It is primarily metal-based headphones, with special emphasis on stressed joints and hinges.
The headband has comfortable padding which ensures that we can work long hours.
Earcups with memory foam fit perfectly on your ears ensuring effective isolation of outside noise
50mm drivers wide frequency range of 5Hz to 30000Hz ensuring best sound quality
Lightweight with just 298 grams. This is especially important when DJs wear them for long hours.
Two Detachable cables (one straight, one coiled) with XLR plug to lock to the earcup, ensuring that there are no loose plugs
Foldable and full swivel feature, as usual, provide easy handling and one ear on the neck feature.
Solid carry case for headphones and related gear
Pros:
Metal design ensuring durability
DJ quality drivers and frequency range
Lightweight
Comfortable fit with effective noise isolation
Detachable cables
Replaceable ear pads
Cons:
High Price
Summary
Budget Range
BEHRINGER HPX-2000 headphone is available at such an affordable price that other brands cannot match the features.
The phone has features comparable to best DJ phones and it is the best value for money option especially for budding DJs with a tight budget.
Middle Range
Audio Technica ATH M50X and V-Moda Crossfade LP2 are the best available phones in this range where there are not pricey and at the same time are packed with the best features of premium phones barring one or two unwanted features.
If you can afford, you must go for V-Moda crossfade LP2 and hit the music with a professional setup
Premium Range
Sennheiser HD8 has out of the world features and is my personal favorite. Pioneer HDH 2000 is also very close with astounding features.
If you don't want any compromise in any of the features, these headphones are the best of the lot and are worth it.
At last, I would say that it is unlikely that you will ever find a headset with all the features.
So, before buying any headphone, first of all, look for the features mentioned in the beginning and research well It may be a good idea to borrow a headphone from your friend for a couple of days to try out and then decide.
We have recommended the above-mentioned five headphones suiting every pocket. Pick the one that matches your expectations.
Happy DJing !!!
References