Pioneer PLX 1000 Vs Technics SL 1210
Congratulations! We have shortlisted two best models of turntables suitable for a professional DJ or a hobbyist. But are you confused about which one offers a better experience? In terms of product features, price, after-sales service, brand, popularity, etc.?
Here, I will discuss these two products in detail and compare them side by side. By the end of this comparison guide, you should be able to make up your mind on one of them. Best of Luck!
For the uninitiated, a turntable is a DJ instrument to play the vinyl records on a revolving platform supporting a record as it is played. It is different from a record player, as you need to add speakers and amplifiers separately.
It is a piece of technical equipment for professional or hobbyist DJs. Let us try to understand both the products one by one and then compare them along with the main features.
Pioneer PLX 1000 DJ Turntable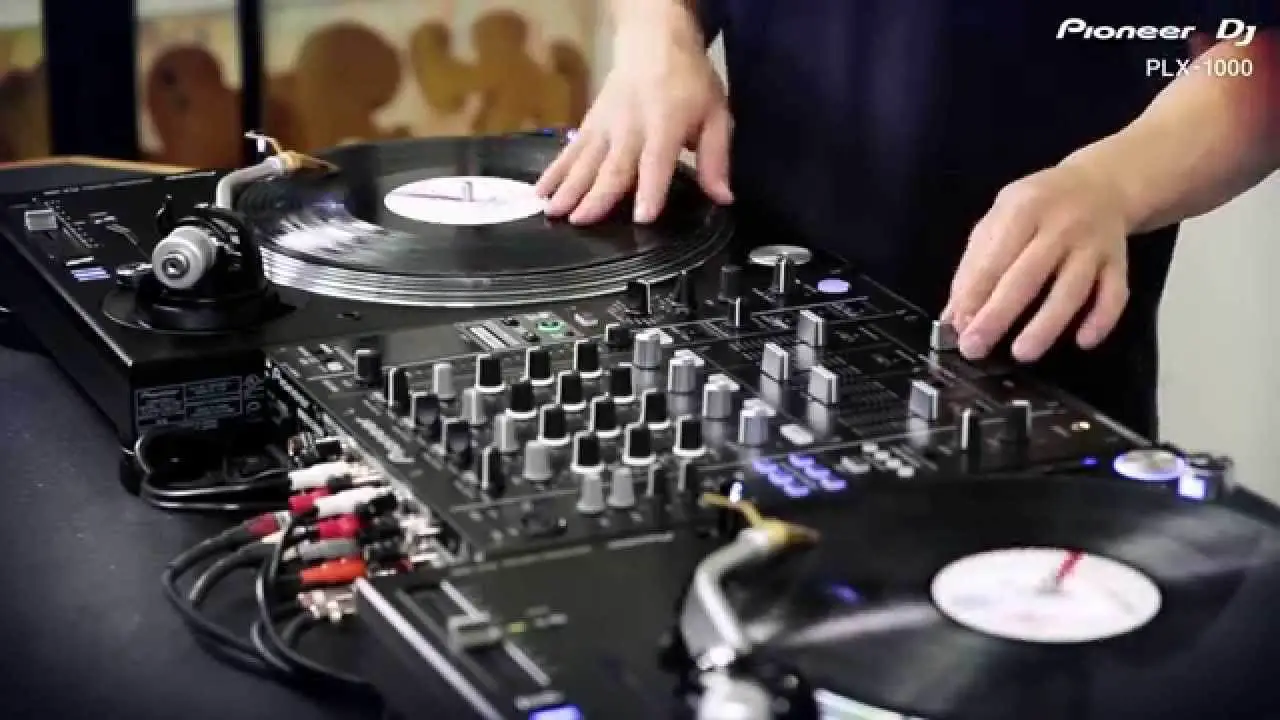 (A High-Torque Drive Professional Turntable)
Pioneer has an experience of over 50 years in designing High-End Turntables. Pioneer saw a gap in the market when Technics 1200/1210 MK2 was discontinued.
It introduced an industry-standard Turntable with the same look and feel of 1210, but at a lower price.  Pioneer PLX 1000 has a classic layout and has a tone-arm that improves isolation and prevents feedback.
The arm has an S-Shape with a lining of rubber to support.
The direct-drive turntable has a classic layout and rubber lined S-shaped tone arm that improves isolation and prevents feedback.
It is constructed with excellent vibration damping and ultra-precise high- grade audio playback.
The high torque direct-drive achieves a rotation speed of 33 rpm in just 0.3 seconds You can easily connect to the high- grade gold-plated RCA jacks for low impedance and amazing sound quality output.
The interchangeable power and audio cables provide much-needed flexibility to the DJs on the go. It has a multi-pitch (learn pitch vs tone) tempo control from +/- 16% to +/- 50%. A simple reset button can revert to the fixed rotation speed at +/- 0% width almost instantly.
With so many features, the Pioneer PLX 1000 DJ Turntable is the perfect product for professional DJs and vinyl enthusiasts.
Key Features of PLX 1000
It has a high-torque quartz-lock serve-type direct-drive with a very high rotation speed of 33.3 rpm in 0.3 seconds. It is directly connected to the turntable which ensures better stability as compared to older belt-driven models. It is suitable for professional DJing as well as everyday listening.
Its power cable is detachable as opposed to older models where it was fixed.TheInterchangeableaudio and power cables provide added flexibility to the DJs who are almost always on the move.
It has a classic look and the layout of the turntable has been designed traditionally which is similar to Technics 1200/1210 and is DJ friendly.
The unique rubber lined S-shape tonearm with anti-skate adjustment improves isolation and prevents feedback.
It has a broad Rotation adjustment range.
The tempo reset button has been provided to the fixed rotation speed.
It has a solid build for the best absorption and works smoothly in harsh conditions.
Gold plated RCA Jacks connectivity is very portable and provides the best quality sound experience
Multi-pitch tempo control is available with ranges of +/- 8%, +/- 16%, +/-50%.
Colors Available – Black, Gold
Technical Specifications (Pioneer PLX 1000 DJ Turntable)
General Specs
Included Accessories: Turntable sheet, Slipmat, and sheet, Dust cover, Headshell, Balance, sub and shell weights, Audio cable, Ground wire.
The width and height is 453mm and 159mm respectively.
Its weight is around 13 kg in total.
Power Requirements: 220-240 V / 50/60 Hz
Terminals Outputs: 1 ANALOGUE (RCA)
Turntable Specs
Drive Method: Quartz lock, servo-type, direct drive
Platter: Aluminium, die-casting diameter: 332 mm
Motor: 3-phase, brushless DC motor
Braking System: Electronic brake
The speed of rotation is 33.5-45rpm.
Signal-to-Noise Ratio: 70 dB
Starting Torque: > 4.5 kg/cm
Start Time: 0.3 sec (at 33⅓ rpm)
Tonearm Specs
Arm Type: Universal type S-shape tonearm, Gimbal-supported type bearing structure, Static balance type
Overhang: 15 mm
Effective Length: 230 mm
Tracking Error: Within 3°
Height Adjustment Range: 6 mm
Stylus Pressure Variable Range: 0-4 g (1 scale 0.1 g)
Single Cartridge Weight: 3.5-13 g
Pros
High Rotation Speed
Removable and interchangeable audio and power cables
The classic look of the DJ Turntable
Tempo Reset option
Best absorption
Cons
No reverse play or LED Lights feature
"The PLX-1000 is Pioneer's top turntable model. Using the blueprint of the Technics 1200, 1000 is centered on a powerful direct-drive motor.
From there, thePioneer engineers have upgraded almost every component from the tonearm to the speed controls." – TTL
Technics SL 1210 DJ MK7 Turntable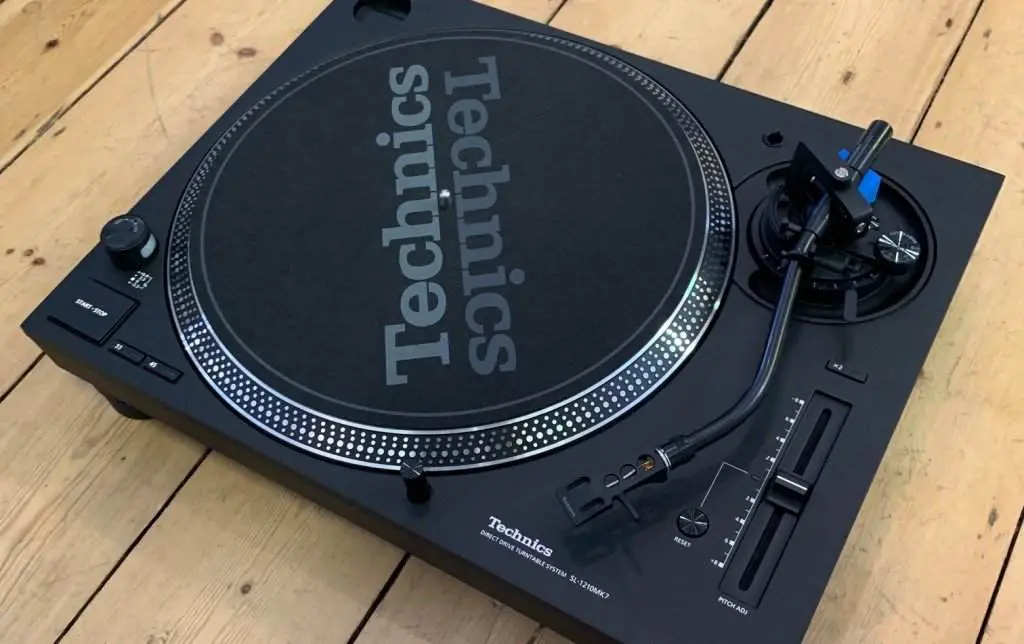 (A Direct Drive Professional DJ Turntable)
The product is launched as the first new standard DJ Turntable in approximately nine years.
It inherits the traditional design of the same series and maintaining the same operating ease, reliability, and durability while adding a coreless drive motor and other sound-enhancing technologies.
It also features new DJ play functions, such as reverse playback.
A brief history of 1200 series of DJ Turntables
The product has evolved over a period of time and there have been many improvements in the 1200 series.
The original SL1200 was launched in 1972 followed by SL1200 MK2 in 1979 with major changes that have now been discontinued by the manufacturer and 1200 GR was the improved version.
Then SL1210 models were introduced with a number of improvements.
SL 1210 is essentially the same as SL 1200 except for the feature of voltage selection. There was a vacuum in the market when 1200 and 1210 were discontinued by the manufacturers after mk2 in 2010.
There was widespread anxiety among professional DJs fearing that this was the end of the golden era of the 1970s.
Thankfully, the absence was short-lived. Technics' parent company Panasonic redesigned the turntable.
At present SL1210 MK7 is the latest model available in the market in the year 2019. SL1200G and SL1200GR are more expensive variants and are not included in the review and our comparison for the sake of parity.
This turntable was originally designed as a record player but was quickly liked by the professional DJs for its versatility.
By the way, the new MK7 is specially designed for the DJ community.
Recently, many Hi-Fi Turntables have been launched with fancy prices, but Technics have positioned this model as a relatively affordable piece of equipment for Professional DJs.
Main Features
Build and Design
MK2 was introduced 10 years back. The design was so robust that there was no need to change it for such a long time. Now the arm and buttons are sleeker in the new design.
The pitch control is on the right. The strobe light indicator can be turned from red to blue. There is a new push down white LED stylus illuminator.
The build is robust and the design is attractive and well-thought.
It comes with a matt-black body including black buttons and a black tonearm which provides an attractive and consistently refined look.
The DJ Turntable has an extremely robust low-vibration body. It has an aluminum injection molded frame and the ABS plastic construction reinforced with glass-fibers.
The robust design offers high strength and vibration damping. The feet with spring rubber construction provide an excellent noise immunity which is a very important feature for Scratch DJs
Direct drive technology
Iron coreless 'direct drive' rotates the motor at low speed and drives the platter directly. Unlike older belt-drive systems, the motor is directly connected to the turntable.
This provides more advantages like the absence of degradation of the S/N ratio due to motor vibration.
The requirement of parts replacements also goes down. This also eliminates the "cogging" phenomenon, a rotation irregularity of the motor.
The direct drive provides stable rotation, powerful drive torque, and sound-enhancing capabilities to ensure precise and detailed sound quality on all the records.
S-shaped Tone Arm
Tone Arm is in S Shape which tracks the rotation of the record with a high degree of accuracy. It has an aluminum pipe which makes it lightweight.
The arm is statically balanced and highly sensitive. For accurate tracking of grooves etched into the records, a high initial-motion sensitivity of 5mg or less is required, which is made possible by manual assembly done by the Japanese artisans.
Its high precision bearing elements guarantee excellent tracking process without unnecessary needle movements even under harsh playing conditions such as scratching
Stable operation
The platter uses a two-layer construction with vibration-absorbing rubber applied to the aluminum die-cast. This removes unnecessary relay of resonance to the records leading to a clear sound.
The backside of the platter has better ribs to improve stability. This protects the vinyl records from the harmful vibrations to produce authentic sound.
Reverse Play
Holding any speed button and then pressing the start/stop button will reverse the direction. You can also steer the starting torque along with brake speed for maximum creativity.
LED Strobe Light
You can change the LED strobe light color from red to blue. The needle illumination has a new push mechanism and a brighter longer-lasting LED.
The improved illumination range makes the needle easier to see in very dark environments also, which is quite a common thing for night DJs.
Pitch control
The Technics DJ turntable provides a pitch control function for precise and stable fine speed adjustment. It has two rotation speeds of 33.3 and 45 rpm and the possibility to activate 78 rpm from the main switch.
The pitch range can also be extended from +/- 8% to +/- 16% providing improved tracking performance and accuracy for perfect beat matching with digital control.
Detachable phono and power cables
As opposed to the original version with fixed cables, this model has a practical feature of detachable power and signal cables for added flexibility to the user.
Key Features
High torque direct-drive motor
8 / 16 % pitch range
Pitch reset switch
Reverse play
Adjustable start and stop time
33, 45 and 78 RPM
Improved vibration damping platter with side strobe dots
Improved audio isolation
Precision S-shaped tonearm with headshell
Switch LEDs Lamp can be set to blue or red
Single-color, all matt black finish, Slip-mat included
Detachable audio and power cables
Technical Specifications
 (TECHNICS SL 1210 MK7 DJ TURNTABLE)
The section of the turntable
The speed of turntables is 33.3 to 45rpm
 Weight: Approx. 1.8 kg (Including slip-mat and slip-sheet)
Tonearm Section
Type: Universal Static Balance
Effective Length: 230 mm
Overhang: 15 mm
The arm height can be adjusted between 0-5mm
The weight of headshell is approx 7g
Applicable Cartridge Weight Range: (without auxiliary weight): 5.6 – 12.0 g; 14.3 – 20.7 g (including headshell)
General
The supply of power is between AC 110 – 240 V, 50 / 60 HzWeight: Approx. 9.6 kg
Accessories: Turntable, Slip-mat, Slip-sheet, Dust cover, EP record adaptor, Balance weight, Headshell, Screw set for the cartridge, a cable, an earth lead, AC power supply cord.
Pros:
LED lamps
Removable cables
Needle illumination
Reverse play
Pitch reset
Cons:
Higher price as compared to similar models
Comparing Major Metrics
The war is on. Let us compare and see what is the difference. Pioneer is a copycat at a lower price. The look and feel and the stuff inside are just similar.
However, Technics has always been the traditional favorite among the DJs and turntablists.
Basics
Technics was first introduced with the SL1200 model in 1972. It was not positioned for DJs. It was positioned as a Hi-Fi record player. The powerful direct drive motor attracted DJs and it soon became a favorite among them.
After 7 successful years, MK2 was launched with some improvements like pitch slider for easy beatmatching. It was soon adopted by the father of scratching – New York's Hip-Hop DJ– "Grand Wizzard Theodore". In 2010, the production was discontinued.
Due to its popularity, SL 1200G was again launched, but it was very expensive at $4000. New SL 1200GR was launched at $1700, but it was still expensive.
Recently 1210 MK7 was introduced with some more improvements in the year 2019.
Pioneer designed SLX 1000 with Technics 1200/1210 in mind. It clearly saw the gap in the market and jumped at the chance to produce an industry-standard turntable.
The product was priced sensibly and was a hit. They are both similar from the outside, but with major torque difference.
So, if we compare on price, the pioneer seems better, if we check the weight, Technics is preferred. And the product weight does matter for mobile DJs.
Motor, Torques and Speeds
If we compare PLX 1000 with 1200 MX7, Pioneer is the clear winner because of better technology. The torque that a DJ turntable provides is one of the main factors for buying.
Higher torque makes the platter spin at correct RPM when cueing and scratching records. Originally, DJs were attracted to a torque of 1200 MX2. But with PLX 1000, the game changed.
It outshined the competitor with a wide margin. It had a much higher power due to higher torque and quicker platter start times.
The extra-fast speeds may make your track sound odd and people may think your turntable is defective. But, the key lock feature in pioneer doesn't affect the tone. This allows mixing super-fast tracks to very slow BPMs.
Finally, Pioneer has a torque of 4.5 KGF vs 1.5 KGF, Platter time of 0.3 sec vs 0.7 sec, the Pitch range of 8,16,50 with reset vs only 8 and 16, wow and flutter 0.010% vs 0.025% of Technics' model.
Terminals/Leads
Both Pioneer and Technics have detachable cables. Although MK2 had all wired cables, MK7 made a useful improvement in this aspect.
The flexibility of removable wires is especially useful for mobile DJs. The leads are interchangeable too which makes life easier for DJs.
The Tonearm and the Mechanism
Both pioneer and Technics have S-shaped arms and a similar mechanism. That includes anti-skating, height adjustment with a locking lever to life the tonearm.
There is a clip to stop the arm from moving off its rest and damaging your stylus. This could happen particularly during transit or shocks during normal handling.
Both turntables are having head-shells which can be easily replaced and available in the market since it uses four-pin connectors.
Or else it could be replaced with quality all-in-one cartridge all the more when you are into scratching or turntablism. So, overall, both are similar.
Price
Technics is obviously priced higher due to its legacy. There is a difference of approx. 165 pounds and it is quite a lot.
The parts of both the turntables are easily replaceable and available for plenty in the market. The after-sale services are equally good.
Now, we have tried to put the key metrics on to the comparison table to see like to like tallying on the main aspects.

Table of Comparison
| | | | |
| --- | --- | --- | --- |
| Feature | Pioneer PLX 1000 | Technics 1200/1210 MK7 | Remarks |
| Direct Drive System | Quartz Lock | Similar Direct Drive | Both have the same direct drives |
| Platter Chassis | Die-cast metal, Aluminium | Die-cast metal, Aluminium | Same |
| Size & Weight | 13kg; 453 x 159 x 353 | 9.6 kg; 453 x 169 x 353 | Almost Identicalsize but Technics is lighter |
| Torque | 4.5 KGF | 1.8 KGF | Lower by one third |
| Platter Start Time | 0.3 sec | 0.7 sec | Slow by o.4 sec |
| Pitch Range | 8,16,50 | 8,16 | Only one not available |
| Wow and Flutter | 0.010% | 0.025% | 1 vs 2.5 |
| Rotation Speed | 33.3 to 45 RPM | 33.3 to 45 RPM, with switch 78 | 78 rpm option |
| Reverse Play | No | Yes | Technics wins |
| LED | No | Yes | Technics wins |
| Pitch Reset | Yes | Yes | Same |
| Removable/ interchangeable cables | Yes | Yes | Same |
| Price in the UK | £499 | £665 | Pioneer is cheaper |
Comparison Analysis:
From the above, we see that Technics has tried to make cosmetic changes from MK2 to MK7 by adding reverse play, LED illumination, Rotation speed tweak and reducing the weight drastically by using fiber.
However, in terms of power, we have a clear winner and that too at a price which is much better. Technics had earlier stopped production despite the demand, and it may do so again in view of lower-priced competition. So, Pioneer offers a better choice, it seems.
Conclusion
Technic (Parent Co. Panasonic) turntable 1200/1210 Mk7 is the classic and robust model that has been around since 1970. Recently, it was absent in the market for a short period, when Pioneer entered the market with the same product at a lower price.
In terms of authenticity, Technik is the clear winner. However, if you don't mind the brand and are getting literally the same product at a lower price of £499 vs £665 for a similar product, then Pioneer is a value for money.
In addition, you are getting much better torque, start time, pitch ranges and wow & flutter.
If you would have compared pioneer PLX 1000 with Technics 1200 MK2, you would have declared pioneer a clear winner easily, but Technics MK7 made many updates and tried to make it at par with pioneerPLX 1000.
Final Verdict
Pioneer PLX 1000– A Good VFM buy for price-conscious buyers along with better power features (# 1 Rank)
Technik SL 1210 MK7– Not Recommended for Professional DJs (# 2 Rank)
References
https://www.reddit.com/r/AskReddit/comments/jv9ui/how_do_djs_not_ruin_record_when_they_do_whatever/